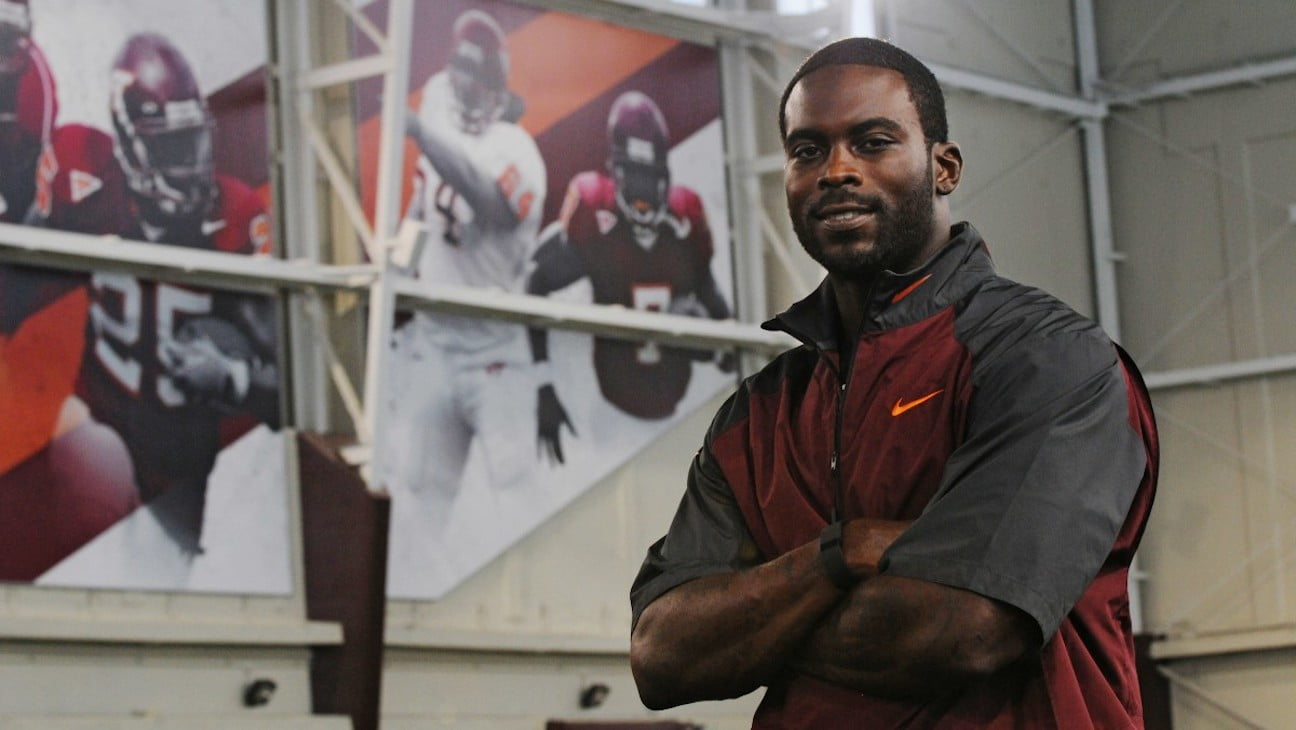 Michael Vick, a quarterback who guided Virginia Tech to the 2000 national title game and brought national acclaim to the university during his career from 1998-2001, is one of five former student-athletes who will be inducted into the Virginia Tech Sports Hall of Fame later this fall.
---
The 2017 inductees include: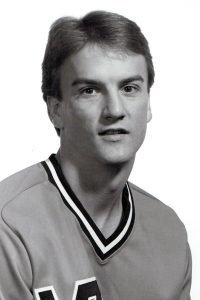 Tim Buheller, a standout baseball player in the mid-1980s who still holds several school records;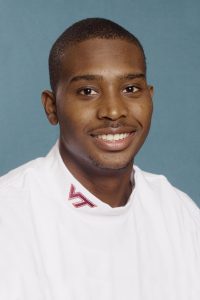 Zabian Dowdell, a tremendous men's basketball point guard who was the program's first first-team All-ACC selection and scored 1,785 points in his career;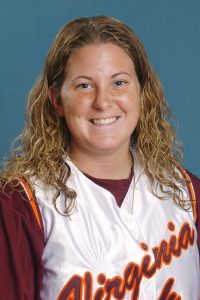 Megan Evans, a softball catcher who still ranks as the program's all-time leading home run hitter;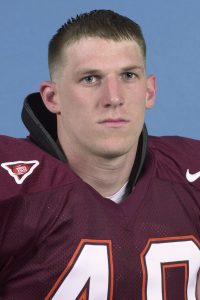 Ben Taylor, a two-time All-American as a linebacker who recorded more than 100 tackles in each of his final two seasons; and
Vick, who finished third in the 1999 Heisman Trophy voting – the top finish ever by a Tech player – and who went on to become the No. 1 overall pick in the 2001 NFL Draft.
The five new honorees will be inducted during a Hall of Fame dinner on the Tech campus on Friday, Sept. 22, the evening before Tech's home football game against Old Dominion. The inductees will be introduced to fans at halftime of the football game. The new inductees will bring the total number enshrined to 192. The Virginia Tech Sports Hall of Fame, which is located at the south end of the Cassell Coliseum ambulatory, was established in 1982.
Never the biggest guy on the baseball diamond, Tim Buheller did not let that stop him from making a huge impact, especially as an outfielder for the Virginia Tech baseball team from 1983-86.
A starting center fielder for four years, Buheller jumped into the starting lineup rather quickly, earning team Most Valuable Player and first-team All-Metro Conference honors as a freshman in 1983. That season, he hit .351 and only struck out 14 times in 134 at-bats. He led the team with 33 stolen bases and finished second on the squad with 44 runs.
Buheller hit .269 as a sophomore and led the team in stolen bases (35), walks (41) and runs (69). During his final two seasons in 1985 and 1986, he earned first-team All-Metro Conference honors.
His 1985 season may have been his best, as he helped the Hokies win a program-best 50 games. He hit .362 and stole 40 bases out of 41 attempts. He also led the team in runs (82) and walks (49) and tied for the team lead in hits (92), which also was a school record. He recorded a 32-game hitting streak that season – a school record that still stands. As a senior, he hit .335 and led the team with 32 stolen bases.
The Richmond, Virginia native still holds or shares nine school records. He finished his Tech career with school marks for runs scored (267), walks (170), stolen bases (140) and assists by an outfielder (17) – all of which still stand. He also holds or shares single-season marks for stolen bases (40), runs (82) and hits (92).
Buheller also is the only Tech player ever to register 30 or more stolen bases for four consecutive seasons, and his four stolen bases against James Madison in 1986 still ranks as a single-game record.
Buheller was a 19th-round draft pick of the Boston Red Sox in 1986, and he spent four seasons in Boston's minor league system. He returned to Virginia Tech at the conclusion of his playing days to finish the coursework toward his degree in sports management and then began working in the private sector. Today, the father of two lives in Glen Allen, Virginia and has worked for New Millennium Auto Sales for the past 11 years.
Zabian Dowdell led a resurgence of Virginia Tech men's basketball from 2003-07 and established himself as one of the best Tech basketball players of the modern era.
The Pahokee, Florida native averaged 14.6 points, 3.2 rebounds, and 3.1 assists per game during a career in which he started 118 of the 122 games that he played. He was one of those rare players who averaged in double figures in scoring during all four seasons at Tech. As a senior, he led the Hokies to the 2007 NCAA Tournament, ending the program's 11-year hiatus from the tournament.
Dowdell started 28 games as a freshman and averaged 10.8 points, 3.2 assists and 3.0 rebounds per game. He improved those numbers as a sophomore, averaging a team-best 14.4 points per game, while also averaging 3.1 rebounds and 2.7 assists per game. He shot 44.9 percent from the floor that season, including 42.3 percent from behind the 3-point arc.
As a junior, Dowdell averaged a team-leading 15.3 points per game, while also registering more than 100 assists for the first time. He averaged 3.4 assists and 3.1 rebounds per game, and he led the team with 70 steals.
His senior season turned out to be his best one, as he led the Hokies in scoring (17.4 ppg) for the third straight season, and he also averaged 3.6 rebounds and 3.1 assists per game. He shot a career-best 46.2 percent from the floor and 80.6 percent from the free-throw line.
Dowdell's most memorable moment as a Hokie arguably came as a sophomore when he hit the game-winning 3-pointer in a home win over then-No. 7 Duke at Cassell Coliseum. As a senior, he scored 20 points in Tech's overtime win over then-No. 5 Duke at Cameron Indoor Stadium – the program's first win in that arena – and he had a career-high 33 points in the Hokies' 81-80 overtime win over North Carolina at the Dean Smith Center, giving the program the Tobacco Road sweep.
In 2007, Dowdell became Tech's first ever first-team All-ACC selection, and he also garnered honorable mention All-America honors that year. He still ranks among the top 10 in several career categories at Tech, including scoring (eighth, 1,785 points), assists (sixth, 380) and steals (third, 241).
Dowdell has played basketball mostly overseas since graduating from Virginia Tech in 2007, with stops in Spain, Russia, Belgium and Italy. He broke into the NBA ranks in 2011 when he spent much of the season with the Phoenix Suns. During this past 2016-17 season, he played with a team in Italy, and in the offseason, he lives in Plantation, Florida.
Megan Evans became the best power hitter in the Virginia Tech softball program's history during a decorated career from 2002-05 and still ranks as such. She played catcher for the Hokies, starting every game except for one in her career, and she still holds or shares eight school records – four career records and four single-season marks.
The Mansfield, Pennsylvania native jumped into the starting lineup immediately as a freshman, hitting .295, with nine homers and 34 RBI. In just her fourth collegiate game, she went 2-for-2, with a homer and three RBI to lead Tech to a win over Miami University, and later in the season, she hit two homers and drove in six runs against Liberty. More impressively, she committed just one error in the field.
As a sophomore, she hit .327, with 11 homers and 30 RBI. She also played well in the field, committing just three errors.
Evans' junior season, she hit .314, with 14 homers and 47 RBI. Her best game came against North Carolina A&T when she hit two homers and drove in eight runs. She also hit two homers and drove in five runs in the Hokies' win over rival Virginia later in the season.
She saved her best for her senior season when she set career marks in average (.328), homers (16) and RBI (50). Two of those homers and four of those RBI came in a Tech win over North Carolina late in the season.
Evans still is the program's all-time leader in career home runs (50) and RBIs (161), and she also holds the top marks in slugging percentage (.609) and total bases (408). Her 121 walks rank second on the school's all-time list, and her career on-base percentage of .426 is third. She hit .316 for her career.
Evans set three single-season records in 2005 – RBIs (50), total bases (123) and walks (51) – en route to earning second-team All-ACC honors. A season earlier, she set the single-season slugging percentage mark of .642 and earned second-team All-BIG EAST honors.
Also of note, Evans started the final 191 games of her career, and she only committed 11 errors.
Evans' career ended on a positive note, as she guided the Hokies to their first NCAA regional appearance during her senior season in 2005, and she hit home runs in her final two collegiate games. In her final game, a Tech loss to the College of Charleston, she hit a solo home run and walked three times.
In addition to being a two-time all-conference player, she was a four-time member of the National Fastpitch Coaches Association (NFCA) All-Region Team, and she became one of the rare student-athletes at Virginia Tech to earn three degrees from the university. She graduated in 2005 with a B.S. in human nutrition, foods and exercise, and she earned a master's degree in education from Virginia Tech in 2007. She later earned a doctoral degree in education, which she received in 2014.
Evans never left the Virginia Tech Athletics Department after her playing days concluded. She worked as a graduate assistant in the strength and conditioning area and was later hired as a full-time member of the staff. She currently serves as an assistant director for Olympic sports and lives in Christiansburg.
Arguably one of the most underrated players during Bud Foster's tenure as the Virginia Tech football program's defensive coordinator, Ben Taylor enjoyed a tremendous career, earning All-America honors in both his junior and senior seasons.
Taylor – whose career ran from 1998-2001 – played in 11 games as a true freshman in 1998 before moving into the starting lineup as a sophomore in 1999. He started 10 games on a Tech team that went a perfect 11-0 during the regular season, won the BIG EAST title, and played for the national championship against Florida State. He recorded 71 tackles, including five for a loss. On three occasions, he recorded at least nine tackles – one of which came in the Hokies' 31-7 win over Virginia.
During his final two seasons, Taylor recorded more than 100 tackles each year. As a junior, he finished with 103, including seven for a loss, and he also intercepted two passes. On four occasions that season, he was in double figures in tackles, including an 18-tackle performance in Tech's win at East Carolina.
As a senior in 2001, he tallied a career-best 121 tackles, including 18 for a loss, and 4.5 sacks. In eight games, he recorded at least 10 tackles and had 18 in Tech's 31-17 win at Virginia that season.
A two-time semifinalist for the Butkus Award that goes annually to the nation's top linebacker, Taylor was named a second-team All-American by Football News and The Associated Press, as well as a third-team All-American by The Sporting News following his senior year in 2001. Taylor was also a third-team All-America selection by the Associated Press following his junior season.
Taylor still ranks tied for second among Tech linebackers in career tackles for loss (31) during the modern era. He led the Hokies in tackles his final two seasons, earning first-team All-BIG EAST honors both years. He finished his career with 318 tackles, including 31 for a loss, and seven sacks.
The Bellaire, Ohio native was a fourth-round draft pick of the Cleveland Browns in the 2002 NFL Draft. He played four seasons with the Browns and one with the Green Bay Packers. During the 2005 season, he started 16 games, posting a career-best 113 tackles.
Taylor and his family now live in Winchester, Virginia, where he works as a physical education teacher at Millbrook High School and coaches the linebackers at Shenandoah University, a Division III school in Winchester.
Maybe the greatest Virginia Tech athlete in the school's history, Michael Vick brought unprecedented national acclaim to the football program as a quarterback during the 1999 season when, as a redshirt freshman, he guided the Hokies to a perfect 11-0 regular-season record and a spot in the national championship game.
The Newport News, Virginia native won the starting job and burst onto the scene in magnificent fashion, rushing for three touchdowns against James Madison in his first collegiate game, including one on a spectacular flip into the end zone. He closed the season by accounting for 322 yards and two touchdowns in the Hokies' loss to Florida State in the national title game.
Vick started 10 games in 1999, missing two games with an injury, and he completed 90 of 153 (58.8) for 1,840 yards and 12 touchdowns. He also rushed for 617 yards and eight scores. He finished third in the Heisman Trophy balloting – the top finish ever by a Tech player – and he won an ESPY from ESPN as the nation's top college football player.
As a redshirt sophomore, Vick started nine games, missing two games with an injury. He completed 87 of 161 for 1,234 yards and eight touchdowns. He also ran for 617 yards and eight touchdowns, and he closed his career by leading the Hokies to a Gator Bowl win over Clemson. Against the Tigers, he completed 10 of 18 for 205 yards and a score, and he rushed for 19 yards and a touchdown in Tech's 41-20 victory.
After the 2000 season, Vick decided to forgo his final two seasons of collegiate eligibility and make himself available for the NFL Draft. He still holds school records for highest yards-per-completion average for a season (20.4 in 1999) and highest yards-per-attempt average for a season (12.0 in 1999). He also holds the record for highest yards-per-attempt average for a career (9.79 in 1999-2000).
Vick was the No. 1 overall pick by the Atlanta Falcons in the 2001 NFL Draft. He played 13 seasons in the NFL for four different teams, throwing for 22,464 yards, with 133 touchdowns and 88 interceptions during his career. He holds two NFL records – rushing yards by a quarterback in a season (1,039) and a career (6,109).
Prior to a game against LSU early in the 2002 season, the Virginia Tech Athletics Department retired Vick's No. 7 jersey. He is one of nine former Virginia Tech football players to receive such an honor.
In February, Vick retired from the NFL, and he has been involved with the launching of the American Flag Football League in which world-class athletes join teams to play flag football in a league that founders hope to launch full time in 2018. Vick and his family currently live in Florida.
— Courtesy of VT Athletics