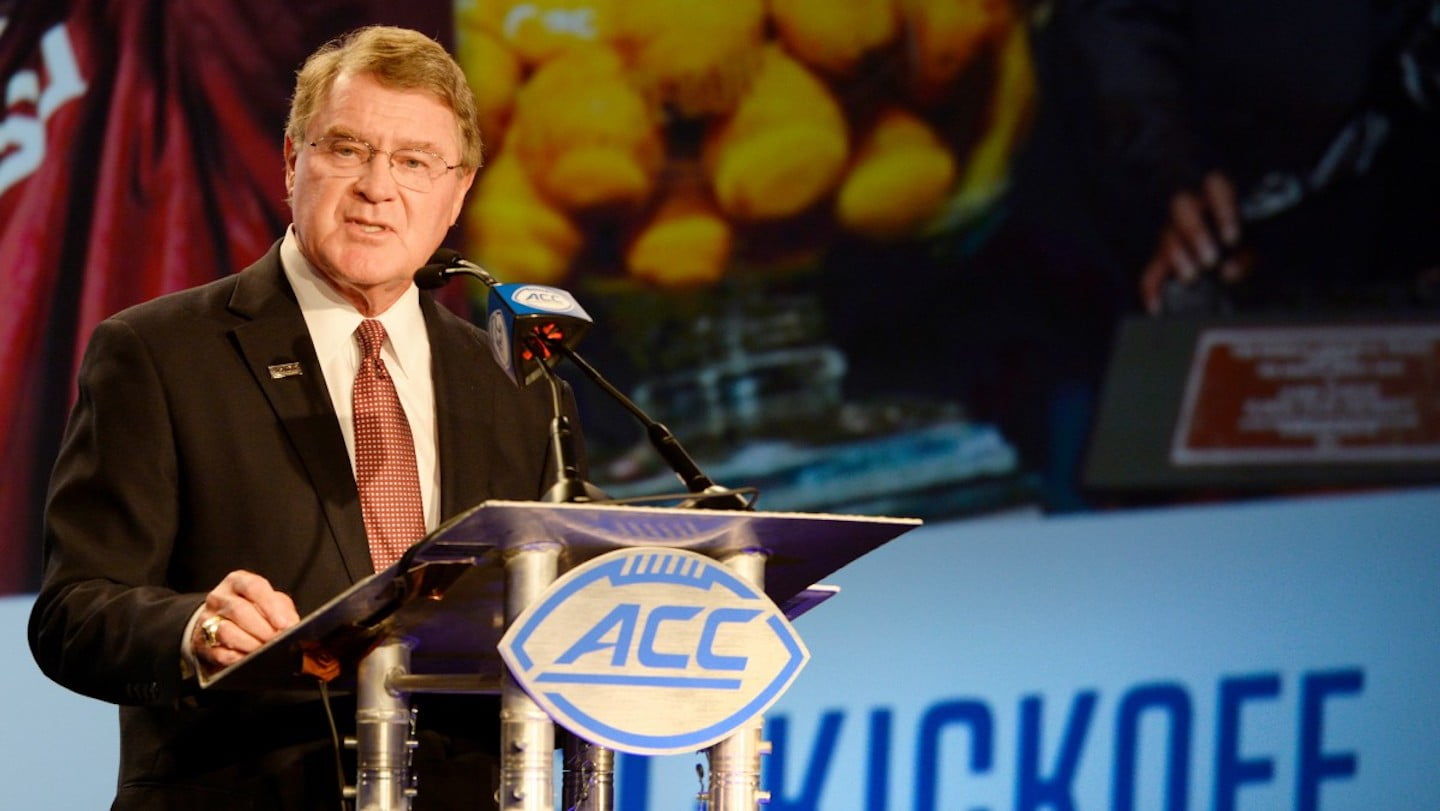 ACC Commissioner John Swofford delivered his annual state of the league address Thursday morning at the ACC Kickoff in front of hundreds of media members in town for the event, and as most would expect in such a setting, he gave a glowing snapshot of the league.
---
Swofford stated that the league is enjoying unprecedented success in nearly every area, including athletically, academically and on the business front. He also gave the facts that support such a deduction.
"From the announcement of our extended grant of rights and upcoming ESPN extension and ACC channel; to our league, our student-athletes, leading our peer conferences academically by almost any measure … to winning team national championships … to individual performances that garnered both national championships and numerous national accolades for our players and our coaches," Swofford said. "With all of that said, I think it's pretty obvious the past year certainly was one of the league's most successful years and possibly the most successful year that our league has ever had."
Swofford was particularly pleased with what transpired on the football front during the 2016 season, as Clemson won the national championship and 11 league teams played in both games. The conference went 9-3 in postseason action, tops among all Power 5 conference. Also, the league serves as the home for several prestigious individual honors, especially with Louisville's Lamar Jackson winning the Heisman Trophy and Clemson's Deshaun Watson finishing second.
Swofford sent the hour-long forum delving into an array of topics, including one that dominated conversation a year ago – the launching of the ACC Network, which comes online in 2019. The league continues to increase its national exposure, with ESPN producing and distributing more than 1,450 events this past academic – which far exceeded the league's goal of 600.
"Preparing to produce and distribute over 1,500 events between the linear and digital networks requires a lot of planning and preparation and obviously some lead time to do it right and launch it in the way we want to launch it," Swofford said. "ACC and ESPN teams are diligently working to complete the multiple tasks that are required for the launch, and we're extremely pleased with the progress. And not only pleased with the progress, we're, as a part of that, right on schedule – and in several instances, slightly ahead of schedule in the various phases of the network operations and build out."
Here are a few of the other topics that Swofford addressed:
• An NCAA committee has been looking at the transfer issue, with an overwhelming number of student-athlete's transferring to and from schools these days, particularly in the sport of men's basketball. The committee is gathering feedback and preparing for potential legislation to be voted upon in January.
"It's an important topic, as you well know, that requires, I think, a lot of thoughtful conversation and hopefully will end with thoughtful recommendations to find the right balance for our athletes as well as for our programs and universities," Swofford said. "What that right balance might be, I don't know, but I think it's an issue that needs to be looked at and will be looked at both from a graduate-transfer and undergraduate-transfer point of view."
• The Division I Football Oversight Committee is examining a 14-week football playing season, which gives schools two bye weeks instead of one. Coaches support the concept, but implementing such a schedule would require bringing players back to campus for practices beginning in late July.
"On the one hand, there are things they really like from it, things that we really like from it," Swofford said. "On the other hand, I'm not sure how our players would feel about that. I'm not sure how that – if it moves back into July – how that would sit with what we've tried to do in autonomy in giving the players more time to themselves. But again, important potential legislation ahead in that regard."
• There has been no more discussion between those in charge on divisional realignment within the ACC, nor has there been any discussion on the scheduling format. This is problematic for fans, who want to see more games against rivals – for example, NC State and Duke play once every six years.
"I don't have an answer to that really," Swofford said when asked what was the best way for the league to handle the matter. "I think that's probably one of the – one of those challenges that any league that gets to 14 has. I mean, there's no easy solution to that. And what's right for one conference might not be right for another conference. But it's pretty much – it's very similar in every league of our size. I think that's one of the – you know, in an ideal world you'd love for everybody to play everybody.
"So far we haven't come up with one that's better than what we're doing in the minds of the majority of our schools, and that's how that works is a majority vote. Same thing with divisions. We haven't really talked about divisions in several years now. There for a while, we talked about it and how to schedule every meeting.
"So I think right now where we are, things have settled in both in terms of how we schedule and in terms of the divisions, and you know, divisions can change. We all know that. Right now – and if you look at – surprisingly, to some, if you look at over the years the head-to-head competition with the Atlantic and Coastal, it's very close to .500. It's not imbalanced.
"But you know, we'll keep looking at it, but I wouldn't anticipate any change in the near future."
–Jimmy Robertson, VT Athletics