Jim Glanville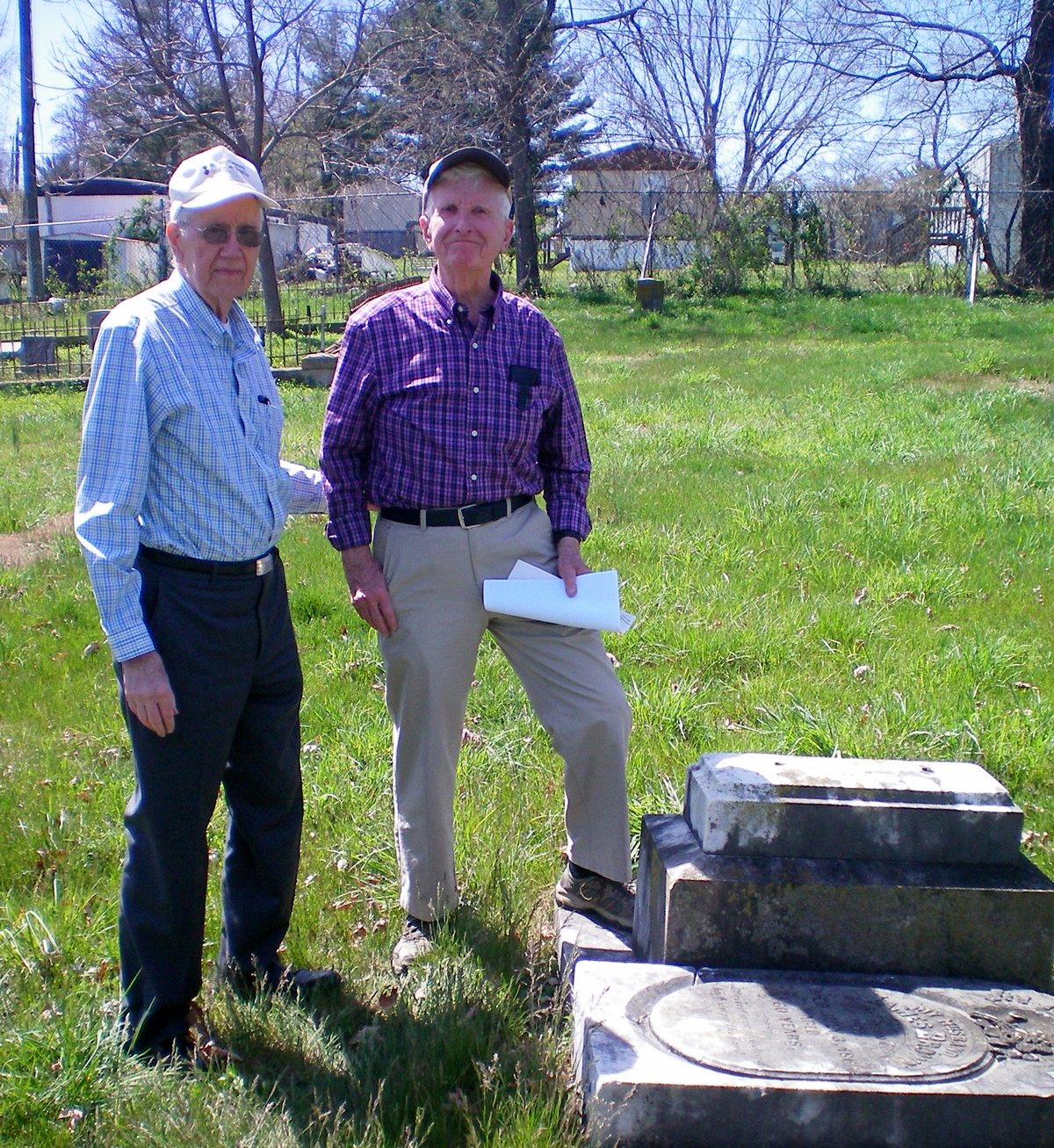 On a beautiful Sunday afternoon in the early spring of 2017, I visited the Craig Cemetery in Christiansburg.
---
I was accompanied by longtime Christiansburg historian Bob Shelton and my friend the Blacksburg lawyer Jim Montgomery. They are shown during the cemetery visit in the accompanying photograph.
This hard-to-find cemetery has a sign at its entrance that reads "Historic Craig Cemetery, circa 1806." It is near the Christiansburg Livestock Market, a few hundred feet west of the intersection of Park and Depot Streets.
Today, this normally locked cemetery is enclosed by a chain link fence and surrounded by mobile homes and commercial buildings. The entrance to the cemetery is off Park Street up a steep parking lot between Aegisound (a company that makes protection equipment to combat extreme noise) and Sanico Solutions (a janitorial product supplier).
With the families of people buried in the cemetery dying out, the Montgomery Museum accepted ownership of the Craig Cemetery as a gift in May 1990. Today, the museum maintains the cemetery with volunteers.
People who wish to visit the cemetery can get its key from the museum, and volunteers are always needed.
Some old cemeteries remain under the care of families with antecedents buried there. Conversely, many older cemeteries, such as Craig, have simply become history on the landscape, with no one living who takes a personal interest in them.
The cemetery is located on the large Hans Meadow estate once owned by James Craig and his wife Anne Montgomery Craig. The first court session in what would become the Town of Christiansburg was held at Craig's home near the cemetery on May 4, 1790.
His home was an ordinary (a tavern with overnight guest facilities). Today, nearby accommodation is available just across Main Street at the Oaks Victorian Inn.
The records of this 211-year-old cemetery are incomplete. Bob Shelton and the late Clovis Linkous (who at that time were both on the Board of the Montgomery Museum) surveyed the cemetery in 1999 and found 166 gravesites, of which 116 contained a named person, while 50 others had an unknown occupant. Earlier surveys made in 1934 and 1950 added 10 more graves that could no longer be identified in 1999.
Shelton and Linkous' work is recorded in a booklet titled "The Documentation of the Craig Cemetery" on sale at the Museum. They noted that some graves could be identified only as depressions in the earth. Others never had a stone marker, and yet others had stones suffering from weathering and vandalism, or were broken, fallen over or even moved.
The Find-a-Grave website for the Craig cemetery was posted in 2008. It lists only 130 burials at the Craig Cemetery and is missing many names while adding some not listed by Shelton and Linkous.
Most significantly it adds the grave of John McHenry, who was one of the two men killed in the 1808 Lewis-McHenry Christiansburg rifle duel. On the contrary, a document in the possession of Shawsville historians Fran and Don Poole says that McHenry was buried in the Madison Cemetery in Shawsville. Other sources say that it was Lewis who was buried in Shawsville.
Fragmentary, incomplete and conflicting information is a routine problem for the local historian. There are many aspects of local history that defy accurate interpretation.
Lewis Miller (1796-1882) is the most famous person buried in the cemetery. Wikipedia describes him as "Pennsylvania Dutch folk artist," whose drawings are of special interest to historians for their "depictions of everyday life and insight into local customs and cultures." According to Su Clauson-Wicker, Miller made many trips to Virginia and moved to Christiansburg in the 1870s to live out the last years of his life at Hans Meadow with his widowed niece Emmeline Craig. I will write more about Miller in a future column.
The two earliest burials in the cemetery date from 1806 and are the nine-month-old daughter of Captain James Bratton named Elizabeth who died on July 25, 1806 and Hest (Hester?) Spaulding who died that year at the age of 22.
Other persons buried in the cemetery include Civil War veterans, a World War I fighter pilot and many members of the Flagg family in a specially walled-off section.
During the cemetery visit Bob Shelton recounted some of the story of Christiana/Christina Crewy/Crewey Walters. Shelton wrote about "The Legend of Christiana Walters" in Mary E. Lindon's edited volume "Virginia's Montgomery County" (Montgomery Museum and Lewis Miller Regional Art Center, 2009, pages 569-572). Crewey's legend is interesting and worth reading. One part of the legend is that she donated land for the first Montgomery County Courthouse, though such a donation cannot be substantiated in the courthouse records.
Nonetheless, Shelton notes that some members of the extended Walters family maintain that Christiansburg was named for her.
The origin of Christiansburg's name is yet another topic clouded by history. My guess is that it was named after either Israel Christian or his son William, the Revolutionary War fighter. However, lacking clear-cut documentary evidence we cannot be certain.
It is easy to fall into the trap of thinking that history is a simple cut-and-dried record of the past. It isn't. Much history is simply missing and impossible to find.
Different historical records state different facts, and newly uncovered facts, such as come for example by finding a long forgotten contemporary newspaper account, change history. Additionally, there are always the history writer's conscious and unconscious biases.
All serious writing about history remains in the end a personal interpretation of a necessarily incomplete story.
Jim Glanville is a retired chemist living in Blacksburg. He has been publishing and lecturing for more than a decade about the history of Southwest Virginia.