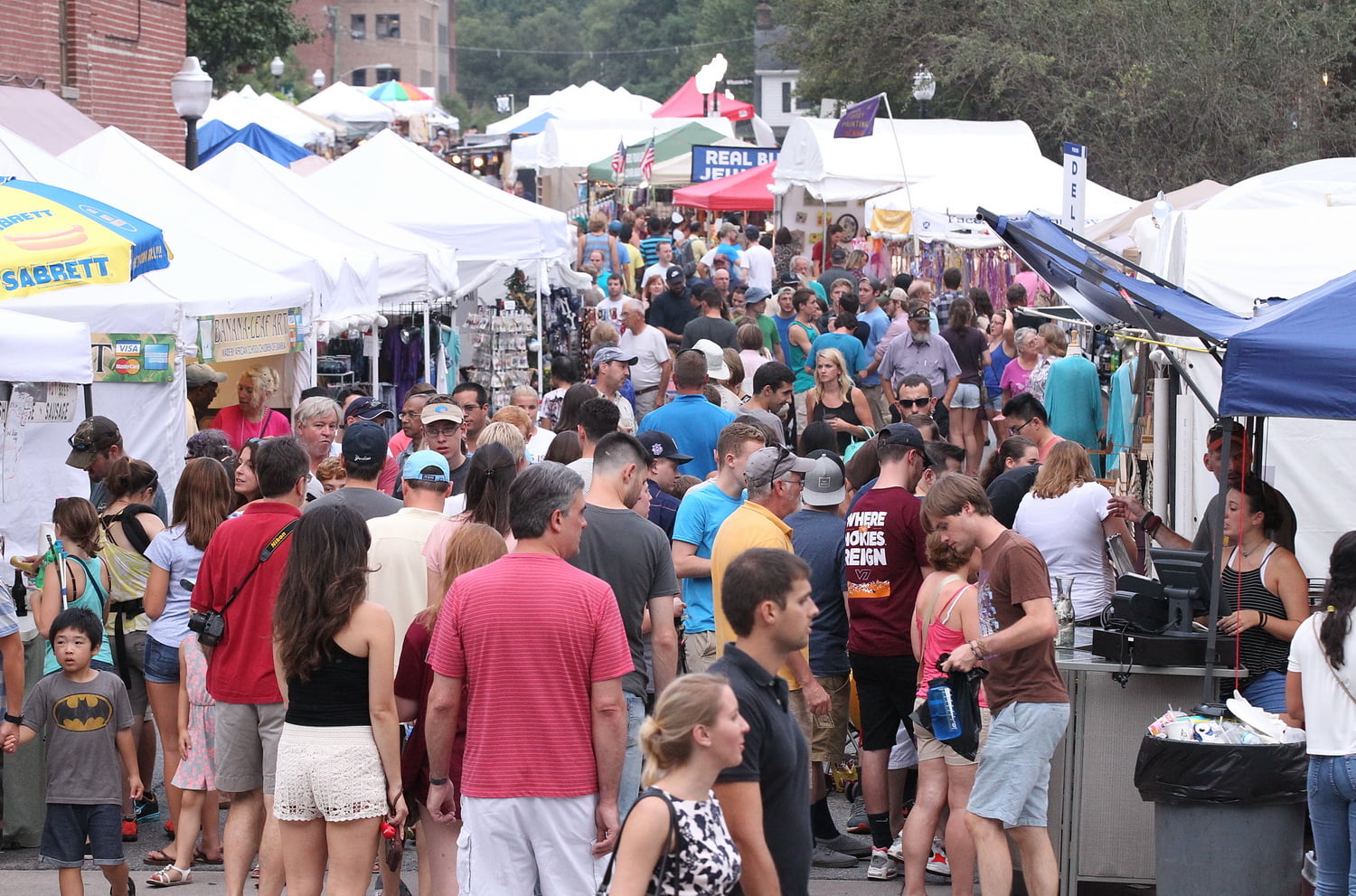 The 37th annual Steppin' Out festival in downtown Blacksburg will feature a variety of music, art displays, craft vendors and local food throughout the two-day event.
---
Their will be over 25 musical acts playing on three separate stages. The Main Stage provides continuous live music on College Avenue and Main Street. The Acoustic Stage brings folk, contemporary, and utterly unique sounds to the festival area of Main and Lee Streets.
The Community Stage showcases local and regional performers of different varieties. The Community Stage is located in the National Bank of Blacksburg Parking lot on Roanoke Street.
Dogs are not permitted, but may be left at the Canine Corral on the Henderson Lawn on College Ave. It's free and service is provided by Prestige Pet Sitting Agencies. The Corral will be open 10 a.m.-10 p.m. both Friday and Saturday.
Giant artwork will be displayed Thursday through Sunday to promote visitation to Blacksburg, the Alexander Black House and the festival itself.
Downtown Blacksburg, Inc. will be displaying an oversized LGBT LOVE artwork at the Black House on Thursday as part of a state and local partnership to promote tourism.
The piece, which is 16 feet long and more than six feet high, is part of the Virginia is for Lovers campaign and designed to promote family-friendly vacation experiences in Virginia.
Visitors are encouraged to take a picture in front of the artwork and share it on Facebook at www.Facebook.com/VirginiaisforLovers or on Instagram and Twitter, using the special hashtag #LOVEVA.
A variety of artists and crafts people from around the United States will be selling unique handcrafted items like: jewelry, pottery, textiles, metal work, basketry, stained and fused glass, yard art, fine art, furniture, toys and more.
In addition to vendors, downtown Blacksburg merchants will also hold their annual final clearance sidewalk sales in front their respective stores.
Blacksburg Transit will be providing a free shuttle to the festival from the Chicken Hill Parking Lot on Virginia Tech's campus. The shuttle will drop off and pick up at the corner of Washington Street and Draper Road and will run every 15 minutes from 9 a.m.-10:30pm.
To get to the Chicken Hill Parking Lot from Rt. 460 – Turn onto Southgate Drive. The Chicken Hill parking lot is at the intersection of Tech Center Drive and Southgate on the left.
The Kent Square Parking Garage will also be open. Entrance is located at the corner of Draper Road and Roanoke Street; 380 public parking spaces with hourly and daily rates available and parking is validated by many downtown businesses.
Festival hours are 10 a.m.-11 p.m. Friday and 10 a.m.-10 p.m. Saturday. For more information, visit: www.blacksburgsteppinout.com/index.shtml.