Jennifer Poff Cooper
Contributing writer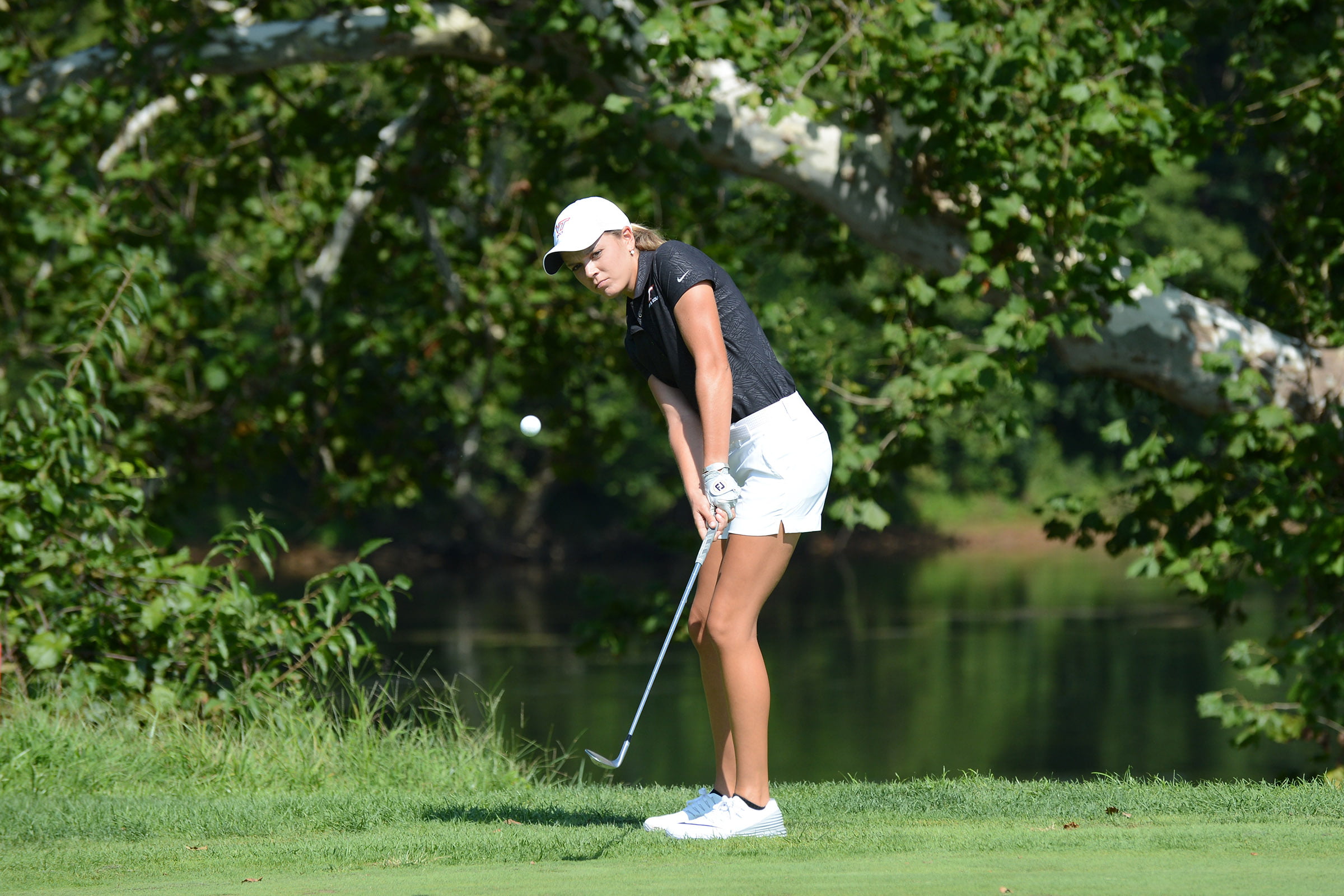 Katie Muscatello is a Hokie golfer who hails from Blacksburg, where she was a two-sport athlete at Blacksburg High School, earning three varsity letters in golf and four in softball.
---
She was named the "Most Improved Golfer" her junior season, followed by "Most Valuable Senior" a year later.
A late bloomer in the sport of golf, Muscatello had taken some clinics at the Blacksburg Country Club, but didn't play in earnest until after her sophomore year in high school when she started lessons.
She tried out for the Bruins' team for fun but quickly developed skill, and by her junior year, was encouraged to pursue the sport in college.
Muscatello knew she would likely have to walk-on to a team because of her delayed start. Some smaller colleges recruited her for golf, but knowing she wanted to put academics first, she chose to continue her education at Virginia Tech because, as she said, "you can't beat Tech engineering."
However, she was unsure whether she would be able to play golf at that level. A particularly good tournament performance caught the attention of Virginia Tech Golf Coach Carol Robertson, Muscatello said, and she was able to walk-on to the team.
Robertson said that Muscatello's reputation also drew her notice. Robertson knew that, as an engineering major, Muscatello's sights were set high. To find a well-rounded, hard worker as a walk-on is "pretty special," said Robertson.
Muscatello said she brings a strong work ethic to the team, as well as some "fun and spunk" with her personality. Robertson said that Muscatello has a rare quality to be able to relate to everyone.
"She is mature beyond her years," the coach added.
In her freshman season at Virginia Tech, Muscatello competed in one event, the Greenville Regional Preview, placing 91st overall.
This year, as a sophomore, Muscatello's confidence is up, and she has improved her physical game, said the golfer. Robertson concurred, saying that there has been an "enormous leap in her game" between this time last year and now.
Muscatello said she spends 80 percent of her practice time on chipping and putting and 20 percent on hitting balls, and she utilizes the services of a swing coach.
There are also workouts twice a week as well as cardio training since endurance is required to play 36 holes, walking the course carrying a golf bag.
"Golf is more about how hard you work than athleticism," said Muscatello, with the sport being "99 percent mental."
Robertson feels that the constant care and one-on-one attention that is only available to the approximately 540 student athletes has also contributed to Muscatello's success at Virginia Tech.
What made Muscatello choose golf over softball? She had pitched softball for 13 years and felt she had become the best she could in the sport. She was also burned out.
Golf, on the other hand, offered a new challenge. Muscatello said she loves everything about golf.
"I never get sick of practice" and always feel like "I need to do more" on the course, especially since she started out a step behind.
In addition, she said, there were more opportunities for being recruited at the collegiate level in golf than in softball.
Her softball training still comes in handy, though. Muscatello said she channels the confidence she developed in softball into her golf game, "believing I can play well instead of worrying about messing up."
Robertson agreed, saying that Muscatello is calm and confident, acting like she belongs with the scholarship players.
Balancing her schoolwork with a collegiate sport is not as hard as she thought, but still requires commitment.
It's about "buckling down and not messing around," Muscatello said.
She has class in the mornings, practice in the afternoons, and then studies until bedtime.
In her rare free time, Muscatello participates in the Fellowship of Christian Athletes and hopes to become involved in some academic clubs.
"I try to keep it low key so as not to overwhelm myself," she said.
Ultimately, she wants to be a big contributor to her team. Muscatello considers being on the Hokie golf team the "opportunity of a lifetime," one she does not take for granted.
Robertson believes that if Muscatello continues her improvement at this rate, "she is going to be fantastic."