Liz Kirchner
communitynews@ourvalley.org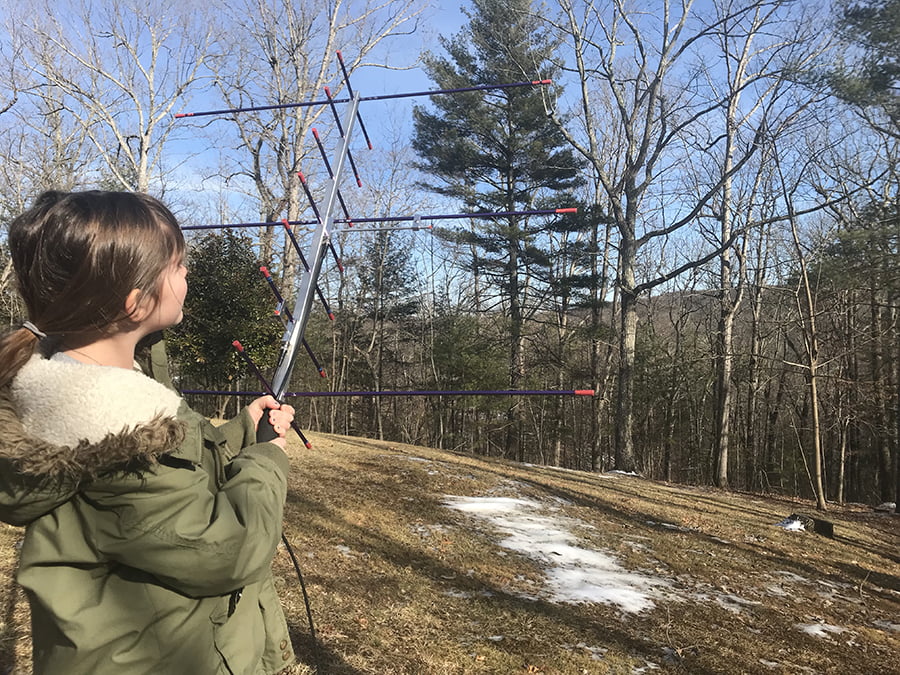 BLACKSBURG—In a bright yellow flounced top, bouncy pony-tail and sparkly necklaces, second-grader Lacy Beckett is explaining how one might go about communicating with a passing satellite, then write code to instruct that satellite to take a photo of the sky and how to tell it to send it back to you.
---
Wielding an aluminum antenna, she steps into the tree-ringed lawn of the family home in Blacksburg to demonstrate, pointing to the top of a pine and explaining to a visitor over her shoulder.
"Let's say that the satellite is just at the tip of that tree. We point it there and we wave it around so we can catch the correct signal because the satellite is always spinning," she said. "You can hear the radio signals coming from it," Lacy said.
Lacy, 8 as of last week, is an amateur radio operator and recognized as the youngest person to pass the technician-level exam given by the New River Valley Amateur Radio Club.
The 35-question test quizzes a prospective operator on complexities like electrical and radio frequency, station setup and the fundamentals of electronics.
Successful test-takers earn the ability to communicate with other hams—the nickname for amateur radio operators – locally, within North America, and with limited privileges internationally.
One hundred years ago, radio captured the imaginations of ordinary people—often young people—all over the world. So low-tech and intriguing, eighth graders were reportedly sending and receiving messages miles away, and teenagers were building wireless stations in chicken coops.
"It appealed to folks who were tinkerers," said David Isgur, communications manager for the Amateur Radio Relay League, the largest organization of radio amateurs in the United States. "People who liked to see how things worked. They built kits, power sources and antennas to send signals out and, whoever could pick it up, they'd answer—an amazing thing. Technology has always been a big part of amateur radio," he said.
Today, the past-time bundles together the "seat-of-the-pants" with the "out-of-this-world" drawing people interested not only in tinkering with wire and cobbling transceivers and antennae, but also those interfacing radios with computers and bouncing signals off satellites and the moon.
"Amateur radio was really the original Maker Movement. Where almost everything was built from kits or designed and engineered from scratch. This continues on today, but now touches so many disciplines," Lacy's uncle, Malcolm Beckett, said.
Kay Craigie, past-president of the Amateur Radio Relay League, and Blacksburg resident agrees and emphasizes amateur radio as an encouraging community across genders and ages.
"STEM (science, technology, engineering, and math) efforts and groups like the Maker Movement have made science and technology more welcoming to women and girls. Amateur radio has been welcoming for a number of years. [Women] are still numerically in the minority, but achievement and leadership opportunities exist and are growing," said Craigie, who began her amateur radio life in the 1980s as a computer hobbyist at a time when computer hobbyists were also radio amateurs, made friends in both high-tech activities.
Most people are introduced to ham radio through friends and family. Lacy's uncle and aunt, Malcolm and Jessica Beckett, who both have advanced credentials, introduced her to amateur radio.
Standing in the grass on a warm winter afternoon, the whole family talks comfortably about radio, satellites, and homemade computers like Raspberry Pi and spending an evening together looking at—and talking to—the sky.
"You can come out here at night and you can actually see the ISS with your eye. Just a little light. It's like a moving star," Jessica said.
"Beyond the ISS, there are many low-earth orbit satellites available to the amateur community that relay messages, act as voice repeaters, and even take and send pictures." Malcolm said.
Lacy, very young, female, and steeped in a culture that is increasingly valuing girls in STEM fields, is interested in the tinkering and assembling breadboards, but approaches ham radio from space.
She seems especially inspired by the International Space Station (she has a plush cat she's named after astronaut Scott Kelly) as well as satellites and the connection between us down here and them up there.
For her, that distance is short, easily surmountable: she recommends the satellite tracking app GoSatWatch and talks about communicating with friends in Richmond by bouncing signals off relay satellites.
Her $40 dollar hand-held radio, suitable for beginner operators has a two-foot long "rubber ducky" antenna.
She laughs, "it's the best of the worst."
The test wasn't too hard, she said, and it was independence that drove her.
"I realized that Malcolm and Jess had their licenses, and I really wanted to operate by myself, because I was operating with Malcolm, and I was using his call sign and didn't have mine, and I really thought it would be cool to have one," she said.
She studied for two months and offers sage advice that's applicable not only to young people interested in ham radio.
"What I would recommend is that, I think a lot of people think that studying is going to be boring, but after you get your license you get the reward of being able to operate on the radio," the eight-year-old said.
Ham radio operators are a fellowship based on achievement benefiting all newcomers.
"Young people who get involved in amateur radio meet achievement-oriented people from all walks of life," Craigie said. "Today's girls and women are achievers and have contributions to make to technology and to other aspects of amateur radio. The more a person contributes, the more he or she gets back."
Fellowship found among radio operators was also an inspiration for Lacy. She wanted her license in order to participate with other radio operators at the national Field Day that's held every June in which 40,000 hams throughout North America set up temporary transmitting stations in public places as a demonstration of ham radio's science, skill and community service.
"It was pretty much, I wanted to use my call sign for a field day one day. And I wanted to be able to operate by myself. And it was like having another responsibility, because…well, you do, actually, have another responsibility," she said laughing.
With insight into why girls aren't more involved in ham radio she suggests that maybe they don't think they have the courage or confidence.
"I don't know why not. Back when girls couldn't do as much, like they couldn't vote. They kinda still think that's true," she said. "They might think they'll get teased or bullied."
At this idea, she doesn't laugh and fixing the problem isn't easy.
"That's kinda on the girl that's deciding. They need to have enough courage. I just wanted my license."
Asked what she will do with ham radio skill as she gets older, she's sure.
"I have a dream career, which is to go to space and maybe get on the ISS. I would be able to talk from up in space to people down here on Earth," she said.
Saying goodbye she says, "I hope you can get your license." Her visitor says she'd like to. "Yay! Another woman!" says Lacy.
The visitor demurs saying, "You know, I'm a hundred and ten years old. Do you think it's too late for someone my age to learn how to do this?"
"No," Lacy said, "it's never too late to learn!"
There are 2000 Amateur Radio clubs throughout the country and over 600,000 radio amateurs in the United States, 2 million worldwide according to the Am​erican Radio Relay League.
Many clubs are focusing on young radio operators harnessing the STEM skills and innovation found in the context of amateur radio. Elementary schools talk to astronauts (many of whom are hams themselves) aboard the International Space Station as it passes over the school linking those kids to big ideas of space and science through radio.
One radio group in Virginia Beach seeks to bring young people together with electronics in order to reach Mars, the Boy Scouts trains scouts for Radio badges, universities, technical schools, and colleges offer scholarship programs to radio amateurs.
Ham radio operators come from all walks of life including kings, astronauts, physicians, Nobel Prize-winning scientists and everybody else.
"Learning to respect and appreciate the abilities of all kinds of people is good for kids. Whoever and whatever Lacy grows up to be and wherever in the world she lives, she will have a community of friends in amateur radio ready to respect and encourage her," Craigie said.