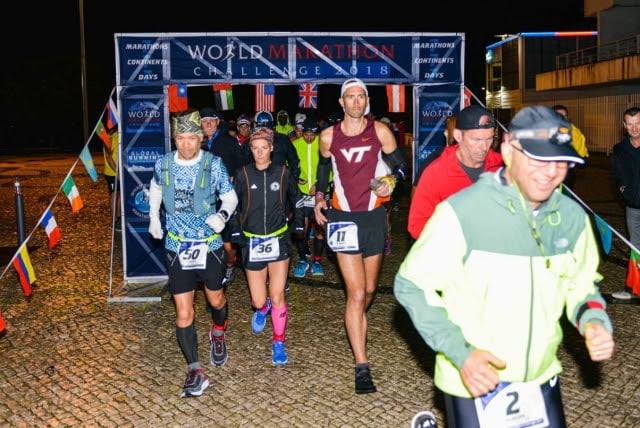 He ran 96 miles over six days in Costa Rica last year.
---
That's on top of a total of 24 marathons, 41 half marathons, and a handful of 50K, 50 milers, and 12-hour races in the past 10 years.
JP Caudill is not your average weekend warrior runner. He's always looking for a new – and extreme – adventure. But even running seven marathons for seven days straight in seven different continents initially sounded a bit much for him.
"It's nuts, it's crazy," said Caudill, who wears sandals made for outdoor exercise during his runs to prevent blisters and foot swelling. "It was that that drew me to it."
Caudill, a 2000 Virginia Tech graduate who lives in Virginia Beach, was the second U.S. male and the sixth runner overall to complete the World Marathon Challenge in February. In seven consecutive days, Caudill and 46 others ran seven marathons across seven continents – Novo, Antarctica; Cape Town, Africa; Perth, Australia; Dubai, United Arab Emirates; Lisbon, Portugal; Cartagena, Colombia; and Miami, Florida.
Caudill, who ran the Boston Marathon, said he didn't have a goal to place high in the challenge. He wanted to finish each marathon in at least three hours and 45 minutes. But after the second marathon in Cape Town, the most difficult for him, he realized that he needed to readjust his time expectations.
"There's no bar for going seven days in a row," said Caudill, who averaged about four hours and seven minutes per marathon. He documented his preparations for the challenge on his website, JP Runs the World.
Rewind about 10 years, when Caudill, an IT consultant, ran a mile for the first time. He lifted weights regularly, but he wanted to get in better aerobic shape.
One mile turned into a 6K (3.7 miles). Eventually, he was running marathons and after a few years, ultra-races, which are distances longer than 26.2 miles.
"It's always like 'What's next? What's the crazy thing I can try to see if I can get through?'" Caudill said.
A few years ago, while researching the Antarctic Ice Marathon, his goal race, he stumbled across the World Marathon Challenge. Global Running Adventures organizes both the Antarctic Ice Marathon and the World Marathon Challenge. Survival of the farthest is the organization's motto.
He didn't have to think long. It was the perfect time to attempt the 2018 World Marathon Challenge. Caudill would turn 40 years old in February 2018, and he could use the challenge to raise funds for pancreatic cancer. His grandmother died from the disease in 2007.
When Ron Jones, a 1985 Virginia Tech alumnus and former president of the Tidewater Striders, a running club, and other friends heard about Caudill's plans for the marathon challenge, they weren't sure what to say.
"We're all like 'Wow, you're really going to do this,'" said Jones of Virginia Beach, who attended a large party for Caudill before he left for the challenge. "I'm not sure we were really surprised."
Caudill shelled out $40,000, a significant portion of his life savings, to participate in the challenge.
To prepare, he ran 80 to 100 miles a week, and one weekend, he competed in three marathons back-to-back, traveling from Springfield, Virginia, to Richmond, Virginia, and then to Outer Banks, North Carolina.
"You can train for something like this, but it really is that long-term experience and commitment to running that helps me do this," he said.
During the adventure, Caudill traveled by airplane to each marathon with the other challenge runners. The second, in Cape Town, Africa, was the hardest for Caudill because of the significant temperature difference between the previous cold Antarctic marathon and the heat in Cape Town. It was 23 degrees in Antarctica, and with wind, it felt like single-digit temperatures, he said. Even water served in cups and bottles at the aid stations froze. In Cape Town, it was nearly 80 degrees.
Also, there were less than 12 hours between both of the marathons.
"The heat just got to you so quickly, and the sun was punishing," Caudill said. "There was a lot of walking."
Eating between marathons was a challenge, because sometimes there weren't enough hours to dine and sleep. There were snacks and meals on each flight, and Caudill also fueled with meal replacement energy bars.
"As the week goes on you have to start making decisions if you're going to eat or sleep because the time between locations is getting shorter as the week goes on and you can't do both," Caudill said.
As the week of marathons wore on, the runners began to bond. Many ran as a pack for the fifth marathon in Lisbon, Portugal.
Despite exhaustion and extreme temperature swings, Caudill said he never considered quitting.
"I knew I would get it done," he said. "If it meant I had to slow down, to walk, fine. I have never not finished a race."
Other than losing a few toenails, Caudill finished the challenge with no injuries. He celebrated by spending several days in the Cayman Islands.
Now he's back to running and marathoning, with the Boston Marathon this month, the 43-mile Rim to Rim Run across the Grand Canyon in May, and the Burning River 100-miler in July in Ohio. Next February, he'll line up again for the Coastal Challenge Costa Rica, a six-day, multi-stage trail race.
As a Virginia Tech student, Caudill majored in economics at the Pamplin College of Business, and he moved to Chesapeake, Virginia, after graduation to take a job in web development.
Caudill has stayed true to his Hokie roots. He is the webmaster for the Tidewater Chapter of the Virginia Tech Alumni Association's website, and he regularly attends the group's meetings.
Through his alumni connection, Caudill was able to display his Hokie pride during the marathon challenge.
He wore a different running singlet for each marathon. With help from Dave Cianelli, director of track and field and cross-country programs at Virginia Tech, and Ben Thomas, the Hokies head cross country and distance coach, Caudill landed a Virginia Tech singlet for the Lisbon marathon. Cianelli said he typically receives one or two messages from alumni a year requesting Virginia Tech singlets to wear in road races.
Caudill even heard some Hokie shout outs while he was running.
–Jenny Kincaid Boone, Virginia Tech