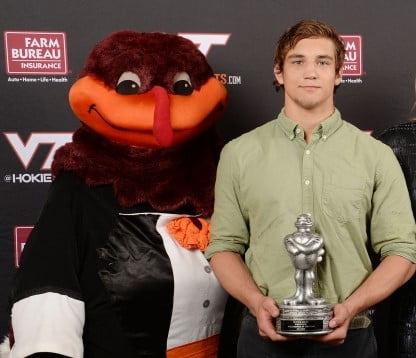 Jared Haught regularly talks about his love for fishing.
---
Well, Tuesday evening, he didn't exactly have his hip waiters and fishing pole with him, but he certainly reeled in quite a haul.
The Virginia Tech wrestler was the biggest winner at The Gobblers, an end-of-the-year ESPY-style awards show put on by the Virginia Tech Athletics Department and held at the Moss Arts Center on campus on April 24. In its third year of existence, the event celebrates the top athletics accomplishments and community success stories by the university's varsity student-athletes over the past year.
Haught, a native of Parkersburg, West Virginia, won awards for wrestling team MVP, Male Athlete of the Year, Best Game for his semifinal win at the NCAA Wrestling Championships, and The Golden Gobbler, which goes to a male and female student-athlete who truly embodies the spirit of a Hokie. The winners of the Golden Gobbler excel at a high level athletically and academically, with a service mindset and motivation to make a positive impact on others.
The Student-Athlete Advisory Committee (SAAC) representatives for each team; head coaches; and staff members of the Strategic Communications office nominated and voted on most of the awards handed out. SAAC reps and support areas nominated student-athletes for the Golden Gobblers, and SAAC reps conducted the final vote.
"It was really neat," Haught said. "Every time I got an award, I was really expecting someone else to get it because there are definitely a lot of really great athletes out there. I'm definitely honored to get all this. This was a really cool event."
Haught enjoyed a spectacular senior season on the mat for the Hokies. He won the ACC title at 197 pounds and then he advanced all the way to the finals at 197 at the NCAA Wrestling Championships after pinning Cornell's Ben Darmstadt in the semifinals. He became just the second NCAA finalist in Tech's wrestling history and only the fourth three-time All-American. He concluded his career with 97 victories – 30 this past season.
He also excelled academically, earning a spot on the ACC's All-Academic Wrestling Team. He graduates in May with a degree in mechanical engineering.
"This was a cool way to end my career," Haught said. "I found myself reflecting a lot tonight on some of the things I had done in my career and also on what a lot of these great athletes have done. It really reminded that we all got to live a dream and compete on the Division I level, so that's all just really cool.
"These are things I'll have and cherish for a long time, and I'm really honored to have them. I didn't expect to win any of them, so I'm just thankful and honored."
Jaila Tolbert and Irena Sediva took home top awards on the women's side. Like Haught, Tolbert, a junior volleyball player from Minneapolis, Minnesota, won The Golden Gobbler among female student-athletes after a year in which she earned second-team All-ACC honors on the court and represented the ACC on the Division I Student-Athlete Advisory Committee at the NCAA Convention in January.
Sediva, a former Tech track and field student-athlete, won the Female Athlete of the Year honor. The Czech Republic native captured her second national championship last June when she finished in first place in the women's javelin at the NCAA Outdoor Track and Field Championships held in Eugene, Oregon. She became just the second female at Tech to win two national championships, joining former track standout Queen Harrison.
Hunter Bolen and Lisa Gunnarsson received the Male and Female Rookie of the Year honors, respectively. Bolen, a Tech wrestler from nearby Christiansburg, was named the ACC Freshman of the Year after going 21-12 in his first season, including a 4-0 mark in ACC competition. He finished second at the ACC Championships at 174 pounds and qualified for the NCAA Championships. Gunnarsson, a track and field athlete from Stockholm, Sweden, won the ACC title in the women's pole vault at the ACC Indoor Track and Field Championships and went on to finish fourth at the NCAA indoor meet held in March. The All-American became the first Tech women's pole vaulter to vault over 15 feet.
The department also recognized winners in the categories of Best Upset, Breakthrough Performance of the Year, Sports Moment of the Year and Championship Performance of the Year.
The men's basketball team received the Best Upset award after knocking off then-No. 2 Virginia in overtime in Charlottesville on Feb. 10. The loss was just one of three all season for the Cavaliers. The Breakthrough Performance of the Year, which goes to an athlete who has increased his/her athletic performance dramatically, went to track and field athlete Sarah Edwards, a sophomore from Bellingham, Massachusetts who won a gold medal in the 3,000-meter steeplechase at the 2017 ACC outdoor meet.
The Tech football team captured the Sports Moment of the Year when the Hokies beat Pittsburgh at Lane Stadium in late November. The Hokies got a goal-line stand from their defense in the waning moments to preserve a 20-16 victory.
And the Championship Performance of the Year went to the four members of the men's track and field distance medley relay team. The quartet of Vincent Ciattei, Greg Chiles, Patrick Joseph and Neil Gourley won the national championship at the NCAA Indoor Track and Field Championships in March. The title marked the school's first in distance running.
In addition to these awards, the department recognized several others for service to the community. The ACC's Top VI for Service Awards went to six student-athletes who demonstrated outstanding dedication to community service and outreach programs, and that group included men's track and field athlete James Carver, volleyball standouts Stacey Christy and Mandy Powers, men's soccer player Matt Dudon, women's soccer player Olivia Odle and women's swimmer M.J. Ulrich.
Ulrich took home another honor when she was named SAAC's Member of the Year. Voted on by SAAC representatives, the SAAC Member of the Year goes to a SAAC member who shows passion, commitment, and high involvement in SAAC initiatives throughout the year. Ulrich served as the president of Tech's SAAC this past year.
The athletics department reserved a portion of the evening to recognize the winner of the Frank Beamer Staff Excellence Award, an award named in honor of former football coach Frank Beamer and given to a department employee committed to integrity, service, honor and excellence. This year's award went to administrative assistant Penny Martin.
The Virginia Tech sports nutrition and strength and conditioning areas named athletes of the year as well, with the sport nutrition staff selecting winners based on their commitment to nutrition and the strength and condition staff determining theirs based on max strength testing results.
The nutrition staff named Jessie Mehr, a softball player from South Lyon, Michigan, as the Female Nutrition Athlete of the Year, while Ian Ho, a swimmer from Blacksburg, was the Male Nutrition Athlete of the Year. The football team received the nutrition staff's Team of the Year honor.
There was one strength and conditioning Athlete of the Year per team, and the winners included: Sam Fragale (baseball), Nick Fullard (men's basketball), Rachel Camp (women's basketball), Caleb Carney (cheerleading), Amanda Johansson (cheerleading), Joey Slye (football), Wyatt Teller (football), Blake Fiest (men's golf), Amanda Hollandsworth (women's golf), Alexa Villaflor (HighTechs), Mary Claire Byrne (lacrosse), Kristo Strickler (men's soccer), Kari Johnston (women's soccer), Olivia Lattin (softball), Ben Schiesl (men's swimming and diving), Sydney Pesetti (women's swimming and diving), Abraham Asaba (men's tennis), Caroline Daxhelet (women's tennis), Brandon Thomas (men's track and field), Nora McKiver (women's track and field), Kai Young (volleyball) and Stan Smeltzer (wrestling).
Finally, each team's head coach determined a Most Valuable Player honoree. Those who won included: Luke Horanski (baseball), Devin Wilson (men's basketball), Taylor Emery (women's basketball), Grant Shively (men's cheerleading), Mackenzie Lorch (women's cheerleading), Peter Seufer (men's cross country), Katie Kennedy (women's cross country), Greg Stroman (football), Mark Lawrence Jr. (men's golf), Elizabeth Bose (women's golf), Kate Smith (HighTechs), Tristan McGinley (lacrosse), Marcelo Acuna (men's soccer), Alani Johnson (women's soccer), Carrie Eberle (softball), Norbert Szabo (men's swimming), Klaudia Nazieblo (women's swimming), Ben Schiesl (men's diving), Ashlynn Peters (women's diving), Mitch Harper (men's tennis), Caroline Daxhelet (women's tennis), Distance Medley Relay team (men's indoor track and field), Vincent Ciattei (men's outdoor track and field), Rachel Pocratsky (women's indoor track and field), Lisa Gunnarsson (women's outdoor track and field), Jaila Tolbert (volleyball), and Jared Haught (wrestling).
–Jimmy Robertson, VT Athletics