The New River Valley Master Gardeners are now accepting applications for the 2019 Master Gardener Training Program.
---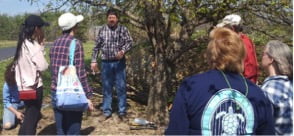 In an announcement, the Montgomery County Extension office suggests that Master Gardener training is good for anyone who wants to improve the community through volunteer service and is interested in horticulture.
• Applicants must be able to attend a 60-hour training program and complete 50 hours of volunteer service with Virginia Cooperative Extension during their first year.
• Training classes will be held Tuesday and Thursday afternoons from 1:00-4:00 PM on the Virginia Tech campus and at the Montgomery County Government Center from March through early May.
• The $180.00 fee covers class materials and a background check.
For more information, or to obtain an application, please contact
Wendy Silverman, Montgomery County Extension Office; 540-382-5790 or wss@vt.edu