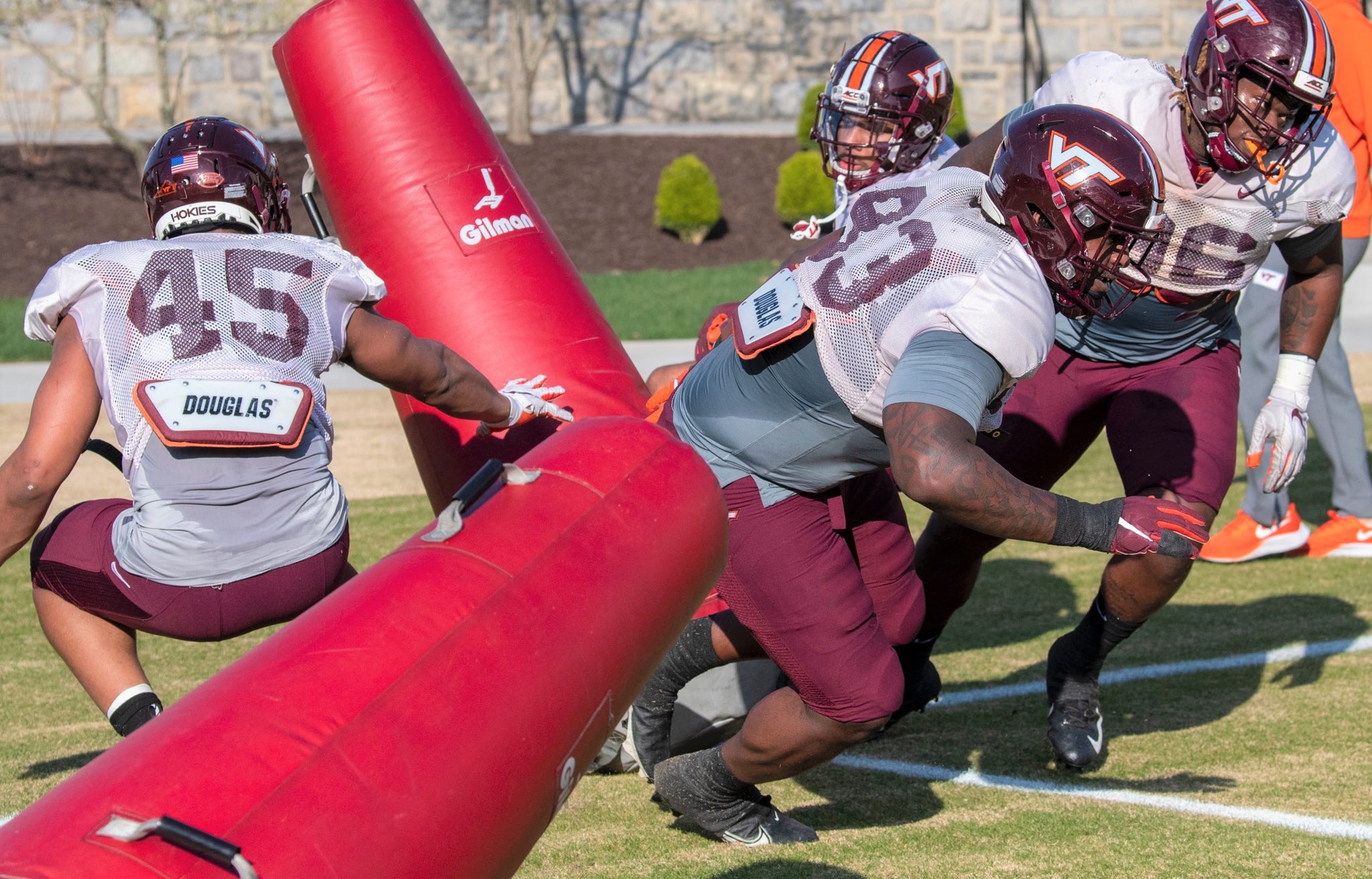 Head Virginia Tech football coach Justin Fuente talked to the media recently after a spring practice session and addressed the three main points of emphasis that have been stressed on both sides of the ball. 1. The ball: "We have to have a huge emphasis on taking care of the football and how we take it away." 2. Third down: "We were unsatisfactory on both sides of the ball a year ago." 3. How we practice: "We've taken big strides there."
Tech's defensive ends don't have an abundance of game experience as Fuente noted that Amare' Barno made the move from linebacker to defensive end during fall camp in 2020, but the Hokies do have experienced talent at defensive tackle.
"On the inside, Mario (Kendricks) and Norell (Pollard) had great off-seasons," Fuente said. "Jordan Williams has been really good for us. (Josh) Fuga continues to improve and we've got DaShawn (Crawford) who is getting healthy. That's the one spot last year where we played multiple people. Those guys in that room know they're going to play."
The biggest addition to that group in terms of size and stature is Clemson transfer Jordan Williams, who is listed at 6'1″ and indicated on Thursday that he's currently weighing in at around 300 pounds after departing Clemson weighing around 317 pounds.
"I feel a lot healthier, a lot faster, a lot quicker," Williams said. "But I also feel like I've got my power and strength behind me. I'm currently at 300 and feeling good."
"He's jumped right in and fit right in with the players," said the head Hokie. "He's a pleasure to be around. He carries some weight because he's been around some really good teams, and he really wants to do a good job of contributing to this one."
The increased size and stature that the Hokies possess on the interior of the defensive line could give Tech the potential to shift its pre-snap alignment less frequently.
"When you're not as big, you need to move your front more, and that usually helps you out a little bit," Fuente said. "With Jordan, he can both move like that and stand still and be effective playing defensive tackle. That's a nice benefit to have, a guy who can split a double team or when the double team comes off, be able to shed the block and make the play without having to move the front.
"As you start to move the front, things start to change behind you," the head coach told the media. "When you start moving those gaps it starts changing the picture that the linebackers see, which then changes the picture that the safeties see. That's not necessarily a bad thing, but it can make things more complicated. Jordan certainly has the ability for us to leave it a little more stagnant if we need to."
Williams was also asked about whether the NFL coaching experience of defensive line coach Bill Teerlinck is something that he's soaking up.
"Absolutely. The NFL experience, ultimately that's where everyone in our room wants to be," Williams said. "So to take some of his knowledge and the things he's taught the pros in the league, you just have to be a sponge and soak it all in."
The NFL draft begins in Cleveland on April 29.
Cornerback Caleb Farley was among the first ten players invited to attend the draft in person.
Fuente also had some good things to say about tight end Drake Deuliis.
"I'm so proud of Drake," Fuente said. "I'm proud because he's had an interesting journey. He's just continued to stay the course and is becoming a leader for us. He's a well-respected guy.
"He's picking up what we're asking him to do and he has to be diligent because we're asking those guys (the tight ends) to do a lot," Fuente said. "He's a great example, in my opinion, of a guy who stuck it out, continued to work hard, and now is reaping the benefits. He played a big role for us last year and is going to play a big role for us again this year."
Speaking of walk-on offensive lineman Will Jones (6'6", 286, lbs.), the boss Hokie told the reporters, "Will's been great. I think he's getting more reps than he ever dreamed of right now, that we ever dreamed of. As soon as he stepped out of the car he was in there taking reps.".
— VT Athletics