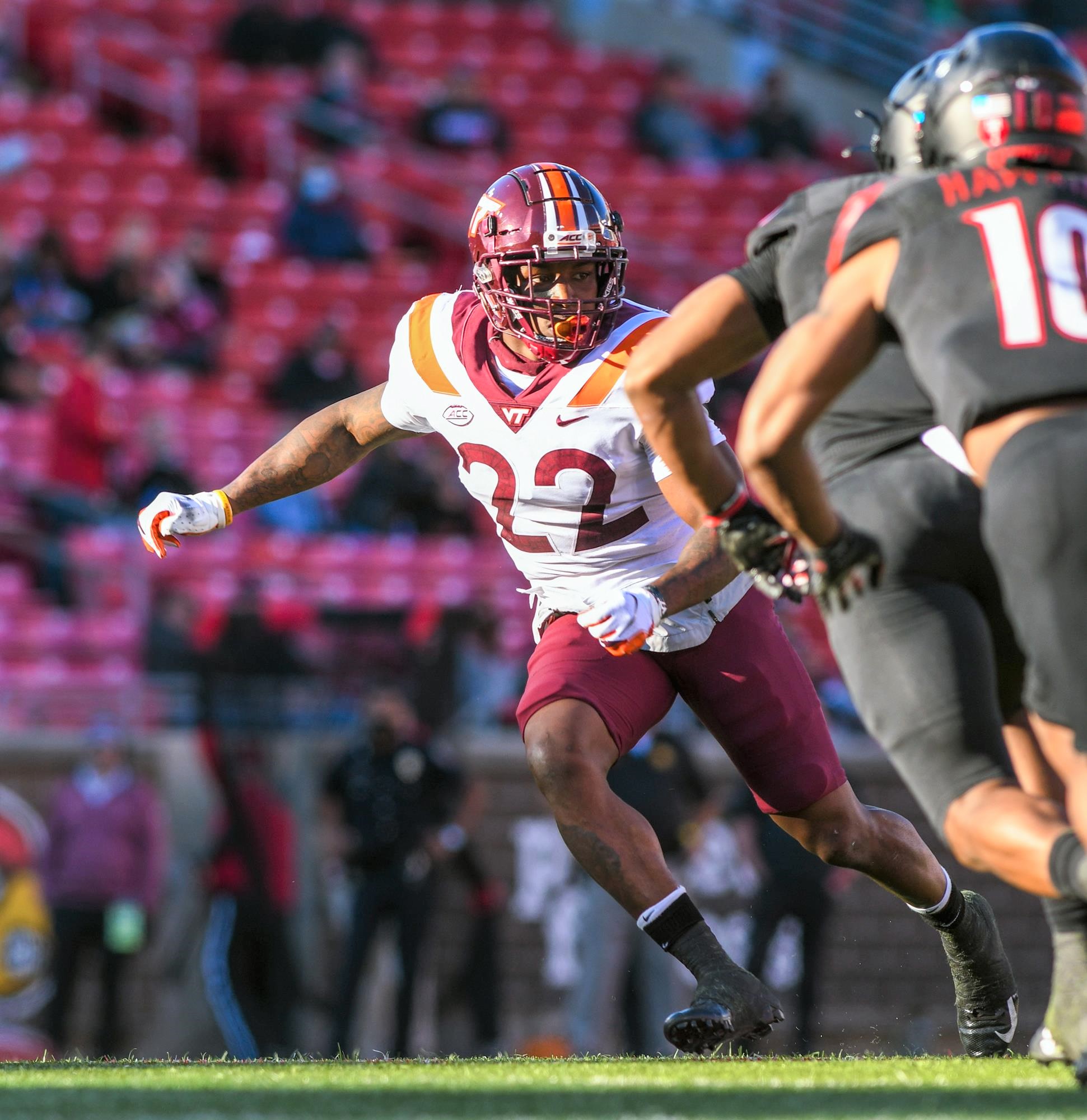 By Marty Gordon
Chamani Conner leads a Virginia Tech secondary into the season with a lot of optimism and believes opponents better not underestimate them.
The 6-0, 211-lb. Jacksonville, Fla., native started all 11 games for Tech in 2020 and led the Hokies with 81 total tackles (60 solo). An All-ACC honorable mention pick a year ago, he also had 3.5 tackles for loss, two interceptions, four quarterback hurries, and forced a fumble. 
The junior was recognized twice as the ACC Defensive Back of the Week last season. He has played in 37 career games with 24 starts for the Hokies, has totaled 162 tackles (113 solo), 13.5 tackles for loss, 5.5 sacks, and three interceptions.
The stat that really stands out was the 60 solo tackles by Conner last season. He credits the mentality of wanting to be the first to the ball every time as the underlying factor.
"I feel a lot of pride in tackling," he told reporters this past week at the ACC preseason football press conference.
Conner feels the secondary is loaded after a season this past year when a lot of youngsters had to play. "That has helped us gain experience and created depth," he said.
Last year, Defensive Coordinator Justin Hamilton's squad was 10th in scoring defense and 12th in total defense in the Atlantic Coast Conference, something Hokie fans definitely are not accustomed to. 
"Last year, we had to play a lot of young players, and they had to learn. But I think that will help us with depth," Conner said.
Of course, Hamilton had his own setbacks. 2020 was his first year as the head man on the defensive side of the ball after the retirement of longtime guru Bud Foster. After testing positive for COVID, Hamilton had to sit out two games.
Head Coach Justin Fuente points to the fact his team was deprived of spring ball.
"Our fall camp, once the students hit town, deteriorated into survival mode really quickly," the head coach said at the ACC meetings. "We had no foundation. I think that's what we've gone back to throughout the 15 practices in the spring. I like the changes we've made and the additions we've brought into our staff, both from a recruiting standpoint and from schematic and knowledge standpoints."
What ultimately hurt the Hokies the most, Fuente said, was their inability to establish an identity because of the lack of a foundation. "I think we're well on our way to establishing that foundation and creating our identity," he said.
In other Hokie notes: Virginia Tech tight end James Mitchell earned a spot on the John Mackey Award watch list on Friday. The award is presented annually to the nation's best tight end.  
The award honors its namesake, Pro Football Hall of Fame inductee John Mackey, considered one of the best tight ends of all time. An exemplary member of his community, Mackey was a role model on and off the field, winning a Super Bowl as well as becoming the first president of the NFL's Players Association.. 
Mitchell (6-3, 242) enters his fourth season with the Hokies after leading the team with four receiving touchdowns in 2020. The Big Stone Gap, Va., native recorded 26 receptions for 435 yards in 10 games (nine starts) last season. In his 36 career games (18 starts) for Tech, Mitchell has racked up 47 catches for 796 yards with six touchdowns to go along with five rushing touchdowns. He was a second-team All-ACC pick of PFF College last season.
Offensive lineman Brock Hoffman is among the 109 nominees for the Allstate American Football Coaches Association Good Works Team announced last week. 
In its 30th season, the Allstate AFCA Good Works Team recognizes those student-athletes who exemplify serving their community while demonstrating their academic dedication and leadership on and off the field. 
To be considered for the Allstate AFCA Good Works Team, one of the most coveted community service awards in college football, players must be actively involved with a charitable organization or service group while maintaining a strong academic standing.   
The 109 nominees will be condensed down to the final 22-man Good Works Team by a voting panel of former team members and journalists. After the team is announced in September, the public can vote for the team's captain through the awards official page on ESPN.com.  
Hoffman (6-3, 317) started all 11 games at center for Tech in 2020. The Statesville, N.C., native helped the Hokies lead the ACC in rushing (240.1 yards per game). Tech scored 27 rushing touchdowns on the season and amassed better than 200 rushing yards eight times, 250+ six times, and 300 or more rushing yards on three occasions. Hoffman was twice named the ACC Offensive Lineman of the Week in 2020.  He was an All-ACC first-team honoree of Eric Mac Lain and was an honorable mention pick on the official All-ACC squad. 
During his time at Virginia Tech, Hoffman has made a positive impact in both the New River Valley and his hometown in North Carolina. He has served as a mentor to students at Prices Fork Elementary School in Blacksburg, as well as his former elementary school in Statesville. Hoffman serves as a strong advocate for making healthy lifestyle choices and stresses the importance of developing good habits in the classroom.  
Among his many other community outreach efforts, Hoffman served as a social influencer to raise awareness for last year's virtual Polar Plunge, which benefited Special Olympics Virginia. He also organized a book drive and a card-writing campaign to benefit residents of Richfield Senior Living in Salem.