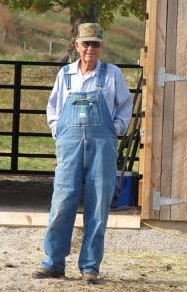 William O. "Chuck" Huffman passed peacefully at home on Saturday, July 24, 2021, after 86 wonderful years.
He treasured his family, his way of life, and God's creations. He was kind, patient, and caring and was an exceptional husband, father, and grandfather.
He was a lifelong farmer, a special friend to many, and a prankster who loved to "pull one over on you". He spent every day on the farm working cows and taking care of the land. He loved every second of it and never complained.
His laugh was contagious, and he lit up any room or field he was in. He spent many hours in the tractor on the farm or in his white pickup truck running up and down the road.
Before he began farming, Chuck played for the St. Louis Cardinals minor league baseball team at second base. He and his wife of 66 years, Peggy, met at a high school baseball game, and the rest was history.
They had one daughter Shari, and she was his pride and joy. She began helping him on the farm after she retired from teaching. Chuck's son-in-law, Robert, was like a son to him. Robert kept the farm equipment up and running and took the boss's orders well.
Chuck served for many years on the Farmers and Merchants Bank, Narrows Livestock Market, Smyth Mutual, and Ross Cemetery boards.
Chuck leaves behind his loving and amazing wife, Peggy J. Huffman; his precious daughter and son-in- law, Shari and Robert Tripp; a granddaughter and husband, Ashlei and Justin Barham; his great-grandchildren, Oscar and Gunner Barham, Kenadee Tripp and her mother, Heather Stover; nephews Joe Dowdy and Matt Dowdy and wife, Kim, and their daughter, Lena. He also leaves behind many, many special friends.
He was preceded in death by his parents, Early B. "Speedy" and Ruth W. Huffman; his grandson, William Robert "WR" Tripp; his father-in-law and mother-in-law, Ned H. and Pauline K. Dowdy; his sister-in-law and her husband, Jane and Tom Hurd; and a brother-in-law, Hale Dowdy, and his son, Rusty.
The family sends special thanks to Chuck's caregivers Allie, Phyllis, and Theresa. Thanks-you also go to Kindred Hospice for their wonderful care, especially nurses Lila and Jennifer.
Funeral services were held Tuesday, July 27, 2021 in the Bethel United Methodist Church in Craig County, with the Rev. Charles Stacy and the Rev. Larry Thompson officiating. Burial followed in Ross Cemetery in Craig County.
In lieu of flowers contributions may be made to the Simmonsville Volunteer Fire Department or
to the Craig County Rescue Squad. Arrangements by McCoy Funeral Home, Blacksburg.