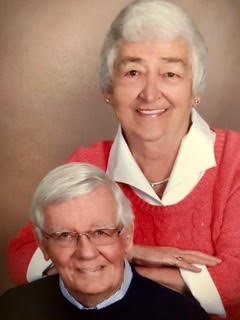 William Reginald (Reggie) Powell passed away on July 26, 2021, at Warm Hearth Kroontje Center in Blacksburg at the age of 86.
He was born on Jan. 3, 1935 in Zuni, Va., and amazingly shared the same birthday with his then-future mother-in-law, Lillie Brinkley Rose.
He is survived by his wife of 62 years, Shirley Rose Powell; a son and daughter-in-law, Bill and Debi Powell of Lynchburg; a daughter and son-in-law, Stephanie & Davie Key of Roanoke; grandchildren Zachary (Sarah) Powell of Tampa, Fla., Joshua and Dillon Key of Roanoke, and Grace Powell of Lynchburg; brothers Russell Powell and T.A. (Betty) Powell; and numerous nieces, nephews, and wonderful friends.
Reggie was predeceased by his parents, Homan and Elizabeth Powell, and his loyal chocolate lab, Abby.
Reggie was retired from Royster Fertilizer Co (where he served as CEO and President). Once he retired from Royster, he worked with a group continuing in the industry as a consultant with other companies.
Reggie was an avid golfer and Virginia Tech Hokie fan, his alma mater. He loved cruising and spending time with all of his family. Shirley and he lived in several different locations across the eastern United States, living most of their years in Suffolk, Va., on the Chuckatuck Creek where Reggie loved to golf and fish on his dock in the afternoons. Shirley and he spent many winters in Florida, first in Lakeland then Vero Beach where they met so many treasured friends. They finally settled in Blacksburg where he attended many Virginia Tech football games and other VT events. Reggie always considered Virginia his home state.
He was a stoic businessman and rarely showed much emotion until he had grandchildren, which opened up the tear ducts and allowed him to get emotional at TV programs, or any family event.
A celebration of his life will be held at 11 a.m. on Monday, Aug. 2, at McCoy Funeral Home in Blacksburg. The family will receive friends and family at 10 a.m. at McCoy before the service.  Interment will follow the service at Memorial Gardens of the New River Valley.  
The family would like to express their gratitude to Warm Hearth Kroontje Center and Good Samaritan Hospice for caring for Reggie during his final year.
In lieu of flowers, the family asks that you consider a contribution to the William Reginald Powell Endowed Scholarship. Checks can be made out to the Virginia Tech Foundation, 902 Prices Fork Rd., Suite 4500, Blacksburg, Va. 24061, with "W.R. Powell Scholarship 884269" written on the memo line, or a contribution to Warm Hearth Foundation.