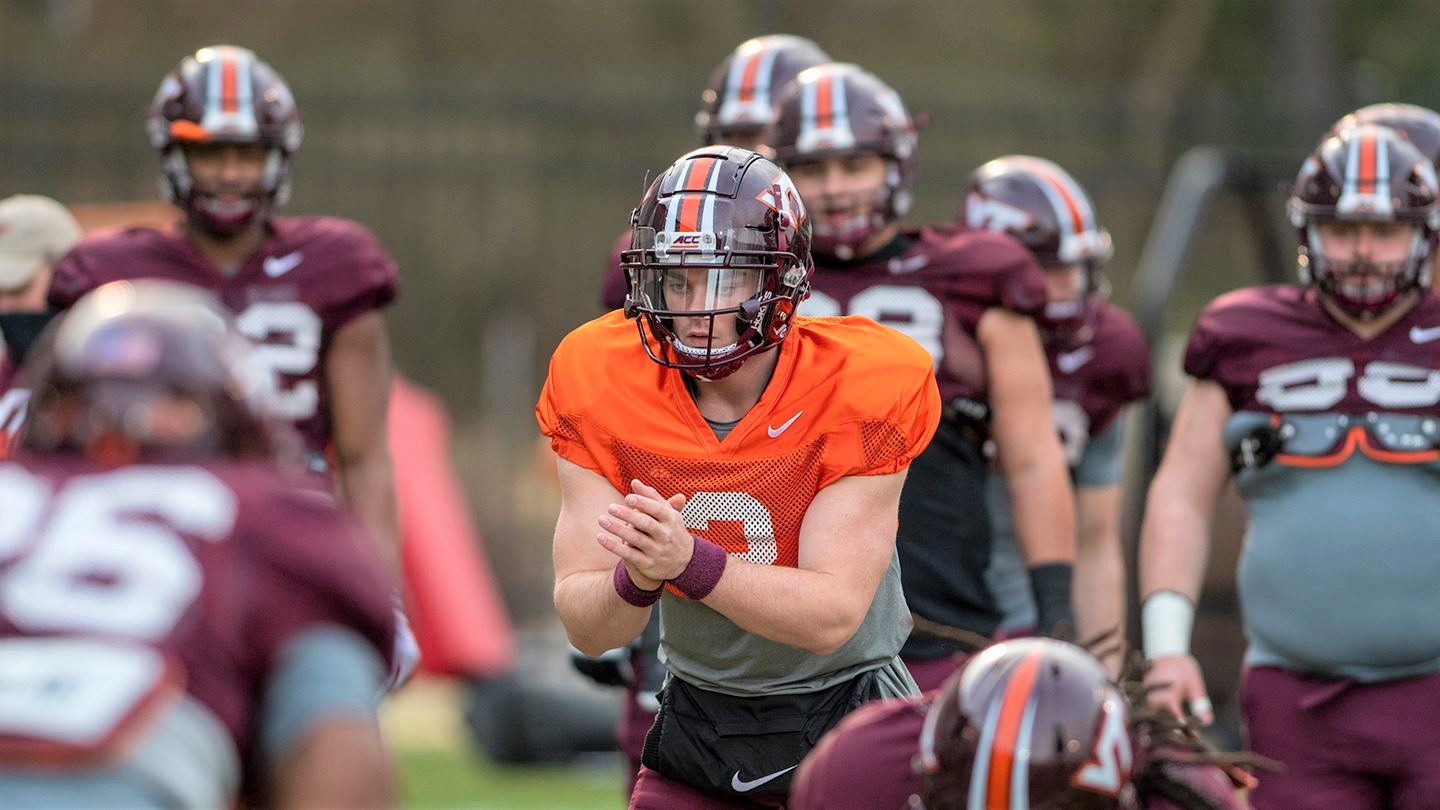 By Marty Gordon
NRVsports@ourvalley.org
Virginia Tech head coach Justin Fuente knows the Hokies opener against North Carolina On Sept. 3 is a big game, but neither he nor his team is no stranger to "big games." Wednesday, he told reporters the program has known for some time that with the advent of the ACC Network there would be conference games to open the season. 
"I'm just happy that we've got one at home; it seems like we've been everywhere except home." Fuente said. "So we're excited about that part of it. But we will go about our installation the way that we did before we played West Virginia or any of the other teams we've opened up against."
For now, the coaching staff is working on fundamentals and evaluating its young players. Within the next 10 days, they will turn their attention to their first opponent.
The Hokies return 23 starters with a minimum of four starts in 2020, including preseason All-ACC honorees defensive end Amaré Barno and tight end James Mitchell. Other notable returners include quarterback Braxton Burmeister, who owns a 3-1 record as Tech's starter; wide receivers Tayvion Robinson and Tre Turner; defensive back Chamarri Conner, who led the team with 81 tackles a year ago; and linebacker Dax Hollifield.
Carolina enters the 2021 season continuing a remarkable turnaround that has seen the Tar Heels go from two wins in 2018 to the Orange Bowl in 2020. The '21 team will feature a Heisman candidate in quarterback Sam Howell, the return of 21 of 22 starters from the Orange Bowl, and a top-15 recruiting class, all of which will combine to have the Tar Heels ranked as one of the nation's top teams heading into the fall.
Burmeister is the clear-cut Hokie starter going into camp with little or no quarterback competition for Fuente and his staff to worry about. But there is the question of who could be the next up if Burmeister goes down.
"We'll continue to do it like we always do it," Fuente told the media last week. "Guys that deserve reps will continue to get reps, and guys that prove they don't deserve reps will get fewer rounds. But I don't know that naming Braxton (Burmeister) as the starter really has changed anything; it just is nice to know that. You know that's the direction you're clearly heading.
"I don't know that it's better or worse for the football team having competition or knowing who the guy is going to be," the head Hokie said.
Offensive coordinator Brad Cornelsen also pointed out that the staff has been assessing the running back situation without Khalil Herbert.
"Those guys that have some experience, you know: Raheem [Blackshear], Jalen [Holston], and Keshawn [King]. Those are the guys kind of with the most experience underneath them heading into fall," Cornelsen said. "Those will be the guys that kind of mix in the most there with probably the first group up front."
Defensive coordinator Justin Hamilton continues to sing the praises of defensive back Chamarri Conner and the strides he has made this preseason. 
"Let me go back and we first got him or when I first got him in 2019, he was very raw," the defensive boss said. "From a drill perspective, from technique, backpedaling, transitioning, pad level, he was very raw. We've seen him fine-tune that. He's a guy that if you come over here on a Saturday or a Sunday when we're not in practice, not working, it's not uncommon at all to see him out there on the grass working by himself," Hamilton said.
"He was working on the sled one day last year. I just so happened to see that. He's out in the sandpit," Hamilton said. "He's a guy that works on his craft, and he's gotten much better at understanding what formations means, what splits mean, what receivers' strengths and weaknesses mean, what the meters of receivers mean, and the pre-snap reads for quarterbacks."
"As far as a technician, that's where I've seen him make the most strides," Hamilton said of Conner. "He's always been an aggressive contacts seeker. But technically, he's become much more sound."
Virginia Tech offensive lineman Brock Hoffman has been named to the Wuerffel Trophy watch list, an award that honors a student-athlete's commitment to serving his community. He is also a nominee for the Allstate AFCA Good Works Team, which also recognizes Football Bowl Subdivision (FBS) student-athletes for their efforts in the community.  
The Wuerffel Trophy, the premier award in college football for community service, is awarded to the FBS player that best combines exemplary community service with athletic and academic achievement. The award honors its namesake Danny Wuerffel, who won the Heisman Trophy in 1996 as the quarterback for the Florida Gators.  
Hoffman (6-3, 317) started all 11 contests at center for Tech in 2020. The Statesville, N.C., native helped the Hokies lead the ACC in rushing at 240.1 yards per game. Hoffman was twice named the ACC Offensive Lineman of the Week in 2020. He was an All-ACC first-team honoree of Eric Mac Lain and was an honorable mention pick on the official All-ACC squad. 
During his time at Virginia Tech, Hoffman has made a positive impact in both the New River Valley and his hometown in North Carolina. He has served as a mentor to students at Prices Fork Elementary School in Blacksburg and his former elementary school in his home town.
Among his many other community outreach efforts, Hoffman served as a social influencer to raise awareness for last year's virtual Polar Plunge that benefitted Special Olympics Virginia. He also organized a book drive and a card-writing campaign to benefit residents of Richfield Senior Living in Salem.