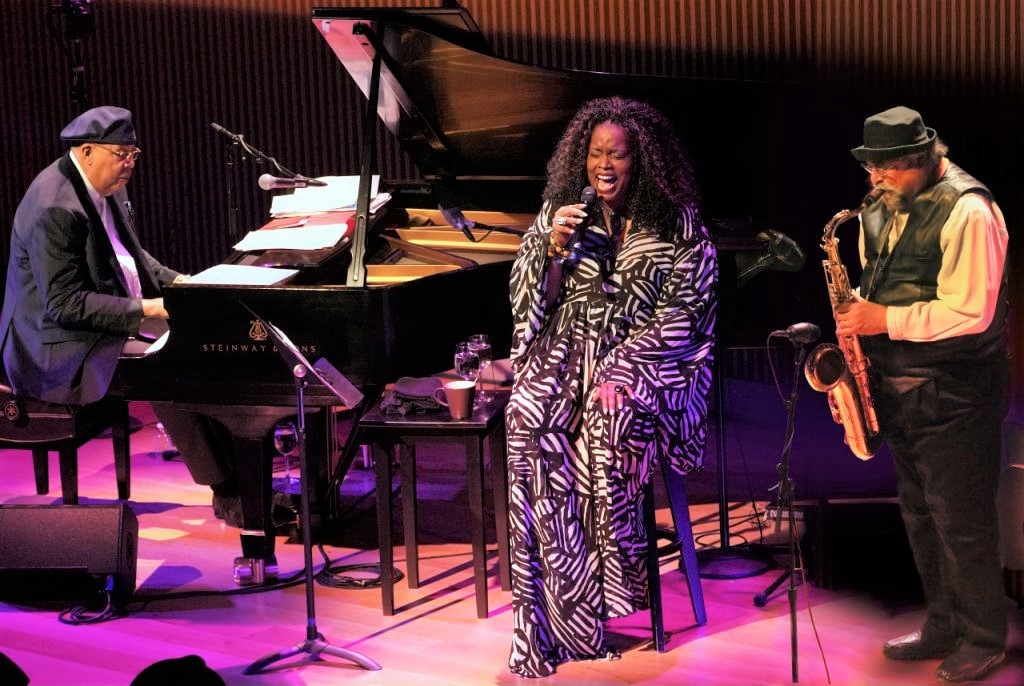 Tickets for individual performances are now on sale for the Moss Arts Center's fall events.
From intimate evenings led by musical masters to transformative stories of identity, culture, and migration, the lineup marks the center's return to a season of in-person performances.    
"Our theme is 'gathering,' and you'll see the theme's connections to the way artists gather from BANDALOOP's dancers literally gathering momentum as they swing on ropes down the wall of our building to artists committed to gathering strength through community to those gathering the courage to stand up for themselves," said Margaret Lawrence, Moss Arts Center director of programming. "Most of all, we celebrate being able to gather once again with our entire, beloved community. The season includes new faces, plus a chance to meet, in-person, some wonderful artists we streamed during the pandemic shutdown. How exciting that fall signals the return of these newfound friends."
Complementing the center's performances and exhibitions are a collection of experiences designed to offer deeper connections with artists, ideas, and community members, including informal jam sessions with performers, intimate conversations with artists, community celebrations with local musicians, and interdisciplinary panels with Virginia Tech faculty members on timely topics.
Virginia Tech students will have exclusive access to master classes with renowned artists and ensembles, and area school-aged students will be treated to special matinee performances.
Moss Arts Center fall performances
BANDALOOP     
Friday, Sept. 17, 2021, 5 and 6 p.m.; Saturday, Sept. 18, 2021, 1 and 2 p.m.
Free event
The season kicks off in September with the unforgettable sight of dancers rappelling down the side of the center. The exterior of the Moss Arts Center becomes an outdoor dance floor for BANDALOOP, performers who inspire wonder and challenge what is possible. Join a celebration of the human spirit and community with these free outdoor performances. In case of inclement weather, check the Moss Arts Center website for updates.
Indigenous Performance Productions'
"Welcome to Indian Country"
​ Wednesday, Sept. 22, 2021, 7 p.m.; Thursday, Sept. 23, 2021, 7 p.m.
Commissioned in part by the Moss Arts Center, "Welcome to Indian Country" is a new evening of stories, poetry, and music — from jazz to Appalachian — celebrating Native peoples and culture. Together, the performers exemplify the vibrant life of modern Indigenous people, honoring their ancestors and capturing the joy they feel as part of a Native community while sharing their expressions with the world. The event is presented as a work-in-progress in partnership with Virginia Tech's American Indian and Indigenous Community Center.
Miwa Matreyek
"This World Made Itself" and "Infinitely Yours"
Tuesday, Sept. 28, 2021, 7:30 p.m. and 9 p.m.' Wednesday, Sept. 29, 2021, 7 and 8:30 p.m.
Los Angeles multimedia artist Miwa Matreyek interacts with her digital animations as living shadow silhouettes at the cross-section of cinema and theatre. "Infinitely Yours" and "This World Made Itself" explore global warming and the vastly changing Earth through work that is magical, mesmerizing, and breathtaking. 
"Duets"—Dianne Reeves, Chucho Valdés, and Joe Lovano
Thursday, Sept. 30, 2021, 7:30 p.m.
Savor a rare evening of jazz duets by three masters. With a combined total of 12 Grammys, phenomenal Cuban pianist Chucho Valdés, pre-eminent jazz vocalist Dianne Reeves, and saxophone titan Joe Lovano perform a magical evening of jazz standards. 
DeLanna Studi
"And So We Walked"  
Monday, Oct. 11-Thursday, Oct. 14, 2021, 7:30 p.m.
In 2015 Cherokee actor and writer DeLanna Studi retraced the path her great-great-grandparents took along the Trail of Tears. A powerful one-woman show honoring Indigenous people everywhere, "And So We Walked" recounts Studi's own journey to understand her identity. Studi performed excerpts of this work for the Moss online "HomeStage" series. This fully staged production is presented in celebration of Indigenous People's Day in partnership with Virginia Tech's American Indian and Indigenous Community Center.
Imani Winds and Catalyst Quartet
"(im)migration: music of change"  
Thursday, Oct. 28, 2021, 7:30 p.m.
Two leading chamber ensembles join forces for a concert highlighting the experience of migration. "(im)migration: music of change" features music written or inspired by migrants and immigrants from the African and Latin diaspora. Catalyst Quartet features alumni from the internationally acclaimed Sphinx Competition while Grammy-nominated Imani Winds leads a revolution of the wind quintet. Performing both individually and together, the ensembles transform ancestral stories into music.  
Pink Martini featuring China Forbes
Saturday, Oct. 30, 2021, 7:30 p.m. 
Always a sold-out party, the band Pink Martini is inspired by the romantic Hollywood musicals of the 1940s and '50s. With arrangements of Latin music, cabaret, and cinema scores, its sound defies categorization. Following last year's wildly entertaining "HomeStage" series virtual performance by founders China Forbes and Thomas Lauderdale, this event brings them in person with the entire band to the stage of the Anne and Ellen Fife Theatre.
"An Evening with Jesmyn Ward"
Wednesday, Nov. 10, 2021, 7:30 p.m. 
MacArthur "Genius" Jesmyn Ward is described as the standout writer of her generation. Raised in Mississippi, Ward is the first woman and the first person of color to win two National Book Awards for Fiction, joining the ranks of William Faulkner, Philip Roth, and John Updike. Her novels build deep empathy for the human condition. This event is presented in partnership with the Department of English Visiting Writer Series. 
Conrad Tao, piano
Friday, Nov. 19, 2021, 7:30 p.m. 
Leading the new generation of classical music, pianist and composer Conrad Tao has amassed a steady stream of awards and critical acclaim for his performances, compositions, and recordings. This fresh and insightful evening includes works by Beethoven and Schumann, as well as American composers John Adams and Fred Hersch, and a new Moss-commissioned work by Tao.
Roanoke Symphony Orchestra 
"Holiday Pops Spectacular"
Saturday, Dec. 4, 2021, 4 p.m.
A Moss tradition, one of the most popular evenings of the year makes its triumphant return: the "Holiday Pops Spectacular" with the Roanoke Symphony Orchestra. With much to celebrate this upcoming holiday season, join friends and family for a merry musical program for audiences of all ages.
Tickets
Tickets for individual performances can be purchased online; at the Moss Arts Center box office, 10 a.m. to 5 p.m. on Wednesday through Friday and 10 a.m. to 4 p.m. on Saturday; or by calling 540-231-5300 during box office hours.
Subscriptions are also available and offer discounted prices and priority seat selection. Two subscription levels, Premier and Silver, are available for fall semester performances. The Premier Subscription includes all performances at a 25 percent discount. For fall 2021, eight shows are included in the Premier Subscription, and Miwa Matreyek's performance of "This World Made Itself" and "Infinitely Yours" can be added. The Silver Subscription offers a 15 percent discount off ticket prices with a minimum of three performances.