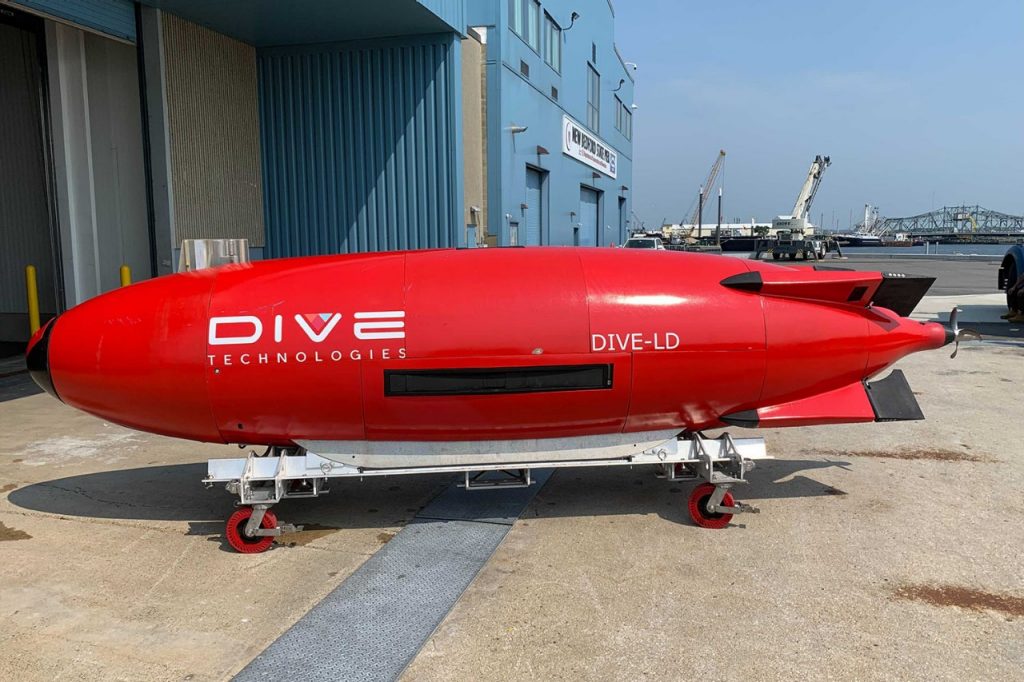 By Jama Green
Almost two years ago, Dive Technologies Inc., a subsea robotics designer and manufacturer based in Boston, began a multiyear partnership with researchers and students at the Center for Marine Autonomy and Robotics to develop a novel commercial autonomous underwater vehicle.
In April 2021, Dive Technologies delivered the DIVE-LD to market, a design they see as the most capable large-displacement autonomous underwater vehicle, in terms of the reliability, endurance, and navigational accuracy it brings to global commercial and defense customers. 
With the first round of sea trials of their craft complete, the DIVE-LD's performance has already exceeded expectations, but the team behind the self-propelled, unmanned, untethered underwater vehicle is driven to take it even further. They're now back in the lab, working diligently to refine the vehicle's software systems and optimize hydrodynamic performance.
Virginia Tech ocean engineering researchers and students have supported the mission of Dive Technologies through development and testing of the vehicle's innovative hydrodynamic design, control, and autonomy subsystems, and a complete software framework for fully autonomous subsea operation. The team at Virginia Tech is led by Daniel Stilwell, professor in the Bradley Department of Electrical and Computer Engineering, and Stefano Brizzolara, associate professor in the Kevin T. Crofton Department of Aerospace and Ocean Engineering.
The team conducted sea trials of the DIVE-LD in the waters of Cape Cod Bay and Buzzards Bay, an hour south of Boston. Throughout August to December 2020, Dive Technologies ran more than 250 missions and put a significant number of hours on the test vehicle. Due to the global COVID-19 pandemic, Stilwell, Brizzolara, and their students were unable to travel to the sites for offshore testing. Both groups stayed connected throughout the trials through email, virtual meetings, and the occasional offshore phone call in order to quickly analyze test results and make rapid corrections along the way. 
The vehicle performed better than the team anticipated. "We assumed months of control loop tuning and down time for the DIVE-LD, but the model had us running with very stable platform control within the first month," Russo said. "We were able to show stability data to sensor providers that often takes many months or more to achieve for a new commercial vehicle offering. Furthermore, it's credit to Virginia Tech, Dive's overall system design, and Dive's proprietary casualty monitoring and emergency logic failsafe that we experienced zero mission aborts during sea trials, a true testament to the engineering rigor behind the design of the DIVE-LD."
Back at Virginia Tech, Brizzolara and his students celebrated the initial success of their hydrodynamic design for the vehicle — then quickly got back to work. According to Brizzolara, a benefit to partnerships with industry is the invaluable feedback these collaborators provide, as the team is using the data from the sea trials for further refinement of the numerical models and theoretical ideas.