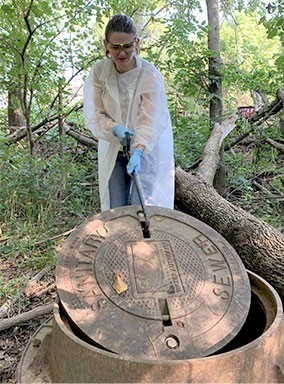 This fall, faculty, staff and students in the Radford University Carilion (RUC) biomedical science program have been participating in a study that compares methods for the detection of SARS-CoV-2 virus in wastewater.
The SARS-CoV-2 virus is the causative virus of COVID-19.
The study, in the Roanoke and Salem areas, is a collaboration with the Virginia Department of Health (VDH), Western Virginia Water Authority (WVWA) and Carilion Clinic's Basic Sciences Research Lab, with funding from the Centers for Disease Control and Prevention (CDC).
"What we're doing in this study is wastewater-based epidemiology, or WBE," said Sara Reed Houser, assistant professor of biology at RUC and lead faculty member on the study. "Broadly, that means we are using results from the analysis of sewage for public health surveillance."
Houser explained that WBE is used to monitor environmental pollutants, track usage of pharmaceuticals and substances of abuse and determine the prevalence of infectious diseases, including bacterial and viral infections as well as trending antimicrobial resistance.
Several academic centers and metropolitan areas across the U.S. and other countries have been using similar data to predict trends in COVID infections in the population. This helps healthcare providers and public health agencies prepare for outbreaks of pandemics and other mass health crises.
"Considering the fact that many clinical cases progress without symptoms, are not tested and are therefore not reflected in case data, information generated from WBE may give a more accurate description of true case numbers in the population and any trends," said Houser. "Because virus is shed in feces before a person becomes symptomatic, community infection can be detected a couple of weeks before case numbers rise."
The wastewater, Houser explained, is collected pretty much the way you would imagine.
"We open a manhole, drop in a sterile collection bucket by rope and collect about 500 milliliters of sewage coming from homes, businesses and healthcare facilities," she said. "We then transfer this liquid to sterile bottles to be stored at -80 degrees Celsius."
Before freezing, the RUC laboratory team, including Academic Lab Manager Susan Tolliver, Lab Assistant Gregory Steeves and biomedical science students like Anna Lewis, measure factors such as sample temperature, total dissolved solids and pH. The samples are then transferred to the analytical lab in order to quantify viral load. These tests are all performed in the labs at RUC and Carilion.
This fall, some samples have begun to be processed in the biomedical science research lab on the sixth floor of Carilion Roanoke Community Hospital, home to RUC.
Preliminary results have reflected nationwide trends. Virus has been found in all locations collected and levels have fluctuated with case numbers.
"We have found that community caseload numbers are about two weeks behind what we see from the wastewater," said Houser. "Interestingly, when we looked at our data locally in early 2021, we found significant spikes of virus in the samples after both Thanksgiving and Christmas holidays."
All of the data collected is reported back to the VDH for local public health surveillance and uploading to the National Wastewater Surveillance System (NWSS). Later, this type of data may be used to determine and predict case "hot spots," measure vaccine impact and help detect the appearance of variants.
The collection of wastewater also allows the CDC to determine the accuracy and efficiency of new modified instrumentation compared to that seen in traditional methodology.
The biomedical science program's participation in the study came from a well-established partnership in teaching and research with the WVWA. Through that relationship, the program was introduced to the local health department's wastewater division.
Last year, the VDH and a research faculty member from the University of Virginia approached Tolliver and Houser about collaborating on a study that would measure SARS-CoV-2 levels in wastewater samples from areas in the Roanoke Valley. They began collecting samples from five to seven various locations.
Since then, RUC has been collecting and processing samples weekly, providing initial analysis and sending the samples on to UVa to be analyzed for the presence of SARS-CoV-2.
Students from Virginia Tech have also accompanied the collection groups to use in a separate study to determine opiate concentrations in wastewater.
"Everyone involved has participated with the intent of serving the community and providing research and teaching avenues," Tolliver said. "For our biomedical science students, the study provides the opportunity to perform valuable scientific research that is particularly pertinent to current events."
Houser said the study will also increase the profile of RUC and Carilion in the community and beyond, showing how both institutions are contributing to improving and maintaining the good health of our families, friends and neighbors across Southwest Virginia.
Mark Lambert
Radford University