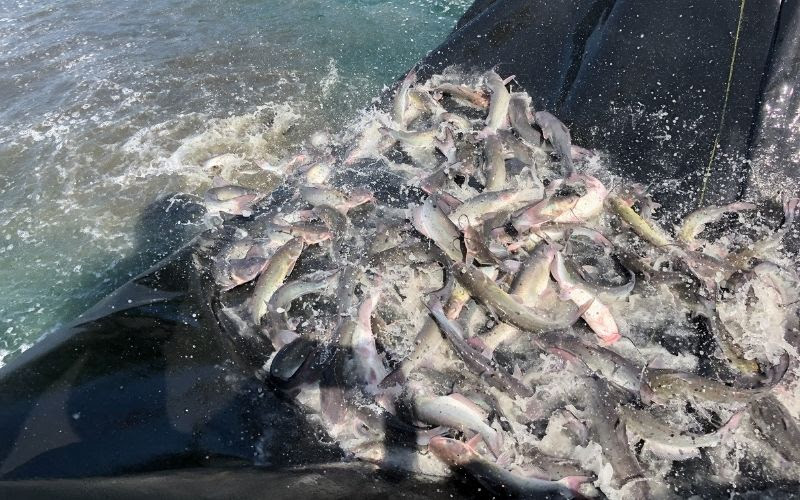 Virginia Department of Wildlife Resources (DWR) Fisheries staff have been busy this fall stocking catchable channel catfish in more than 120 waters throughout the state. 
According to Brendan Delbos, the State Hatchery Superintendent, "The fall catfish stocking program is one of our most popular events with anglers. This year we will be stocking 80,000 catfish, a 25% increase over last year. These stockings require a significant amount of coordination and wouldn't be possible without the hard work and dedication of our fisheries and hatchery staff."
Fall is a great time for anglers to get on the water whether they're targeting largemouth bass, trout, or channel catfish.  
A list of water to be stocked with channel catfish include Lovills Creek Lake in Carroll County, Gatewood Reservoir in Pulaski, Hungry Mother Lake in Smyth County, and Rural Retreat Lake in Wythe County.
Winter means cleaning and storing life jackets. Fishermen should do so according to manufacturer's recommendations to make sure they're ready for the next season. The manufacturer has the following recommendations:
For an inflatable life jacket, hand wash or sponge down in warm, soapy water, taking care not to submerge the inflator. Rinse the jacket with clean water and hang to dry on a plastic coat hanger. Do not dry-clean, use chlorine bleach, or apply direct heat. Always store the fully dried jacket in a warm, dry, well-ventilated place out of direct sunlight.
For an inherently buoyant life jacket (foam): Clean in the same manner except they may be fully submerged.
If the life jacket has possibly been exposed to a virus, clean as recommended by the manufacturer and then let dry in warm, low humidity environment for at least 72 hours before reuse. To reuse your product within 72 hours, the following precautionary guidance is suggested.
Buckles, zippers, other hardware and hook/loop fasteners (e.g. Velcro®) are hard to clean due to crevasses and metal/plastic construction. Using 60 – 90% solutions of alcohol sprayed/wetted on these components is acceptable.

Avoid spraying inflatables with specific disinfectants that are detrimental to the fabric. e.g. bleach-based products.

Do not machine launder life jackets.

Life jackets should be hand-washed with gloved hands. Wash as hot as possible (< 60C) to kill virus.

Ensuring complete drying is critical; heated air drying is encouraged < 60C.

Viruses like moisture and can survive in cold. Viruses die by drying out and by heat, which some fibers can enhance.

If hang to air-dry, allow 72 hours (3 days) before reuse.