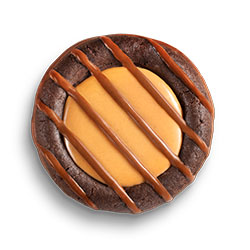 The Girl Scouts of the Virginia Skyline Council region are officially kicking off the 2022 cookie season today, Jan. 8. The season runs through March 31.
The new adventurefuls cookie, a chocolate cookie with caramel-flavored creme and a hint of sea salt, joins the cookie lineup of thin mints, samoas, tagalongs, and do-si-dos.
This season, the council's Girl Scouts are again selling cookies in creative, socially distant, and contact-free ways to keep themselves and their customers safe during the ongoing COVID-19 pandemic. Many Girl Scouts will run outdoor cookie booths that follow local, state, and CDC guidelines while still getting everyone's favorite cookies to their customers.
Every Girl Scout cookie purchase fuels local Girl Scouts' adventures throughout the year: exploring what interests them, discovering their passions, and taking action on issues they care about. Through the Girl Scout cookie program, girls get a taste of being entrepreneurs and learn important online and offline business skills that set them up for success in life.
Fans of Girl Scout cookies can support girl Scouting by purchasing cookies for $5.00 a box in a few different ways: reach out to a registered girl scout to find out how she's selling cookies this year; visit www.gsvsc.org/cookies to use the official Girl Scout cookie finder to find cookie booths in the area; beginning Feb. 18 (National Girl Scout Cookie Weekend), enter your zip code into the Girl Scout cookie finder at www.girlscoutcookies.org to purchase from a local Girl Scout troop online for shipment to your door or to donate cookies to first responders and local causes.