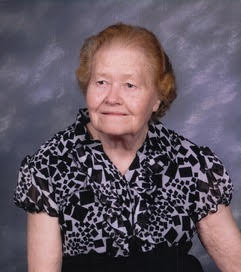 Ruth Craighead Cragett, 90, of Christiansburg, died Monday, Jan. 17, 2022.
She was born in Montgomery County on May 25, 1931, to the late Arch M. and Amanda Kissinger Craighead.
She was preceded in death by her husband, David Warren Cragett; a granddaughter, Sherry Marie Graham; four sisters, Josie Worrell, Sylvia Howell, Margaret Cragett, and Evelyn Phillips; and two brothers, James Craighead and Jack Craighead. 
She is survived by her daughters and sons-in-law, Anna and Ron Rogers, Brenda and Kevin Adkins, and Patty Graham (Matt Childress); a son, Ray Cragett; grandchildren Kara Rogers Wood (Joe), Kristen Rogers Hayes (Justin), Brandon Adkins, Lindsey Marshall (Mitchell), David Graham (Tiffany), and Angela Graham; great-grandchildren Jacob, Justine, Harper, Dawson, Mason, Emma, Lily Ruth, Jade, Jax, Brayden, Nate, Layla, Landon, and Bentley, as well as several nieces and nephews. 
A funeral service was held on Thursday, Jan. 20, 2022, in the McCoy Funeral Home Chapel with the Rev. T. Michael Bond officiating. Interment followed at Sunset Cemetery, Christiansburg. The family received friends on Wednesday, Jan. 19, 2022, at McCoy Funeral Home, Blacksburg.