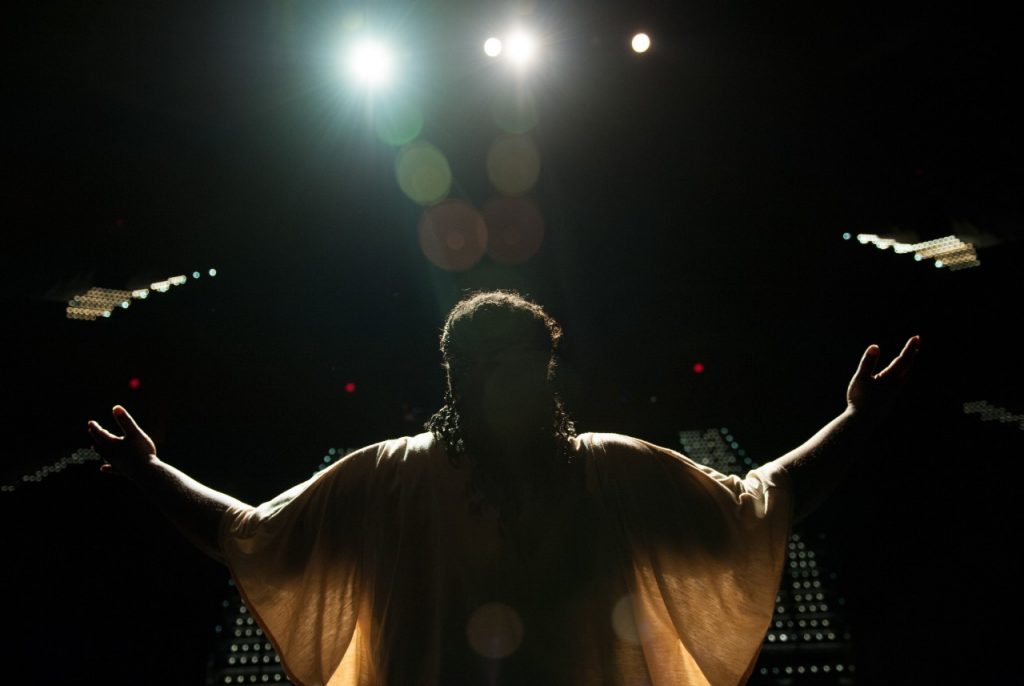 Experience the power, intimacy, and community-building of stories when radio favorite The Moth brings a diverse group of thoughtful storytellers to share their own stories, each crafted and shaped by a unique collection of experiences, identities, and worldviews, to the Moss Arts Center on Tuesday, March 22, at 7:30 p.m.
"Hitting Home: The Moth in Blacksburg" will be held in the center's Anne and Ellen Fife Theatre, located within the Street and Davis Performance Hall at 190 Alumni Mall.
Moth Mainstage shows are renowned for the great range of human experiences they showcase. Different from a Moth StorySLAM, these are curated events that feature five tellers who develop and shape their stories with Moth directors. Each show starts with a theme — "Hitting Home" is the theme chosen for this performance — and the storytellers explore it, often in unexpected ways. Because each story is true and every voice is authentic, the shows dance between documentary and theater, creating a unique, intimate, and often enlightening experience for the audience. 
The Moth approach allows people all over the world and from all walks of life to share their stories on stage in front of a live audience, illuminating both the diversity and commonality of human experience.
The evening's host is Jon Goode, an Emmy-nominated author, poet, and playwright living in Atlanta. Goode has been a featured performer on HBO's "Def Poetry," TVOne's "Verses & Flow," and BET's "Lyric Café." He is the regular host of The Moth StorySLAM in Atlanta.
The featured storytellers include:
Hannah H. Smith Brennan
A sociologist and educator, Brennan's expertise and enthusiasm blend theory and practice in her work on families, childhood, play, and young people's empowerment. While working with an elder community midwife during her pregnancies, Brennan experienced such profound personal growth that she expanded her professional focus to include women's health, bodies, and wisdoms.
Muneesh Jain
Jain's biggest passions in life are baseball and Broadway. Between the months of April and October, he can usually be found in one of the 30 major league ballparks across the country, watching a ballgame, talking to strangers, and eating ice cream out of a mini helmet. During the offseason, he's probably at a musical or a play. He is the co-host of "The Clubhouse Podcast," where he and his friend Anthony Rapp interview celebrities about why they love baseball.
Devan Sandiford
Sandiford spent his childhood and young adult years keeping his personal stories hidden. Feeling a voice within him longing to be heard, he moved to Brooklyn, New York, with his wife and their two sons, hoping to push himself out of his comfort zone and unlock the power in his voice. Sandiford is now a published writer, an award-winning storyteller, and the program manager of community engagement at The Moth. His stories have been featured in the Washington Post; "The Moth Radio Hour" and its podcast, "Speak Up Storytelling;" "Writing Class Radio;" and elsewhere. He is currently working on his debut memoir.
Horace Scruggs
A resident of Palmyra, Va., Scruggs has been teaching and conducting professionally since 1985. He has taught music to all grade levels from kindergarten through 12th grades, and worked professionally with school, community, and church choirs and ensembles. He holds degrees in music education from Longwood University and Shenandoah Conservatory and is an adjunct faculty member at Piedmont Virginia Community College (PVCC), teaching class piano and music appreciation, and conducting the PVCC Chorus.
Dame Wilburn
Host of "The Moth Podcast," "Dame's Eclectic Brain Podcast," as well as various live shows including "The Moth Mainstage," Wilburn's storytelling began as a way of keeping cool in the summertime on her grandmother's porch in Macon, Ga. She has completed four residencies for storytellers: three at Serenbe in Palmetto, Ga., and one with AIRTrez in Almont, Mich. Wilburn has also presented at the University of Iowa and the University of California, Los Angeles.
Corbin Hayslett.
He is the musician for the evening. A multi-instrumentalist and ninth-generation Virginian, Hayslett excels on clawhammer banjo, guitar, and fiddle, bringing a wealth of knowledge of old-time, bluegrass, and early country music to performances and to his position as general manager at the County Sales music shop in Floyd.