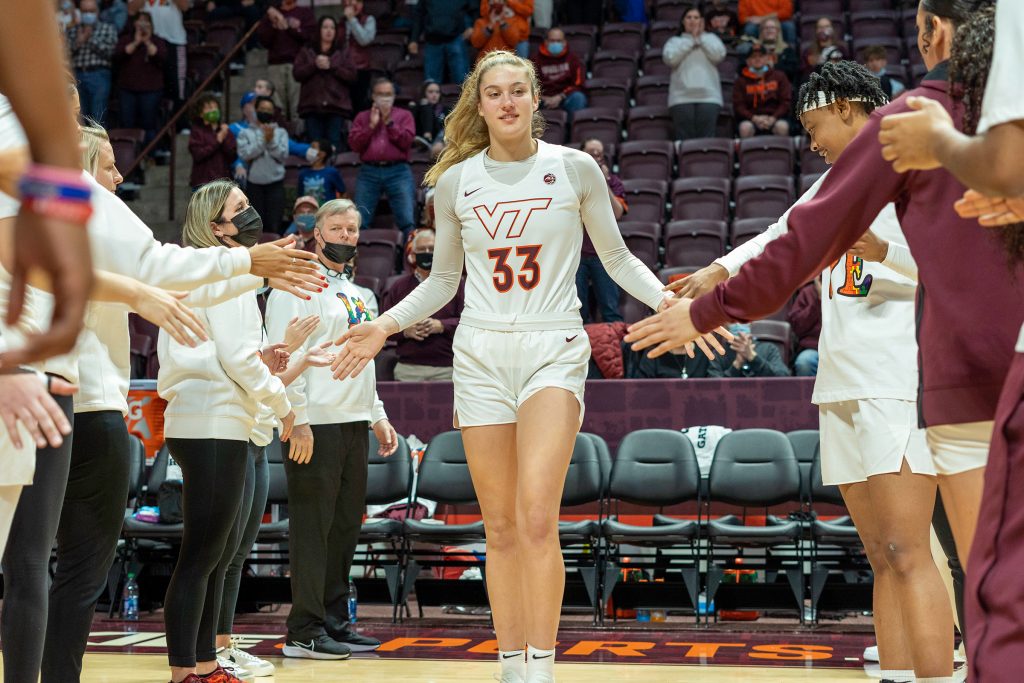 On a random February afternoon, shortly after a visit to the sports medicine area to secure treatment for midseason aches and pains, Elizabeth Kitley looked at her phone to assess her inventory of missed calls. 
The Hokies' superstar center on the women's basketball team — recently named the ACC Player of the Year, ACC Scholar-Athlete of the Year, and currently getting ready to lead the Hokies to their second consecutive NCAA Tournament appearance — smiled and shook her head. One number, with the corresponding person designated by a purple heart, showed up multiple times on her screen.  
Her biggest fan was trying to reach her. 
"She calls me all the time," Kitley said. 
"She" is Kitley's older half-sister, Raven. Though separated by nine years' age, the two share an undeniable bond. 
Once roommates in the home of Ralph Kitley, their father, they are now each other's best friend. They share a love for sports. They express an affinity for competition. 
"We're two peas in a pod," Raven Kitley said. "We've pretty much always been that way." 
Yet, they differ in one respect. Elizabeth Kitley is one of the nation's best basketball players. Raven Kitley is autistic. 
"She was diagnosed around middle school, but I don't know if I ever really understood it honestly until eighth or ninth grade," Elizabeth Kitley said. "We've never really talked about her as being autistic. She's my sister. She's Raven." 
Being autistic doesn't preclude Raven from being competitive. She participates in Special Olympics, which provides athletic competition  for children and adults with intellectual disabilities, in basketball, volleyball, softball, and roller skating. These games not only provide opportunities for physical fitness, but they also allow these athletes to establish needed friendships outside their families.
The social interaction alone is invaluable. 
"It is so important to find ways to welcome and include all people of differing abilities," said Angela Scarpa, the director of the Virginia Tech Autism Clinic & Center for Autism Research located in VT's College of Science. She has a son who is autistic. "Special Olympics provides one
Opportunity[for inclusion]. These sorts of activities offer a sense of belonging and foster the kind of confidence that we all want for our loved ones," Scarpa said. 
The Kitleys would echo those sentiments. They also make Special Olympics a family affair. Elizabeth Kitley even participated with Raven in Special Olympics as part of a unified team while in high school.
"It's cool to see her with other people that she feels get her," Elizabeth said. "She made a lot of friends on that team, which is cool because she's 30 years old and she's not in school, so she doesn't get that experience to see people her age or people like her anymore. Special Olympics gives her that opportunity." 
Raven Kitley found a close friend when Virginia Tech coach Kenny Brooks started recruiting Elizabeth early in her career at Northwest Guilford High School. Brooks and Raven bonded quickly when Brooks visited the Kitleys' home in Summerfield, N.C., so much so that Brooks gave her his phone number and the two stayed in touch regularly. 
"He was the first coach that actually didn't see just Elizabeth," Raven said. "He saw the family. He and I have a relationship based off that." 
That relationship played a role in Elizabeth's decision to come to Virginia Tech. She made visits to other schools, but no staff made her sister feel as important as Brooks and his staff. In fact, the coaches made a lanyard specifically for Raven when she came up for a visit with Elizabeth. They made her feel as if she were a recruit, too. 
"We went to another school, and we went into the lobby to sign Elizabeth in," said Ralph Kitley, a former player at Wake Forest. "They gave Elizabeth a lanyard, and there was no lanyard for Raven. Raven then walked into the building and was like, 'No, I don't see this happening. She's not going here.' I think Virginia Tech had set that bar so high with how they had treated her." 
Understanding the demands on a head coach, Ralph put a limit on Raven's outreach to Brooks, holding her to one text conversation per week. But Brooks's willingness to embrace Raven's differences made an impression on the family.
"It just emphasized the family environment here," Elizabeth said. "It made me feel like I'd be taken care of because they actually cared about me on a deeper level than just basketball." 
Brooks and Virginia Tech showed that love for the Kitleys this past fall when the women's basketball program designated its Dec. 12 non-conference game against Radford as an Autism Awareness Game.
The team partnered with the VT Supporting Autism Friendly Environments (SAFE) Program and the VT Autism Clinic &Center for Autism Research to use the game as a SAFE event. 
The team wore T-shirts with the word "LOVE" displayed in multiple colors, which resembled the Autism Awareness Ribbon. Before tipoff, Brooks brought Raven out to mid-court for a special presentation. 
"It was so awesome," Raven said. 
"You can imagine that she's overshadowed a lot because baby sister gets a lot of attention, but this was her day," Brooks told Evan Hughes, Virginia Tech's radio play-by-play announcer, following the game.
"She's taught me what it's like to be around people that are living with autism. She's very high-
functioning. She knows what she likes, and I just love her innocence," Brooks said. 
The Hokies won the game and achieved an even higher purpose. A few days afterward, Elizabeth talked about autism awareness on Packer and Durham, arguably the ACC Network's most popular show. 
"That whole day was tremendous for Raven, no question," Ralph said. "Raven is autistic, and she owns that. To see it highlighted was special for Raven, and you could see the emotion on Elizabeth's face. It meant tons to her to honor Raven because Raven's always in the background cheering for Elizabeth. This reversed the roles a little bit. It was so awesome for Coach Brooks and his staff to put that together for both the girls." 
The Kitleys' relationships with Virginia Tech extend beyond the coaching staff. Like any member of a team, Raven knows the players very well, particularly Cayla King, who was a high school teammate of Elizabeth's at Northwest Guilford. And the Kitleys have bonded with the players' families, too, with every game serving as a family reunion of sorts. 
Ralph Kitley travels to most games, often with Raven in tow. Raven lives with her mother and
stepfather in Winston-Salem for part of the year, but usually moves in with her father during breaks when Elizabeth returns home and also during basketball season. 
There are practical reasons for the latter. 
"It just makes more sense," Raven said. "I have a hard time not talking about basketball when I'm with my mom and stepdad." "And it makes going to games easier," Ralph said. 
They drove to Syracuse in late February for the Virginia Tech-Syracuse game and took a detour to see Niagara Falls, a first for both. But mostly, they go to support Elizabeth. That support extends to everything she does. 
Elizabeth is pursuing a degree in human nutrition, foods, and exercise within the College of Agriculture and Life Sciences. She plans to go to medical school and work in health care, though she hasn't chosen a specific role. Perhaps that role involves working with autistic people. 
"That would be awesome," she said. 
She has one more year before that decision needs to be made. Another year of studying, playing
basketball, and hopefully winning. Another year with her sister, like always, encouraging her every step of the way. 
"When I'm thinking about challenging myself, she's definitely in the back of my mind," Elizabeth said. "She's just so positive about life and opportunities, and she wants to take advantage of everything she can, so that makes me want to do the same, even though the opportunities are different."
– by Jimmy Robertson