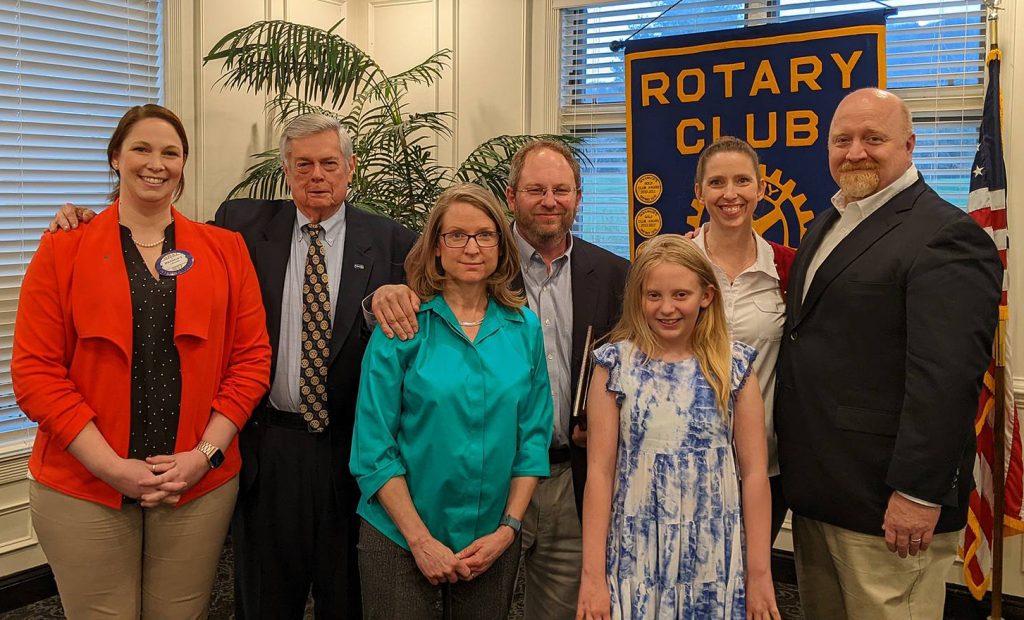 At its April 11 meeting, the Rotary Club of Christiansburg-Blacksburg presented its 2022 Citizen of the Year Award to Dr. Scott Bailey.
The Citizen of the Year Award honors a non-Rotarian whose voluntary acts and services have made the Christiansburg-Blacksburg area a better place in which to live. Dr. Bailey improves the community as 
co-founder and director of the Blacksburg Refugee Partnership (BRP).
Dr. Bailey is an associate professor of Electrical and Computer Engineering at Virginia Tech who, with his co-founders, was moved by the plight of Syrian refugees in 2016 to organize BRP to provide a safe haven and support, to connect displaced families to the resources and ongoing support they need to successfully integrate into American society, to become self-reliant, and to achieve fulfilling lives.
This support includes providing affordable housing, language training, jobs, transportation, and health care for immigrant refugee families resettling in Blacksburg. As Rotarian and BRP volunteer Ernie Bentley noted, these are "all the things Americans take for granted," but they required the coordination of "hundreds of local citizens, many area churches and mosques, non-profits such as the YMCA at Virginia Tech and Literacy Volunteers of the New River Valley,
and local employers. Scott Bailey and the BRP have done this quietly without generating much publicity for the group."
Dr. Bailey's continued role as Director of BRP has fostered its continued success and contributed to the resettlement of 21 adults and 19 children from countries such as Syria, Afghanistan, Burundi, and Somalia with the ultimate goal being safety, peace, and independence for each of these immigrants.
BRP volunteer Jennifer Pike, spoke of Dr. Bailey's tireless optimism and how he "often volunteers to do the hard stuff and often does it alone." Pike commended Dr. Bailey's ability to "provide an opportunity for so many to make a difference."
In Dr. Bailey's comments upon receiving the Citizen of the Year Award, he said that the award represents the Blacksburg Refugee Partnership's group efforts and not his as an individual.
"To be a member of the BRP is an honor," he said, "I'm routinely inspired by the group's ideas. So many people want to make a difference and be welcoming."
The Rotary Club of Christiansburg-Blacksburg has awarded a Citizen of the Year since 1987, but as Committee Chair Doug McAlister said, "We don't give an award unless someone truly qualified has been nominated. Dr. Scott Bailey meets and exceeds the expectations for our Award."
Club President, Bridget Adams, concurred saying, "Scott has dedicated the last five years to [the Rotary motto] 'Service Above Self,' a true representation of the spirit of Rotary and Rotarians everywhere."