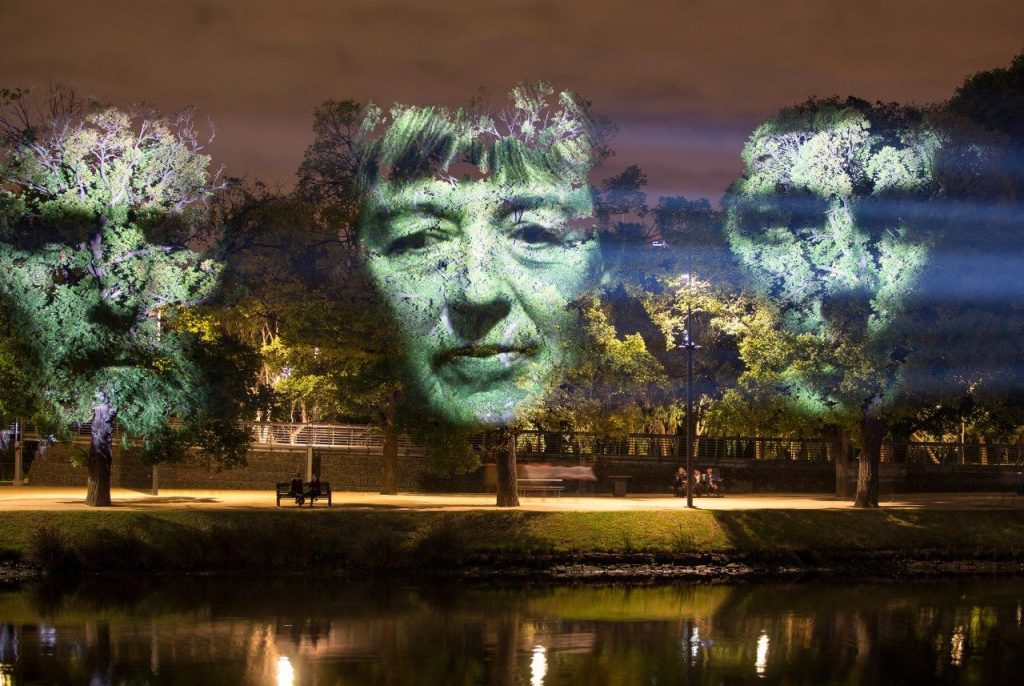 Nighttime projections transform three trees on the Virginia Tech Drillfield into sculptural monuments for an extraordinary installation honoring impactful community members of the New River Valley.
Craig Walsh's "Monuments" is now on view from 8:30-11 p.m. each evening through Saturday, May 14.
Free and open to the public, the installation is located on Drillfield Drive in Blacksburg. Images of honorees will be projected on three trees: one in front of Patton Hall, another in front of War Memorial Gym, and a third near Newman Library. The installation is best seen when it is dark.
"Monuments" projects unforgettable, large-scale portraits of unsung individuals who serve their community. It celebrates three community members from the New River Valley: Jacob George, radiation therapist at LewisGale Regional Cancer Center in Pulaski; Tara Orlando of Floyd, founder of Floyd Friends of Asylum Seekers; Debbie Sherman-Lee of Christiansburg, board chair of Christiansburg Institute Inc. and board member of Community Housing Partners, Appalachian Women Rising, and Dialogue on Race.
"Monuments" challenges traditional expectations of public monuments and the selective history represented in public spaces. Since Walsh's first tree projection in 1993, "Monuments" installations continue to evolve and captivate new audiences worldwide as they occupy new landscapes and engage with different communities.
Cleverly deconstructing its own definition by humanizing the monument while undermining the permanent historical and public art models, "Monuments" recognizes the infinite contributions that influence people's understanding of place. Margaret Lawrence, director of programming at the Moss Arts Center, said, "This project says something profound about those who make our community a wonderful place, in the artist's words, 'ordinary people who deserve to be celebrated.'"
Throughout his career, Walsh has developed and implemented numerous public artworks, both permanent and temporary, often through community engagement processes. Through recent projects, Walsh is developing works that change and evolve over time to provide opportunities for continual community engagement and interaction.
The Moss Arts Center selected the honorees from a collection of 34 individuals nominated. More information about the honorees and a full list of nominees is available online.  
"Monuments" is presented in partnership with Virginia Tech's Center for Humanities and the Center for Peace Studies and Violence Prevention.