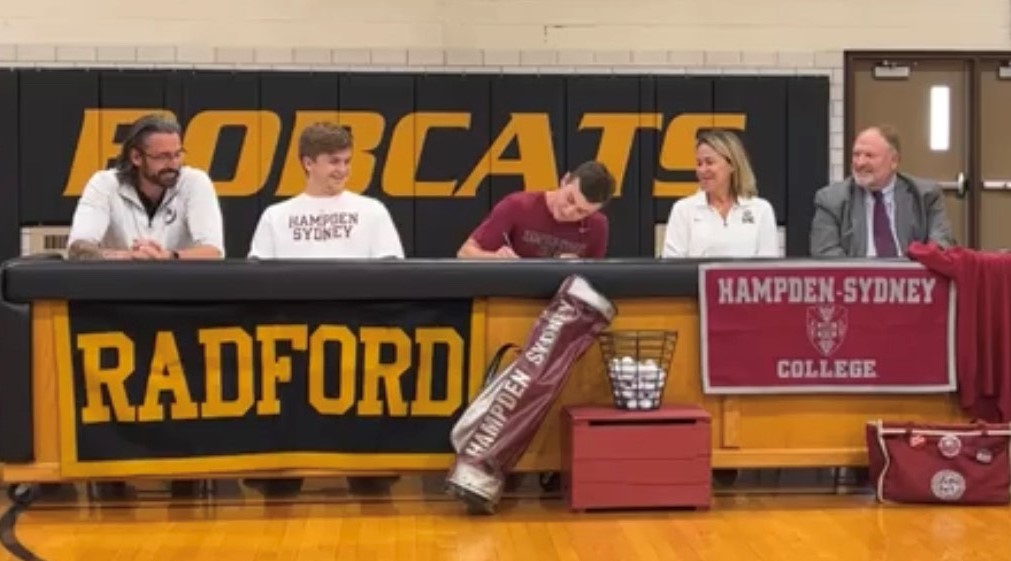 By Marty Gordon
Radford High School golfer Jack Davis is headed to Hampden-Sydney College to continue his playing career. Davis signed his letter of intent in the school's gymnasium in front of family, teammates and coaches.
The Bobcat said Hampden-Sydney feels like home. His father, his uncle, and his grandfather all attended the school.
"But, for me they never really had a part in my decision because I chose the place that made me comfortable both in class size and the golf team atmosphere," Davis said. "I saw golf as a bonus, and it's nice when your bonus is one of the top teams in the ODAC (Old Dominion Athletic Conference)," he said.  
Hampden–Sydney College is a private men's liberal arts college in Hampden Sydney, Virginia, that was founded in 1775 and is the oldest privately chartered college in the southern United States,
The college currently has an undergraduate enrollment of 993 students. 
The college is a member of the Division III level of the National Collegiate Athletic Association (NCAA), competing in the Old Dominion Athletic Conference since the 1976–77 academic year.
The golf team won the 2022 Old Dominion Athletic Conference men's championship with a three-day, 54-hole score of 282-281-283—846, and reached a national ranking of No. 18. 
Chad Eisele is in his fifth year as the Director of Athletics at Hampden-Sydney College during 2021-22. This is his fourth season as the head golf coach.
"One of the biggest reasons I chose H-SC's golf team was that they were very experienced and many of them could play division I," Davis said. "Knowing that, I personally am not at that level yet, I wanted to develop my game through the coaching and the upper class men and grow as a player."
Davis was a three-time all-Three Rivers District performer and was on the regional champion team his freshman year. He also was a member of the 2019 Class 2 state championship team as a sophomore when he shot an 82. 
He also participated in the Blue Ridge Junior Golf Tour, which he calls a big part of his career. "I appreciate everything they've done for me," Davis said.
He was the 2019 junior golf tour's player of the year and was a three times tour all-star.
Davis plans to major in business and economics at Hampden-Sydney.