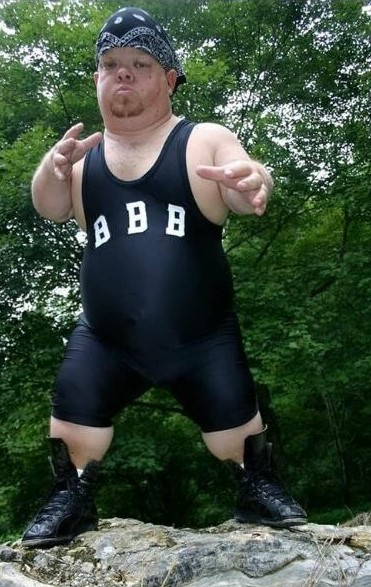 From the sidelines
By Marty Gordon
When he was 10, Buck Blevins asked his mother what she would do if a professional wrestler came to their house for a meal. She laughed and said it would never happen. Buck was not only determined to meet one but also to become one.  
He had always been a fan of the sport, and a short time later, he met retired professional wrestler Jimmy Valiant, who ran a training camp in nearby Alleghany Springs.  
At 4-8 and 140 pounds, the odds were against Blevins, but that didn't stop him.  After graduating from Valiant's training camp, he met one of his heroes, Ricky Morton of the Rockin' Road Express. 
He even served as Valiant's manager at several events. 
Buck Blevins died this past week. He was 47.  He was born with a condition simply called "dwarfism" and graduated from Pulaski County High School where he was the manager of the school's football team including the 1992 state championship. Cougar football was another one of those things he loved. 
I met him through his relationship with former Radford radio disc jockey Robby Raggs. Buck followed Raggs to many public appearances and used his wrestling background to sign autographs.
Known as "Bad Boy Buck," Blevins won the National Wrestling League's Midget Championship. He also put on a clown suit and entered the then-World Wrestling Federation (now WWE), which was owned by promoter Vince McMahon. 
He would come to the ring with Doink the Clown along with Dink and Pink. All of this took place before he turned 18 as he appeared on national television. 
Injuries and health problems all associated with his condition forced him out of the ring, but he never forgot the wrestling chapter in his life. 
Thanks, Buck, for all the memories and stories you kept close to your heart.