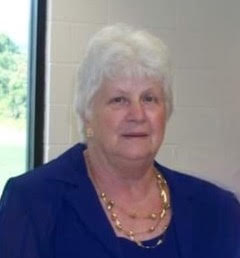 Ruby Ann St. Clair Wright, 81, of Shawsville, passed away on May 4, 2022, at home with her family by her side. She was preceded in death by her parents, Oscar and Myrtle St. Clair; her husband, William Wright; a son, Kelvin "Butch" Wright; a sister, Sally Rakes; and a grandson, Cody Wright. 
She leaves behind a daughter Doris Dickerson; a son Melvin Wright (Sandy); grandsons Stephen Carter and Alan Dickerson; granddaughters Melanie Johnston (Shannon) and Nichole Wright; great-granddaughters Haylie Johnston, Lilly Carter, Kylee Johnston, Audrey Johnston, and Olivia Johnston; sisters Neda Rook (Aubrey) and Nancy Buckland (Donnie); brothers Roger St. Clair (Carol) and Raymond St. Clair (Helen); and numerous nieces, nephews, and friends. 
Ruby was a longtime member of Mt. Calvary Baptist Church in Christiansburg.
The family extends a sincere thank-you to New River Valley Hospice for their loving care. 
The family had visitation at McCoy Funeral Home in Blacksburg on Sunday, May 8, 2022, from 4 to p.m. Funeral services were held at Mt. Calvary Baptist Church on Monday, May 9, 2022, at 11 a.m. with the Rev. Frankie Graham and the Rev. Howie McKinney officiating. Interment followed at Den Hill Cemetery, Christiansburg.