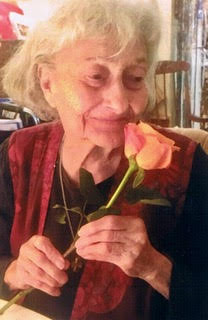 On April 21, 2022, at the age of 95, Alwyn Moss left this life and the Earth she loved so deeply. She leaves behind several cousins and a multitude of friends who cherished and loved her. These include members of the Quaker community of the Blacksburg Friends Meeting and neighbors at Warm Hearth Village. 
Alwyn had a long, rich, and interesting life as a writer, an artist, a teacher, and an activist.  
She was born and grew up in New York City. She graduated from Antioch College having majored in English and theater, then studied anthropology at the University of California in Los Angeles. Back in New York, she worked as a staff writer for Mademoiselle and freelanced for other magazines as well. She was married briefly. 
When she was around 30, she went to live in Italy to write and to study art. She published her first book at age 36: "Shaping a New World, a Biography of Margaret Mead." She also lived in England for a time where she worked at the London Zoo next to the wolf enclosure. She also trained in the Waldorf method of education, which stresses art and nature in educating young children.   
After having been away for 11 years, she returned to the United States and embarked on a new journey. She was now a Quaker, an artist, and a kindergarten teacher. She became a founding teacher of the Blue Mountain School in Floyd and was one of the first people to bring Waldorf education to the area. She also became a tireless crusader for environmental and animal rights.
After she moved to Blacksburg in 1987, she began writing her famous commentaries for The Roanoke Times and other papers. One of her most important accomplishments was forming the Friends of the Brown Farm group, which resulted in the preservation of a large acreage of farmland which became Heritage Park.
Over the years she took on many issues, such as the protection of old stately trees, beavers, songbirds, and public transportation and the opposition to hunting, cruelty to animals, war, and waste. One of her great loves was cats—especially feral cats, whom she fiercely protected, defended, fed, and wrote about. 
She was particularly prolific in her 80s despite struggling with many health issues.  Her booklet, "To Love the Earth: A New Way of Being Human on This Planet" came out when she was 82, followed by "Remembering their Names," a collection of nature poems.
Also at 90, Alwyn published her notable book "Never Love a Feral Cat, "a subject particularly dear to her heart. Later she added a section of personal poems to her volume of nature poems, renaming the collection, "Remembering their Names: A Gathering Time." 
Alwyn was a true original, always doing things on her own terms. She even died according to her principles, at home, in her own bed. She was buried, un-embalmed, in a cardboard box, so she could be close to the earth. 
 Donations may be made in Alwyn's honor at maraelephantproject.org. The Mara Elephant Project was Alwyn's most recent cause. Arrangements by McCoy Funeral Home, Blacksburg.