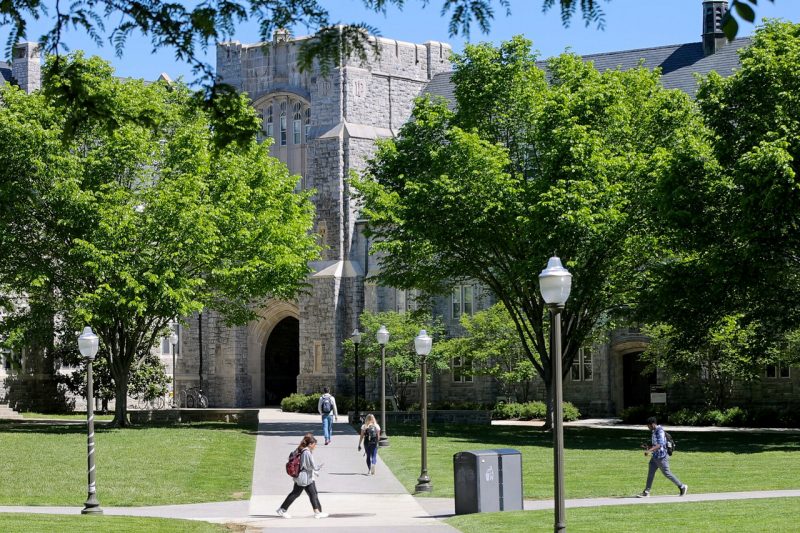 The Executive Committee of the Virginia Tech Board of Visitors will meet at 9 a.m. Tuesday, June 14, at the Virginia Tech Richmond office, located at 11 S. 12th St. in Richmond, to consider tuition and mandatory fees for the 2022-23 academic year.
As part of that consideration, Virginia Tech held a public comment opportunity March 22 at the Holtzman Alumni Center on the Blacksburg campus. At that event, several members of the Board of Visitors were on hand as university officials provided an overview of proposed tuition and fees ranges and received public comment in accordance with guidelines that had been posted to the Virginia Tech Board of Visitors website. All comments received were provided to the full board.
Virginia Tech's tuition and fees strategy is intended to support the university's strategic plan within the context of the various budget implications of the state's General Assembly actions and other major initiatives that impact university costs in the upcoming year.
Over the last several years, the board has prioritized the affordability of a Virginia Tech education while making targeted investments that enhance the value to students and the commonwealth and continue to position the university as a leader in teaching, research, and innovation. With a heightened focus on student affordability amidst the ongoing COVID-19 pandemic, the university has leveraged incremental state funding with cost-containment strategies, administrative efficiencies, and internal reallocations to maximize available resources and mitigate tuition increases.
As a result of these continued efforts, the board has been able to limit the average tuition increase to just 1 percent per year over the last three years and has kept tuition increases well below inflation for the last six years. This moderation was achieved while making a sustained commitment to advancing underserved and underrepresented student enrollment, increasing institutional support for student financial aid, and advancing critical initiatives that enhance Virginia Tech's mission as a leading global land-grant institution.
On June 14, the Executive Committee will consider a combination of cost containment and revenue enhancement strategies that will address employee compensation and benefit increases (including graduate assistants), fixed cost increases, continued investment in academic programs including faculty, and the enhancement of high-demand student support services.
To further advance affordability, the university continues to expand private philanthropy in support of the university and increase student financial aid programs, namely the university's Funds for the Future program that keeps the net cost of tuition and fees flat for returning students with family incomes below $100,000. In concert with additional financial aid from the commonwealth, these efforts can help to lower the net cost of higher education for Virginia undergraduates.
The following ranges of tuition and educational and general (E&G) fee adjustments for fall 2022 will be considered by the Executive Committee. These ranges were first published March 4 in anticipation of a vote on April 4, which did not occur. Final decisions are contingent upon the outcome of the General Assembly session, when total mandated costs and the level of state support are fully understood by the university. The university is hopeful that additional state support will help to continue to moderate tuition increases.
Virginia resident undergraduates: Tuition and Educational & General fees may increase between 0 percent and 4.9 percent.
Non-resident undergraduates: Tuition and Educational & General fees may increase between 0 percent and 4.9 percent.
On-campus graduate students: Tuition and Educational & General fees may increase between 0 percent and 4.9 percent.
All students: Mandatory non-Educational & General fees may increase up to 5.9 percent to support mandated cost increases, including employee compensation and benefits, the cost of the transit system, and enhancements in student health and counseling services. Virginia Tech maintains the lowest mandatory non-Educational & General fees among public four-year institutions in the commonwealth.
These recommendations are designed to continue Virginia Tech's trend of below-average increases in undergraduate tuition and fees, made possible through state investment and the university's focus on cost containment and strategic allocation of limited resources.