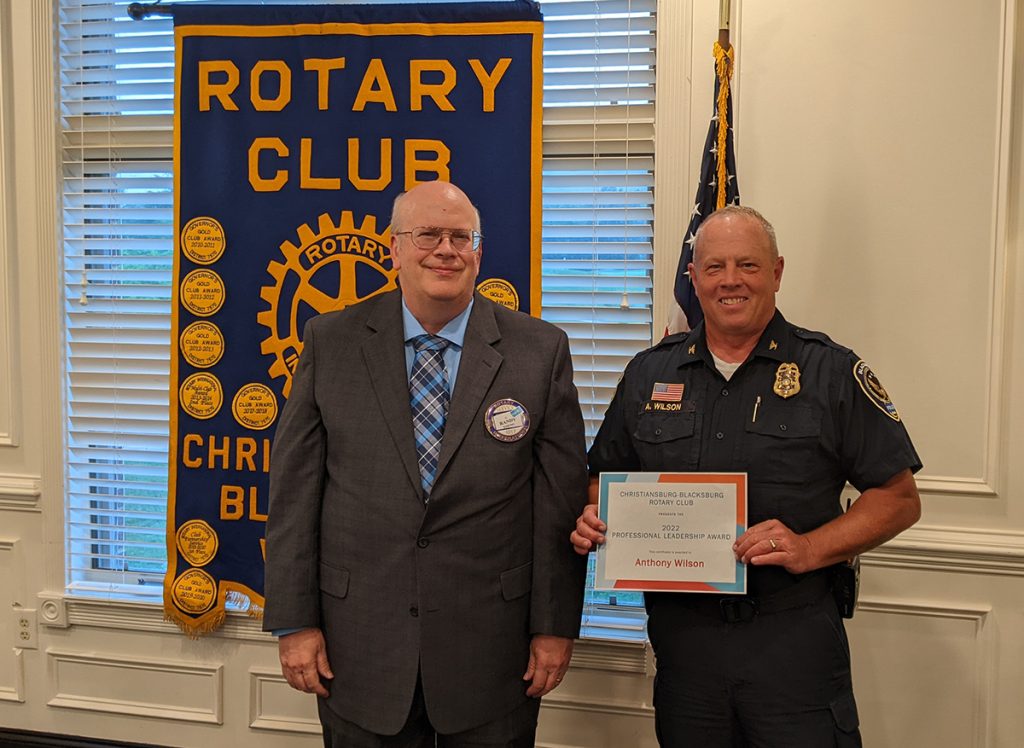 The Rotary Club of Christiansburg-Blacksburg awarded their 2022 Professional Leadership Award to Blacksburg Police Chief Anthony Wilson on May 23.
The Professional Leadership Award recognizes individuals who have gone beyond the boundaries of conventional professional success by demonstrating exceptional leadership in the development and implementation of programs beneficial to the community. The award has been made annually since 2000 to individuals in diverse professions such as technology, education, medicine, finance, and public safety.
Chief Wilson will leave a strong legacy of community engagement and interaction that emonstrates his love for his hometown of Blacksburg and the New River Valley and his commitment to keep residents safe and the police force accessible as he retires this summer after a 25-year career with the Blacksburg Police Department.
Chief Wilson has been involved with and implemented many programs including: engaging children and Virginia Tech students, the New River Health District's COVID-19 response, and officer training. This year's Rotary Professional Leadership Award focuses on his volunteer work with New River Community College.
Chief Wilson had an idea to create a program to recruit local youth to law enforcement careers through 2-year scholarships at New River Community College (NRCC). While NRCC was supportive, they asked him to raise the scholarship money. Twenty thousand dollars was raised the first year to cover nine students' tuition and the Books to Badges program was born.
The success of the Books to Badges program encouraged Chief Wilson to expand the program to all graduating Montgomery County students. With lots of determination and persuasion of Montgomery County supervisors, town councils, and other funders, Chief Wilson was able to help raise the $500,000 needed to bring the Access to Community College Education (ACCE) program to local students.
 Each student who participates in the ACCE program must provide 80 hours of service to their local community. When the program began, a volunteer was needed to match students to service opportunities and be sure the service requirement was met. Chief Wilson stepped forward to become the Volunteer Service Coordinator from the beginning. According to NRCC ACCE Support Specialist Micah Price, since 2018, ACCE has helped 570 students and generated over 45,000 hours of community service, all coordinated by Chief Wilson. "I can see the love and passion he has for the community. Even when he retires, he'll be laying his footprint everywhere. That's just who he is," said Price.
Upon receiving the award, Chief Wilson said, "This award means more than you'll ever know. The thing I'm proudest of in my career is working with these young people learning the true meaning of service." He said that when 2022 high school graduates were in the fifth grade, he promised them all a free college education during the Fifth Grade Field Day that he had helped to launch to introduce all of the Blacksburg fifth-grade students to each other prior to beginning middle school. With the ACCE program, that promise has become a reality.
Founded in 1923, the Rotary Club of Christiansburg-Blacksburg has as its motto, "Service Above Self." The Professional Leadership, Citizen of the Year, and Youth Awards; youth development programs, and community service projects as well as participation in Rotary International programs like PolioPlus and Rotary Youth Exchange exemplify this motto.