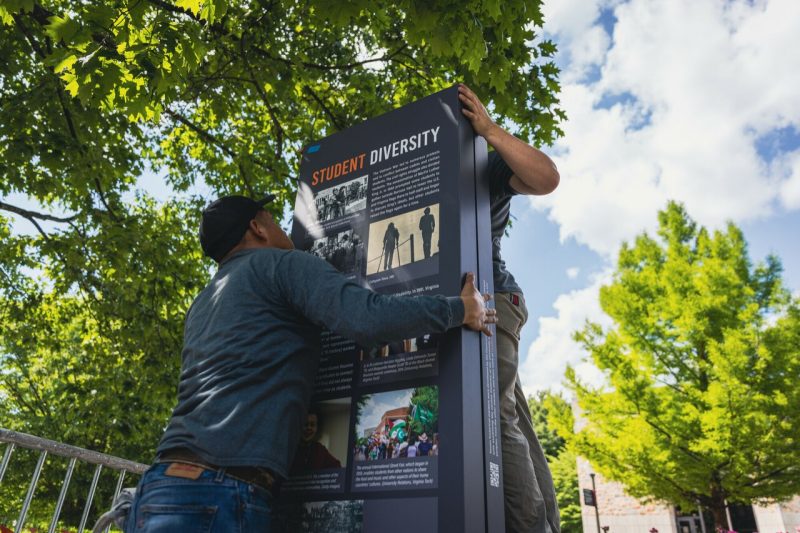 By Travis Williams
More than 75 people from across the Virginia Tech landscape helped to create seven new historical markers on the Blacksburg campus.
A project of the Council on Virginia Tech History, the markers offer a glimpse into our shared past — and an opportunity to embrace our shared values, today and into the future. They range in topics from campus development over time and its land-grant history to a diverse set of individuals and the communities who made major contributions to the university.
Six of the seven markers were installed in early June. The marker planned to be near Solitude will be installed later.
The preliminary text was developed by Peter Wallenstein, professor of history, and then revised and expanded by a diverse group of stakeholders from across the university. Leaning into their knowledge, expertise, and passion, the stakeholders shaped markers to add richness to our shared history.
"The stakeholders weighed in on not only which stories to tell, but also which wording and which images enhance our understanding of our history without reinscribing harmful stereotypes," said Emily Satterwhite, associate professor and director of the Appalachian studies program. "Many, many dozens of voices are represented here in trying to retell stories with more perspectives than have been told on some of the more long-standing markers."
Campus Landscape Architect Jack Rosenberger led the project since its kickoff in spring 2018.
He said the new markers expand on existing interpretive signage already installed on the Upper Quad, which highlights the Virginia Tech Corps of Cadets, by using the same basic structure and style.
"They're basically the size of a normal doorway," said Rosenberger of the sign's size.
Visibility and accessibility were important factors to both the markers' designs and their locations across campus. The locations were chosen in part based the areas' role in the story each sign tells. Each marker includes a QR code and web address that will direct users to additional markers on campus.
"The most important thing was getting this information to people," Rosenberger said.
The markers and their locations are as follows:
Henderson Lawn: The Early Years; Campus Over Time.
Moss Arts Center: People and Place; Land-Grant College.
Washington Street: Black History; Black Community.
Eggleston Quad: Student Diversity.
West Campus: Native Stewardship; The Monacan Peoples.
Solitude: Enslaved People and the Prestons; From Plantation to College Campus.
Library Plaza: Women's History; Women on Campus