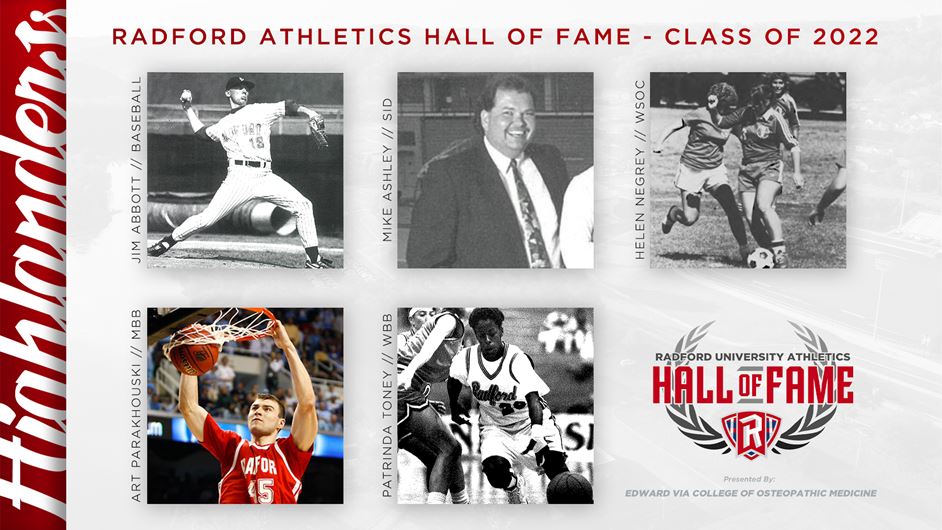 Radford University athletics has announced five new members that will be inducted into the Radford Athletics Hall of Fame on Sept. 30: Jim Abbott (baseball), Mike Ashley (sports information), Helen Negrey (women's soccer), Art Parakhouski (men's basketball) and Patrinda Toney (women's basketball). 
The five-member class is the 19th to be inducted into the Radford Athletics Hall of Fame following a hiatus due to the COVID-19 pandemic. This year's induction ceremony will once again help kick off homecoming weekend festivities and will be held inside Kyle Hall.
JIM ABBOTT
Baseball 1992-95
Abbott is the all-time winningest pitcher in program history with 24 career wins. He also holds the school record for strikeouts (286). He ranks in the top five in Radford history for starts, complete games, and innings pitched. Abbott was named First Team All-Big South in 1995 after setting a program record with 113 strikeouts.
MIKE ASHLEY
Sports Information Director 1987-1997
Ashley is a true connection between the past and the present. He came to Radford University as a student in 1980 and began writing for The Tartan, eventually becoming its sports editor. A column he wrote launched the first RU baseball club in 1982, for which he served as the initial president. Two years later, the club became a varsity team. Ashley graduated in 1983 and returned to his alma mater as sports information director across multiple stints that spanned more than a decade. He was a member of the staff that ushered the Highlanders into the Division I era. He helped mount a national campaign that helped the women's basketball program earn a spot in the 1989 Women's NIT, and he was a founding member of the Radford University Sports Hall of Fame Committee in 1995.
HELEN NEGREY
Women's Soccer 1981-84
One of the best to ever step on the field, Helen Negrey paved the way for the players who followed her through the Radford women's soccer program. A defender, she was named an All-American by the National Soccer Coaches Association of America (NSCAA) in 1982, making her the first Highlander to earn the distinction. She led the team in points with 30 that season and ranks fourth in program history for single-season assists, tallying 10 during the 1983 campaign. 
ART PARAKHOUSKI
Men's Basketball 2008-10
Art Parakhouski was a Highlander for only two seasons, but his list of broken records and awards won show just how dominant he was. The 6'11" center from Minsk, Belarus, is the program's all-time leader in six different statistical categories, averaging 18.7 points and 12.2 rebounds per game for his career. He was twice named Big South Player of the Year and was an Associated Press Honorable Mention All-American in 2010 after leading the entire nation in rebounds. Parakhouski scored 1,195 points in his Radford career and ranks third all-time in field goal percentage at .561 and sixth all-time in blocks with 115.
PATRINDA TONEY
Women's Basketball 1987-92
Toney is a standout among a long list of illustrious women's basketball players at Radford. The quick-cutting guard was a three-time All-Big South selection and was named Big South Co-Player of the Year in 1991-92 before earning a place on the conference's All-Decade Team for 1990-99. She ranks second in program history for career points per game with 17.1, and is fourth in Big South history with 2,020 points scored. Her play on the court led the Highlanders to four Big South regular-season titles and four Big South tournament titles as well.