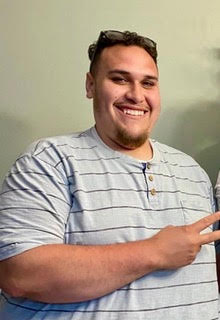 Keley Michael Davis, 30, of Blacksburg, died Saturday, June 18, 2022.
He was born in Greensboro, N.C., on Nov. 2, 1991. He was preceded in death by his paternal grandparents, Keley and Rena Boothe, and his maternal grandfather, Gale Nolen. 
Keley was operations manager at Owens Dining Hall at Virginia Tech. He was a member of the Boonie Goonies and enjoyed spending time with his brothers. 
He is survived by his mother and fiancé, Brenda Nolen and Carlos Webb, II; his father and stepmother, Michael and Anzata Davis;a brother, Marcus Webb;a  step-brother, Alexander Miller; step-sisters Chloe Webb and Shaniece Graham; his paternal grandfather, Eugene Davis; his paternal grandmother, Carolyn Martin, for whom Keley was one of her original Grammy Bears; and Carlos' parents, Carlos and Patricia Webb.
Funeral services were conducted Saturday, June 25, 2022, at 10 a.m. in the McCoy Funeral Home Chapel with Pastor Carl Simmons officiating. Interment followed at Memorial Gardens of the New River Valley. The family received friends Friday evening, June 24, at McCoy Funeral Home, 150 Country Club Dr. S.W Blacksburg.