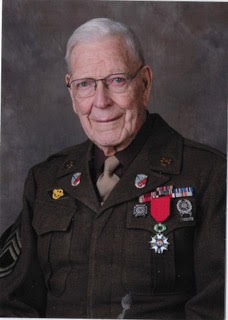 George Terrill Blume, 96, of Blacksburg, died Sunday, Aug. 7, 2022.
He was born in Richmond on Sept. 20, 1925, to the late George Washington Jones and Ruth Bowman Blume. He was also preceded in death by his wife, Edna Earl Blume, and a sister, Margaret Wendt. 
He was a European theater World War II veteran having served in the US Army. He was also a graduate of Virginia Tech Class of 1950 and received his Doctorate in Sociology. He was a longtime member and dedicated volunteer at Blacksburg Baptist Church, was a member of American Legion Post 182, and served the Legion for 79 years.
George chose to sponsor African-American male and female students in the leadership program of the Corps of Cadets at Virginia Tech. He contributed funds to accomplish this, and he asked that contributions be made to extend this effort. 
He is survived by his brother-in-law, Bennie Akers; special friends Darron and Elaine Byrd, and Robert and Priscilla Noel; and Edna's cousins, Pauline Robinson, Mike Webb, Teddy Webb, and their families. 
Funeral services were conducted Wednesday, Aug. 10, 2022 at 1 p.m. in the McCoy Funeral Home Chapel with Dr. Tommy McDearis and the Rev. Todd Milsap officiating. The family received friends on Wednesday prior to the service at the McCoy Funeral Home.
The family requested that memorial contributions be made to the George T. and Edna E. Blume '50 Emerging Leaders Scholarship, Attn: Sandi Bliss, 902 Prices Fork Rd., Blacksburg, VA 24061.