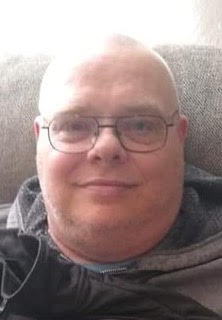 Paul Louis Bryan, 56, of Blacksburg, went to be with the Lord on Aug. 20, 2022, at home. Born in May 1966 in Portsmouth, Va., he was the son of the late Louis Linwood Bryan and Faye E. Bryan. 
Left to cherish his memory are his beloved wife of 31 years, Kristina Hadsell Bryan; beloved daughters Ashley Bryan Harvey (Tim) of Christiansburg, Brittany Bryan Rose (Martin) of Blacksburg, and Cassandra "Sandra" Bryan (Lindsey Nanz) of Boise, Idaho; five grandsons; and additional family members listed below. 
Paul and Kristina moved from Portsmouth to Dublin, Va., in 1993 and to Blacksburg in 1999. Paul worked in the food service industry for over 25 years for establishments such as Pizza Hut, High's Ice Cream, KFC, Hardee's, McDonald's, Wendy's, Warm Hearth Dining, Virginia Tech Dining Services, Mellow Mushroom, Zaxby's, Burger King, and Hwy 55. He worked in the lawn service industry in Portsmouth, including as a live-in groundskeeper for Meadow Brooks Memorial Gardens Cemetery; likewise, he performed grounds maintenance for the Blacksburg Parks & Recreation Department. He was a parts driver for Harvey's Chevrolet and held positions at Pulaski Furnishings, Findley's, and the Foundry. 
Paul loved all things sci-fi, especially Star Trek, Star Wars, and Transformers. He shared his love of Transformers with his grandsons, as he was just a big kid at heart who loved his family well. Some of his favorite sayings were, "Transform and roll out!" and "Beam me up, Scotty!" Paul grew up in Portsmouth's Sweethaven Baptist Church and later joined his wife at Western Branch Community Church in nearby Chesapeake. After moving to the New River Valley, the couple eventually joined Dublin Presbyterian Church (presently known as First Dublin Presbyterian Church ECO), where he was a member of the choir and showed that he had the heart of a servant helper. 
In addition to his parents, Paul was preceded in death by his mother-in-law, Cheryl Barnes Hadsell; uncle "Skip" Thomas R. Daughtry; two great-aunts, Quelda Daughtry and Marian Moore; and maternal grandparents, "Maw" and "Pops". Surviving family members also include brothers Jon "Barrie" Bryan of Portsmouth, Lee Thomas Bryan of Wake Forest, N.C., and Mark Edward Bryan of Christiansburg; sister Angela Bryan Twiford (Scott) of Carrolton, Va.; father-in-law Wayne Lee Hadsell, Sr., of Pilot Mountain, N.C.; sister-in-law Dee Hadsell Gazzo (Mike) of Rochester, N.Y.; brother-in law Wayne Hadsell, Jr., of Gloucester Point, Va.; aunt Marilyn "Deedee" Daughtry of Chesapeake; cousins Keith Daughtry and Kristopher Daughtry of Portsmouth, and Kevin Daughtry (Nicole) of Wisconsin Rapids, Wis.; ten nieces and nephews; six great-nieces and -nephews; many other cousins; and nine grand-fur babies. 
There will be a celebration of life service on Thursday, Aug. 25, 2022, at 11:30 a.m.., at Dublin Presbyterian Church ECO. In lieu of flowers, please consider a donation to Good Samaritan Hospice or a donation to the family to help cover expenses (contact McCoy Funeral Home, Blacksburg). A special thanks to Good Samaritan Hospice. Please think of Paul the next time you enjoy a good sci-fi show.