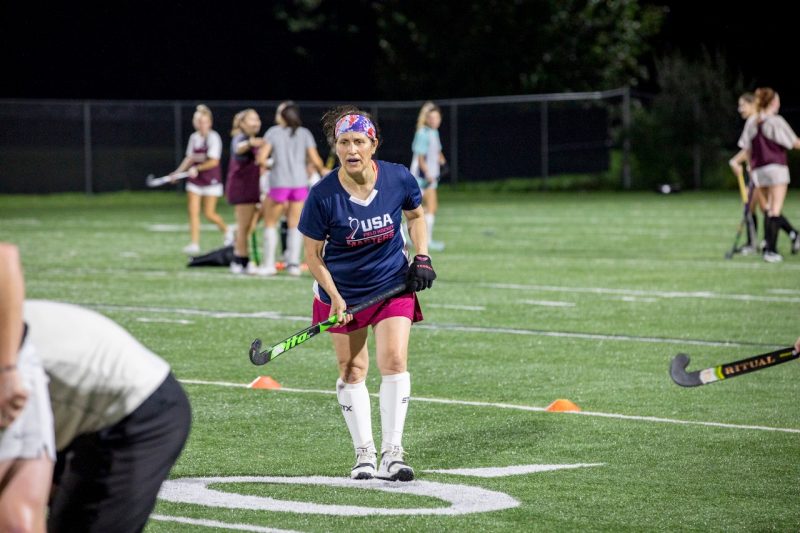 By Max Esterhuizen
During sporting events this fall, it won't just be Virginia Tech undergraduate athletes running up the scoreboard. The Hokies will be  joined by someone else from the classroom.
On top of leading the Department of Human Nutrition, Foods, and Exercise, the largest department in the College of Agriculture and Life Sciences, Stella Volpe M.S. '87, Ph.D. '91 will represent Virginia Tech on the USA Masters Women's National Field Hockey team in Cape Town, South Africa, in early October.
Volpe, 59, got her first taste of competitive athletics when she engaged in gymnastics in grade school. That experience led her to softball, volleyball, basketball, lacrosse, track, and, of course, field hockey. As the youngest of four, she loved competition, whether it was out on the field or just going for a run.
Volpe began field hockey in ninth grade, played for the University of Pittsburgh as an undergraduate, and coached the club team during her time in graduate school at Virginia Tech. She also was a collegiate and high school referee.
That competitive spirit never left her. She continued to play in local clubs, which led her to try out for the USA Women's Masters National Field Hockey team for the first time in 2018 and again in 2022. 
In between running a department and running on the field, Volpe took time out to answer a few questions about field hockey, competition, and her "pump up" song.
Where did the competitive nature come from?
As the youngest of four, we messed around, played, and were always trying to be better than each other in a good way. We would have silly little contests like to see who could eat a cantaloupe fastest. It was a bit of everything, little things that were silly and fun.
How do you balance being a department head, a professor, and an athlete?
I work long hours and sometimes very late into the night and into the morning to make sure that my work gets done. Some of my staff will notice that they get 3 a.m. emails. It's a sacrifice I'm willing to make, but it is a balance. All of us need to make sure that we do the things that we love to get a good balance in our lives. For me to be able to do this, to have good health and the ability to do it financially, I feel grateful.
What does it take to compete at the masters level?
It takes a lot of effort to keep yourself in physical shape. It takes a lot of determination. It takes a lot of self-discipline to be able to do some work on my own and practice stick work on my own. We even have some Zoom practices, which sounds silly, but it gets us together and has us do some stick work there, too. It takes a lot of discipline knowing that I don't have weekend games like I used to when I lived in Pennsylvania, and that I need to not just work out for fitness, but I have to do my skills workout as well.
I wouldn't be able to compete without the support of my husband, Gary Snyder M.Ed. '92, and our entire family. I am grateful to the national champions, the Virginia Tech Field Hockey Club, for allowing me to practice with them.
Do you have any pregame routines or superstitions?
This is going to make you laugh, but I like to listen to "Call Me Maybe" by Carly Rae Jepsen before a game. It's a fun song. I listen to it more often before ice hockey games, but I do like to listen to it because it relaxes me and puts me in a good frame of mind. The other silly thing I do is to make sure that I eat my Honey Stingers [energy chews] before a game.
Although the start of the game changes when I eat, I usually eat about two hours before competition or practice, then have a snack an hour before. I make sure I am hydrated and have ample energy chews. We usually get to the field at least an hour prior to competition or practice so that we can get all of our equipment on, such as our shin guards, gloves, etc., and warm-up properly.
Are there any traditions for the players at the World Cup?
We give pins to one another before each game (ours says "USA Field Hockey," for example). We also trade gear with other countries, but not all of it. Somebody is wearing a Volpe jersey in England, and I'm wearing several different ones that I received from Wales, England, and Ireland. It's a really fun tradition.
Win or lose, we take a picture of both teams together after each game. There is this great feeling of camaraderie and knowing that we are fortunate to be able to compete at a high level. There is also a great feeling with all these countries getting together to play in the World Cup. We all are representing our own countries, yet collectively, we all are representing the world.