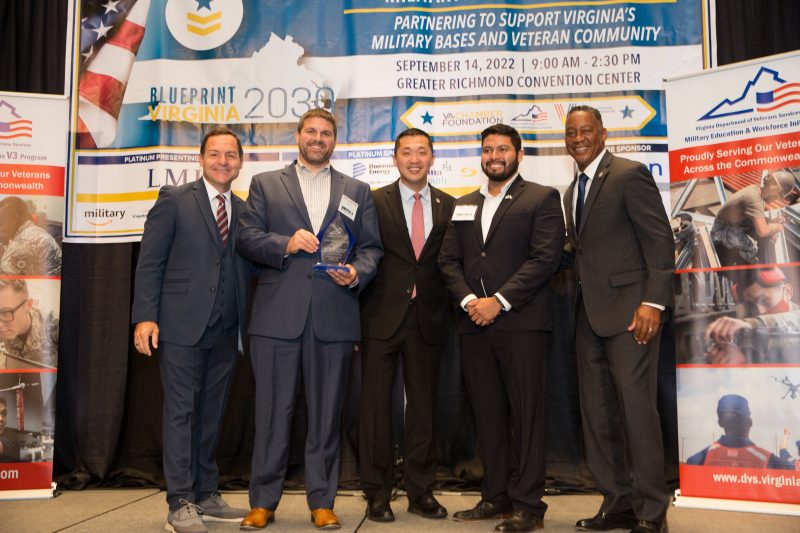 Virginia Tech earned the Virginia Values Veterans (V3) Impact Award at the recent 2022 Virginia Veterans and Military Affairs Conference. This is the second year in a row Virginia Tech has been recognized with one of V3's annual awards.
As a large-sized employer in the commonwealth, Virginia Tech received the Impact Award for demonstrating innovative support for Virginia veterans and promoting veteran employment.
Virginia Tech's Talent Acquisition team dedicates resources and outreach efforts to V3 and other veteran organizations with the goal of attracting, hiring, and retaining more active and former servicemen and women to the university. In the past year, Virginia Tech has hired 75 new employees who identify as veterans.
Virginia Tech's Hire Vets Now SkillBridge program helps transitioning veterans gain skills by working under a university department or at a satellite campus. The program, similar to an internship, helps veterans find a career after fully transitioning out of the military.
In addition, Virginia Tech has a number of veteran outreach and affinity groups, including the Veterans Caucus, Veterans@VT student veteran association, and Military Connected Hokies.
"We are proud that Virginia Tech has been honored for a second year in a row for its outstanding contributions in the hiring of Virginia veterans," said Bryan Garey, vice president for human resources. "Our servicemen and women are a great asset to our community, and we are committed to helping make their transition to the civilian workforce easier."
In 2015, Virginia Tech became the first public university in the commonwealth to be certified by V3 for its commitment to hire veterans. In 2021, Virginia Tech was awarded the Virginia Values Veterans (V3) Secretary of Veterans and Defense Affairs Award.
At this year's ceremony, 13 other employers in the commonwealth were recognized for their exceptional commitments to the V3 program and their hiring of Virginia military veterans, transitioning service members, and their spouses.
Part of the Virginia Department of Veterans Services, the V3 program helps employers develop and implement long-term strategies and nationally recognized best practices in recruiting, hiring, and retaining veterans.