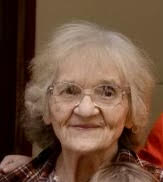 Dorothy "Dot" Smith Reynolds, 90, of Blacksburg went to be with the Lord Friday, Oct. 14, 2022.
She was born in McCoy, Va. on Sept. 17, 1932, to the late Ray and Mallie Huffman Smith. She was also preceded in death by her husband, Maxwell L. "Mack" Reynolds; a son, Jackie Lee Reynolds; grandchildren Heather Nichole Stiff and Jacob Lee Stiff; sisters Lola Dowdy, Mary Dowdy, Josephine Farley, Kathleen King, Louise Eagle, and Pansy Price; and brothers, William Smith, Paul Smith, Titus Smith, Mark Smith, and Samuel Smith. 
She is survived by her daughter and son-in-law, Shelbie R. and David Stiff; sons and daughters-in-law D. Wayne Reynolds and Ellen Flinchum, G. Nelson and Regina Reynolds, and Joseph M. and Tabitha Reynolds; grandchildren Jamie, Kelli, Michelle, Rachel, Sarah, Rebecca, and Matthew; 13 great-grandchildren, one of which is Christian who serves in the U.S. Army; and numerous nieces and nephews. 
Funeral services were conducted Tuesday, Oct. 18, 2022, in the McCoy Funeral Home Chapel with Pastor Ronald Smith officiating. Interment followed in the Smith Family Cemetery. The family received friends prior to the service at the McCoy Funeral Home.