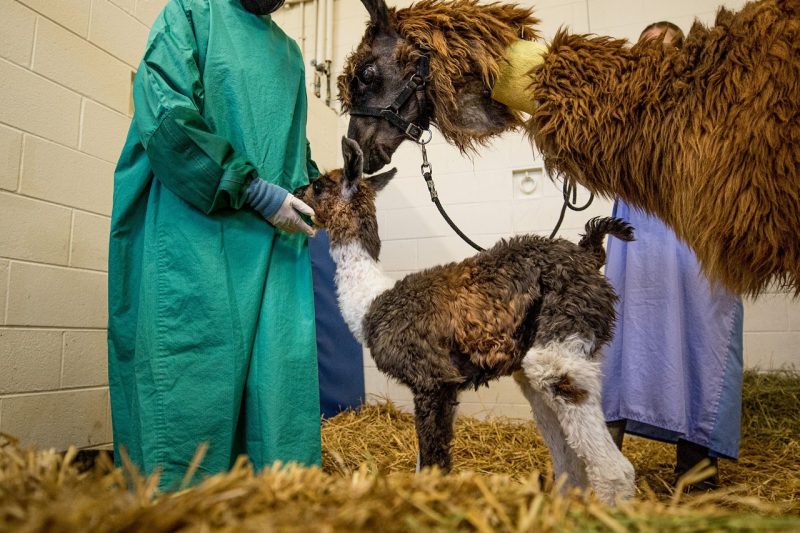 By Kevin Myatt
A pregnant llama with a twisted uterus.
Even with the best of care, there are a lot of things that can go wrong when an emergency cesarean section is needed in that situation.
Mother or child, or both, could die. The mother, known as a dam, might reject the child, known as a cria, not understanding that it is her child, delivered in a surgical process during anesthesia rather than the normal standing-up birth. The cria can go into cardiac or respiratory arrest coming out of anesthesia. The cria can be vulnerable to infections without the first initial nursing of colostrum. 
But none of those things did go wrong when personnel at the Veterinary Teaching Hospital faced just such an emergency in early November.
The llamas did indeed get the best of care from veterinarians, residents, technicians and veterinary students at the Virginia-Maryland College of Veterinary Medicine. And the care providers and the llamas' owners were blessed with a heart-warming outcome.
"It was great. The cria's lovely and absolutely adorable. And everything went super well, no complications or unexpected things have arisen with her," said Catherine Jula, of Columbus, Ohio, a large animal internal medicine resident at the teaching hospital.
Mama llama, named Jewel of the Nile, and her daughter cria, Cairo, are back at Three Ladies and Me llama farm in North Carolina, operated by Michael and Patricia West, owners of the Divine Llama Vineyards and Farm at East Bend, North Carolina.
Michael West, a 1980 architecture graduate from Virginia Tech, said there was never any question where he would take Jewel once he made an assessment on his farm that the dam likely had a uterine torsion that was beyond his ability to treat.
"We have for almost 20 years utilized the services of the Virginia-Maryland College of Veterinary Medicine," West said. "I started with them because of my affiliation with the university, but every experience has been tremendously positive so we would never consider going anywhere else.
"The staff has always given our llamas the utmost care and expertise," West said. "They are great communicators, professional, knowledgeable, and caring. We have gotten to know a number of the staff over the years and trust their judgment."
The diagnosis of the Production Management Medicine veterinarian on call, Sierra Guynn, clinical assistant professor, confirmed West's assessment of a uterine torsion, and a team was quickly called in and assembled to perform surgery on Jewel both to remove the cria and untwist the uterus.
Getting a live birth out of a C-section for large animals — horses and cows are seen far more regularly at the teaching hospital — is not the usual experience.
"It's not common, in our equine service, that we have a C-section that results in a live baby, because foals are much more fragile and usually do not survive long if something goes wrong during the delivery process," said Katie Wilson, clinical assistant professor for large animal internal medicine. "Unfortunately, by the time somebody has looked at a horse on the farm and gotten it in here, the foal's usually dead, so it's nice to have a win."