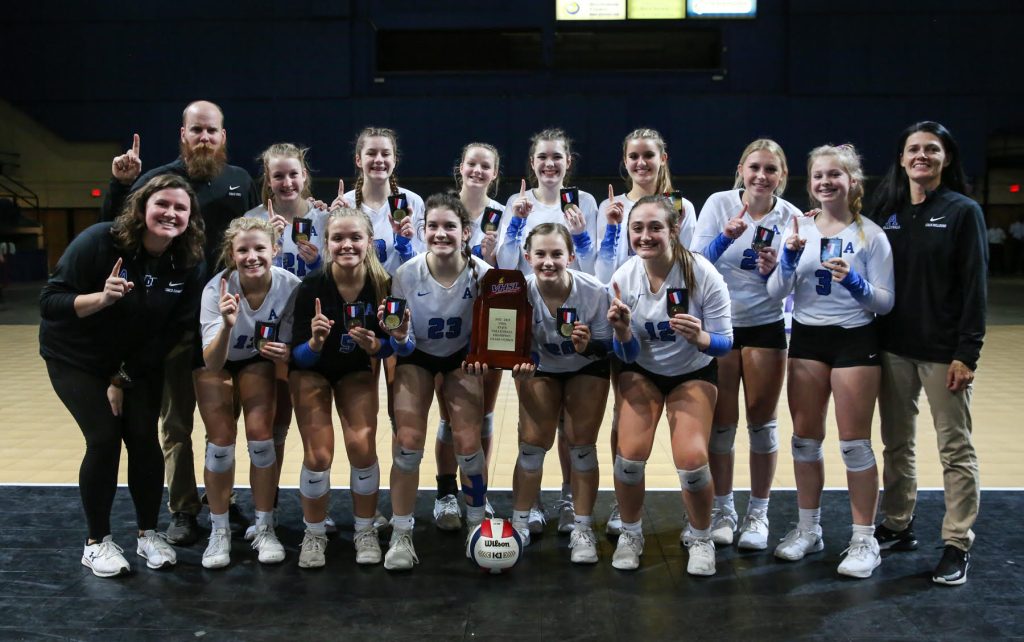 By Marty Gordon
A quick look back at the year in sports finds one of the biggest stories of the year as the changing of the head coaching position in football at Virginia Tech.
Brent Pry was named head coach at Tech in November of 2021, but the Pry era did not start taking shape until January.
Also big at the high school level was Auburn High School's continued dominance in volleyball as the Eagles won their third straight state championship.
Not to be outdone, the Auburn boys basketball team won the 2022 Class 1 state championship.
On a sadder note, Radford University paid tribute to former women's coach Charlene Curtis and to former athletic director Chuck Taylor, both of whom passed away during the year.
From Altoona, Penn., Pry joined the Hokies after serving the past eight seasons as defensive coordinator/linebackers coach at Penn State. Pry returned to Blacksburg after previously working as a defensive graduate assistant for the Hokies from 1995-97 under head coach Frank Beamer and defensive coordinator Bud Foster.
Pry said at his opening press conference that working for Coach Beamer and Coach Foster as a graduate assistant in the 1990s as part of a program that at the time established itself as a national power. was a privilege.
"Even after I departed Blacksburg, I always continued to appreciate Virginia Tech, its great players, its championship teams, and its wonderful traditions from afar," Pry said. "The resources, facilities, university backing of athletics, and phenomenal fan support that Virginia Tech enjoys made this a very desirable situation.
"But just as importantly," Pry said. "was the opportunity to raise our children in a community like Blacksburg. We couldn't wait to meet the team, the support staff, and Hokie Nation. We were prepared to hit the ground running to attract the type of student-athletes to Virginia Tech who can help us achieve sustained success. Go Hokies!"
A 30-year coaching veteran, Pry has coached teams that have qualified for 15 bowl appearances and have finished in the FBS top 25 in total defense eight times. He played an instrumental role in coaching top-10 defenses at Virginia Tech, Penn State, Vanderbilt, Georgia Southern, and Western Carolina. 
Pry was a 2021 Broyles Award nominee as the top assistant coach in the country as the Nittany Lions ranked fourth nationally in Red Zone defense (66.7%), seventh in scoring defense (16.8 ppg), eighth in defensive pass efficiency (111.98), and held their opponents to 4.7 yards per play.
Pry's defense helped lead Penn State to an 11-2 record in 2019, ranking eighth nationally in scoring defense (16.0 ppg). The Nittany Lions also led the nation in fewest yards per carry (2.6) and forced fumbles (22), while ranking fifth in rushing defense (95.0 ypg). The Penn State defense led the nation in sacks per game (3.62) and ranked fourth in tackles for loss (8.2) in 2018. His 2018 squad also ranked fifth in the county in yards per pass attempt (5.67), eighth in defensive pass efficiency (106.1) and 11th in Red Zone scoring percentage (.750).
Penn State also had an 11-2 record in 2017 with Pry earning his first Broyles Award nomination. The Nittany Lions finished seventh in the Football Bowl Subdivision (FBS) in both scoring defense (16.5 ppg) and sacks per game (3.23) during the 2017 campaign.
Pry's father, Jim, played collegiately at Marshall and began his own 40-year college coaching career at his alma mater in 1973-74. The elder Pry went on to enjoy a distinguished career that included stints at Illinois, Duke, Dartmouth, Akron, East Stroudsburg University, Buffalo, VMI, Bethune-Cookman and time as a high school head coach.
Pry served as a co-defensive coordinator at Vanderbilt University from 2011 to 2013. While at Georgia Southern in 2010, his defensive unit helped the Eagles to a win over No.-1 Appalachian State and an appearance in the NCAA Football Championship Subdivision semifinals. As a member of the Memphis State staff from 2007-09, Pry's defensive line corps helped the Tigers to back-to-back bowl appearances. He also coached at Louisiana-Lafayette (2002-06), helping the Ragin' Cajuns to their first Sun Belt Conference championship following a four-year tour of duty at Western Carolina (1998-01). During his stint as a graduate assistant at Tech from 1995-97, he was part of a staff that guided the Hokies to three bowl berths.
Can you say back-to-back-to-back volleyball championships at Auburn High School as the Eagles clearly established a volleyball dynasty. But there was more as the boys basketball team and the softball team won state championships.
The volleyball team entered the 2022 season with a 70-plus win streak that ended when Bland County snapped the streak by beating them in week number one. The Eagles went on to scrap their way to the state finals despite a district championship loss to Giles. They rebounded from that loss to defeat that same Giles team in the regional finals. Last month, the Eagles claimed their third straight state title with a 25-13, 20-25, 25-21, 25-20 win over Rappahannock in the state finals.
Senior Avery Zuckerwar and coach Sherry Millirons were recognized as the player and coach of the year for Region C and statewide for Class 1. The duo was also honored by the Three Rivers District.
Not to be outdone, the Auburn boys' basketball team brought home another state title of their own in March with a 61-49 win in the Class 1 state title game.
Ethan Millirons led the Eagles to the win and was named the Class 1 Player of the Year by the Virginia High School Coaches Association. His father and coach, Terry Millirons, was voted the VHSCA coach of the year.
The Auburn softball team also looked like a dynasty in picking up its third straight state title in the spring, finishing the 2022 season with a 22-5 record.
One of Auburn's softball players was a part of the ever-changing landscape of college recruiting. Kirsten Fleet received a scholarship from the University of Georgia when she was a seventh grader. The pitcher had been heavily leaning that way as she finished her junior year,
but the Bulldog coach retired, forcing Fleet to rethink that decision. This fall, she made it official  by committing to James Madison University.
As a sophomore, Fleet led Auburn to the Class 1 state title, throwing 260 strikeouts in 120 innings, compiling a 16-2 record and a 0.29 earned run average.
This past spring, she finished with a .538 batting average with 14 hits, two home runs and 14 RBI. On the mound, she had six wins and one loss with 98 strikeouts, an earned run average of 0.525 and was named the Mt. Empire District and Region C Pitcher of the Year.
Fleet's early recruitment as an underclassman drew national attention, and two years ago, the NCAA made a rule change that would not allow coaching conversations with a player until she was a junior in high school. Fleet chose JMU over Auburn, Pittsburgh, and Appalachian State.
Meanwhile at Radford High School, the boys' basketball team advanced to another state finals, but the outcome was not what they hoped as they fell to John Marshall. 
The Eastern Montgomery High School girls' soccer team brought home the gold in Class 1 as they downed Auburn in the spring for the state championship.