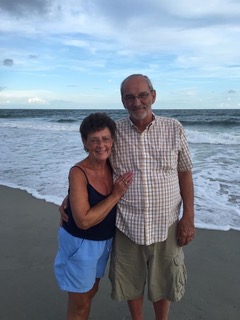 Brenda Cupp Dix was a devoted wife, mother, grandmother, great-grandmother, sister, and friend. She passed away on Dec. 27, 2022, at the age 73 after a swift battle with cancer, she was holding hands with her husband, Donald Dix, as she met the Lord. 
She was born to Alfred and Ruby Cupp on Jan. 21, 1949. She and Donald met in their early twenties when he was working at a car dealership, and she went there to purchase a car and that began the ride of a lifetime. The two shared 52 wonderful years together, as well as their children; Kim and Amy. Brenda loved Jesus. She started and ended each day with Him. She spent time in the Word and never lost faith. One of her final catch phrases was, "Thank You Lord." She would enjoy scriptures each night with some cherry cardinal ice cream, but only after it sat out to thaw. 
She was always "dolled-up" with her hair done and fingernails painted. Brenda also loved to wear gold jewelry. Especially gold rings. She never left the house without looking pretty; including a handful of rings, gold hoops, even if it was a trip to the grocery store. Brenda loved spending time in the kitchen and making sure her family was fed. Brenda was a "Mamaw" to several grandchildren and great grandchildren. She will be missed by her loved ones who will continue to honor her legacy by living their lives to the fullest. 
Brenda is survived by her husband; Donald Dix; two daughters, Kim, and Amy and husband, Decota Huff; five grandchildren, Chad, Kayla, Cody and wife Rebekah, Austin, and Cheyene; great-grandchildren, Anthony, Tessa, Noah, Emma, and a new great-grandchild expected in 2023; two brothers, Frank A. Cupp Jr. and wife Ruth, and Timmy Cupp and wife Linda; as well as a special aunt and uncle Edith and Ray Epperly. 
Visitation was held Saturday, Dec. 31 and a service immediately followed at McCoy Funeral Home. In lieu of flowers, please donate to Montgomery County Animal Care and Adoption Center on her behalf.