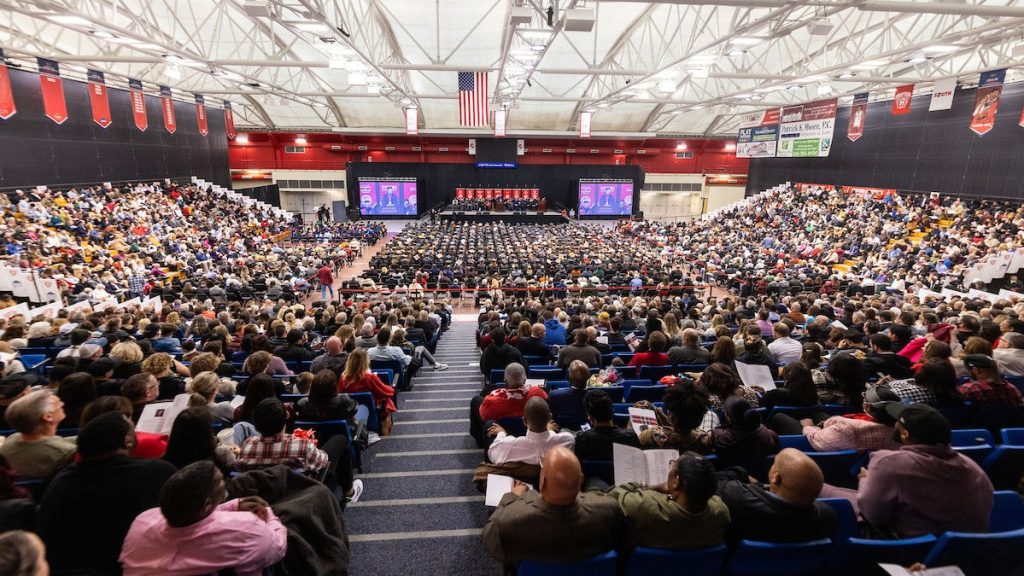 Radford High School's principal was a member of the first  class of Doctorate of Education graduates
RADFORD – Diplomas arrive at the end of one phase of education, but the word "commencement" denotes the start of something, and indeed, numerous facets of Radford University's winter 2022 graduation evoked a spirit of new beginnings.
Chief among those elements was recently inaugurated President Bret Danilowicz, avidly presiding over conferral ceremonies for his initial class of departing Highlanders – between undergraduates and graduate students, there were 677 in all, 179 of whom are first generation.
"This graduation will mark one of the most memorable moments of your lives," Danilowicz told undergraduates Saturday, Dec. 10, at the Dedmon Center, as they sat beneath mortarboards both bedazzled and basic black. "It is your day to celebrate what you have accomplished."
Winter Commencement also saw Radford's first cohort to earn Doctorate of Education degrees – a group that includes Radford High School principal Tara Grant – and Radford University Carilion marked the first student to receive its Master of Health Sciences degree, with a concentration in clinical research administration.
And while about 365 Highlanders have earned Bachelor of Science degrees in geology over the past 40 years, on Saturday one scholar became the first to attain a Bachelor of Arts in the field.
To be sure, every graduate concluded their weekend at an advanced stage of education, and those transformations were addressed in graduate and undergraduate commencement addresses on Friday and Saturday by Nicole Robinson '02, president of Ursa Space Systems.
"When you leave here today, see this as the first step into your life unimagined. Be open to the potential, the adventure, the unanticipated opportunities ahead," Robinson advised. "Life is truly about what you can't imagine. In fact, it isn't even about what happens to you but more about how you respond."
Robinson, in her speech, challenged graduates to reject the oft-repeated saying that business isn't personal ("Business is personal, as is your work and your worth," she noted), and she urged them to embrace being a mentor to others and to take an active role in their own existence. 
"Engage in whatever life presents you," she said. "The wins, the losses, successes, the failures, relationships, experiences. Lean in for all of it.
"Put your hand up, be counted and take on that new challenge. Others will be watching and following your lead, and I will be among them, and I'm filled with excitement to see what you do."
Neil Harvey
Radford University