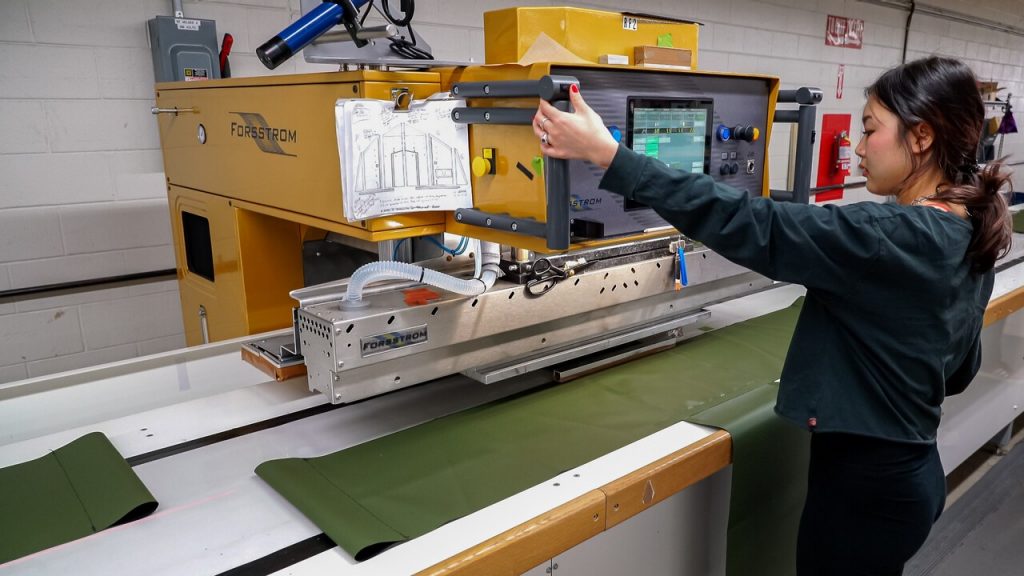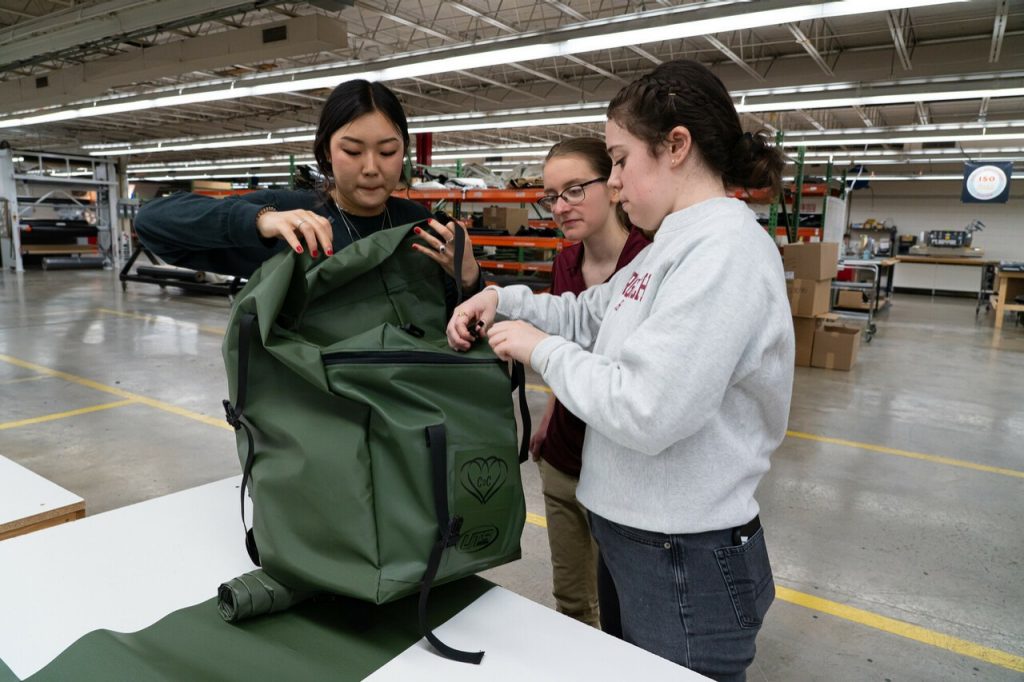 A handful of Hokies are helping others carry their worlds on their shoulders. 
Six third-year industrial design students spent a recent Friday helping UTS Systems LLC manufacture 50 military-grade backpacks that will be given to people struggling with substance use disorder and housing insecurity in Roanoke.
"This is going to be a game-changer for people. … I'm blown away," said Lisa Via, manager of the Council of Community Services' Drop-In Center North in Roanoke. "Their lives are in those backpacks, and the students have taken great strides to make sure that population is going to be served by this."
A collaborative design between the students and the company, the waterproof bags include an attached waterproof tarp with grommets that allow it to be hung up to provide shelter. The bags also come with personal hygiene supplies, seasonal clothing, information about community resources, and medical kits designed by the students. The latter includes Narcan, a nasal spray version of the opioid overdose reversal drug, Naloxone, which is provided with required training.
"I always knew I wanted to use design to help people," said Ashley Greene, an industrial design student. "And I was always interested in medical care, and I've always loved soft goods and fabrics, so this was just the perfect opportunity."
A part of the Connection 2 Care project, the bags will be distributed by the Drop-In Center North and the Virginia Harm Reduction Coalition later this month. In January, the students, alongside supervising faculty, will return to ask recipients for feedback on how they worked.
"This was one of the first projects that we ever did where we really had to think about a whole new group of users with experiences unlike anything most of us had," said student Dayani Harapanahalli. "You just have a whole new set of criteria and a whole new set of problems to think about, so research is a big part of the process."
Connection 2 Care is a collaborative project between the Institute for Policy and Governance (IPG) in the School of Public and International Affairs (SPIA) and the Roanoke Valley Collective Response to the Opioid Crisis. It's funded by the Office of National Drug Control Policy's Combating Opioid Overdose through Community-level Intervention grant program.
Mary Beth Dunkenberger, associate director of the Institute for Policy and Governance, said the original idea for the backpacks came from a desire to provide people with practical tools and information as well as a message of care during critical moments.
"There are certain touch points when a person is in crisis that they may be more interested in entering treatment or engaging in harm reduction services," Dunkenberger said. "They wanted to give them something that would say, 'We care about you, and want you to do better," and would be symbolic of Connection 2 Care."
This will be the third version of the backpack students from the College of Architecture, Arts, and Design's industrial design program have helped bring to life. Since December 2019, more than 1,400 backpacks, modified based on individual and community input, have been distributed to address the needs of the target population.
Martha Sullivan, chair of the industrial design program, said the project has become a legacy in the program, in part because it allows students to see a product move from design to shelf-ready.
"That's the impact of involving community partners in the classroom," said Sullivan, who oversees the third-year course. "You broaden the opportunity for the students, and you also make an impact, which is really important to the School of Design. We're interested in health and wellness, and this is just one component of being a regional leader in community services, which is really important at Virginia Tech."
Previous backpacks had been slightly modified version of ones purchased from retailers, but partnering with UTS Systems allowed for this version to be custom made to specific specs. With a manufacturing plant in Fairfield, Virginia, UTS Systems specializes in rapidly deployable, military tents and outdoor shelters.
"Our principal costumer is DOD [Department of Defense], and we're trying to support them in the grittiest conditions with the best equipment available," said Andy Tubb, quality assurance manager with UTS. "So what we've done is, we've taken our military mindset into this program as well. It definitely fits in line with what we're trying to do as a company in supporting the community as much as possible."
Partnering with UTS also enabled the students to take part in the manufacturing process, which included some learning curves.
"I didn't even really know you could weld plastic," said student Cade Young, who helped run one of the welding machines attaching the plastic fabric together.
Young will also be among the students who participate in Human Rights Protection Program training in order to gain the experience of interviewing the recipients of the bags, next month.
"I'm really excited to see the reactions to an actual product," Young said. "These aren't just prototypes. We're sending out 50 real bags. Up until this year [in the program], the projects we've done have been designing for ourselves, but this year we're designing for other people and it just feels way more gratifying."
Sullivan said being able to get in-person feedback from such an important, yet potentially hard to access, population added a layer of user focus to the project.
"It's practically like an intern experience for them to get to work with harm-reduction folks in an interview setting," Sullivan said. "Considering human factors as a key element in the course is what distinguishes our design work from other types of engineering, building sciences, and natural sciences."
And opportunities to gain such real-world experiences were a key factor is what brought many of the students to Virginia Tech in the first place
"That's what I love about Virginia Tech, they offer a lot of opportunities to work with companies like this and have a lot of great connections for internships," said Greene. "It's something I've been taking great advantage of."
Jesse Tuel
Virginia Tech