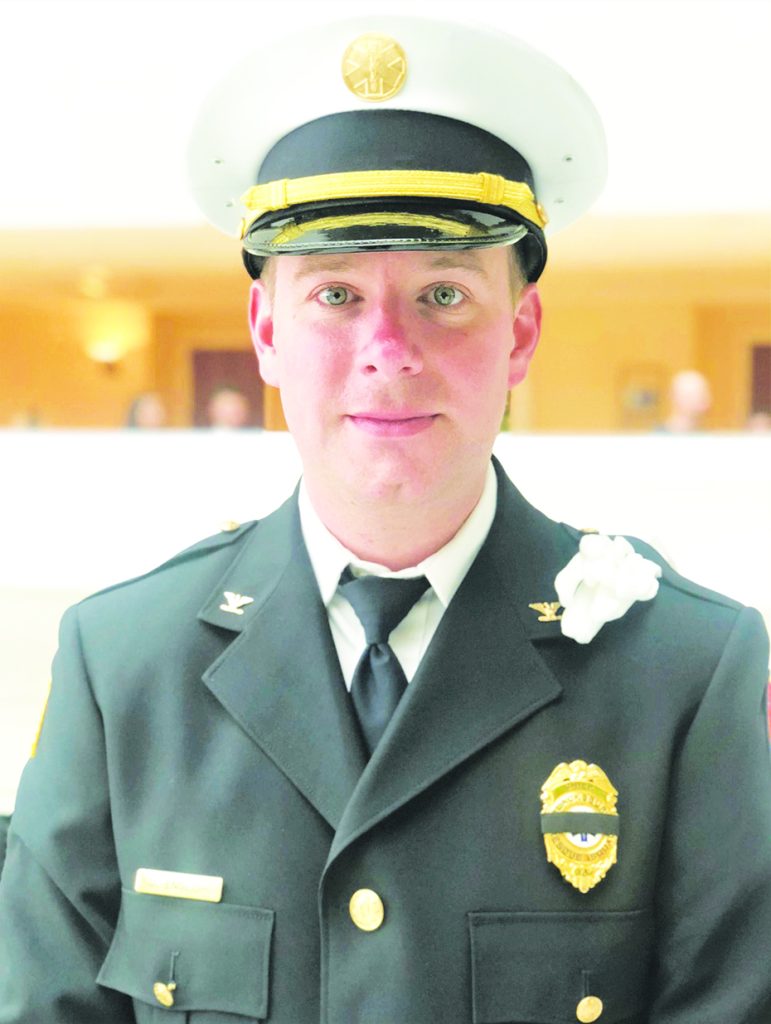 BLACKSBURG – This week the Town of Blacksburg announced that longtime Rescue volunteer David English will soon take the helm as the first career Rescue Chief in the town's history.
In 2003, English joinedTHE Blacksburg Rescue Squad IN 2003 as a volunteer. In the years to follow, he would serve as Lieutenant and Captain before being appointed Volunteer Chief in 2015. 
"It's an honor to be selected as the first career Chief of Blacksburg Rescue," said English. "I'm excited to lead our extraordinary team of volunteers as we continue to advance our services and provide high quality pre-hospital emergency medical and technical rescue services to our community."
In the past seven years Blacksburg Volunteer Rescue has experienced a 52% increase in calls for service.
Born in West Lafayette, Ind., followed by a childhood in Long Hill Township, New Jersey, English became certified as an EMT in 2000. In the fall of 2002, he moved to Blacksburg to attend Virginia Tech where he graduated with a Bachelor's degree in Computer Science and a minor in Mathematics. He would go on to complete a paramedic program from Southwest Virginia Community College in 2011, and earn a graduate certificate in Local Government Management in 2016 as well as a Master's degree in Public Administration from Virginia Tech in 2021.
English presently serves as Vice Chair of the New River Valley Regional 911 Authority Joint Advisory Board, and he Is a member of the Local Emergency Planning Committee, and Fire and Rescue Commission. Additionally, he represents Montgomery County on the Western Virginia EMS Council Board of Directors. During the COVID-19 pandemic, he supported the Blacksburg community by working as a part of the incident command team for the New River Valley Public Health Task Force. 
"As a former volunteer, Dave English brings years of leadership experience to this position," said Sid Bingley, President of the Blacksburg Volunteer Rescue Squad board of directors. "Being able to dedicate his attention full time to the squad will allow him to focus on the increasing demands on our agency and ensure continuity in our delivery of high quality EMS and rescue services to our community."
Prior to accepting the career position of Chief, English was a deputy with the Montgomery County Sheriff's Office for fourteen years, serving eight of those years supervising the jail medical department. For the past six years, he has also worked as the Training Coordinator for the Sheriff's Office.
In addition to being an Eagle Scout and receiving numerous accolades over the span of his career, English is Virginia Sheriff's Institute Certified (VSIC) through the VCU L. Douglas Wilder School of Government and Public Affairs, and a recipient of the Alfred E. Payne Service Award from Virginia Tech Omicron Delta Kappa. Last year, he was also recognized by the Montgomery County Chamber of Commerce as a 40 Under 40 recipient.
"Dave English is a welcome addition to the Town of Blacksburg staff," said Town Manager Marc Verniel. "He brings years of experience in emergency medical services and law enforcement and demonstrates a clear vision to lead Blacksburg Rescue Squad into the future."
English will begin in his new position on February 6, 2023.