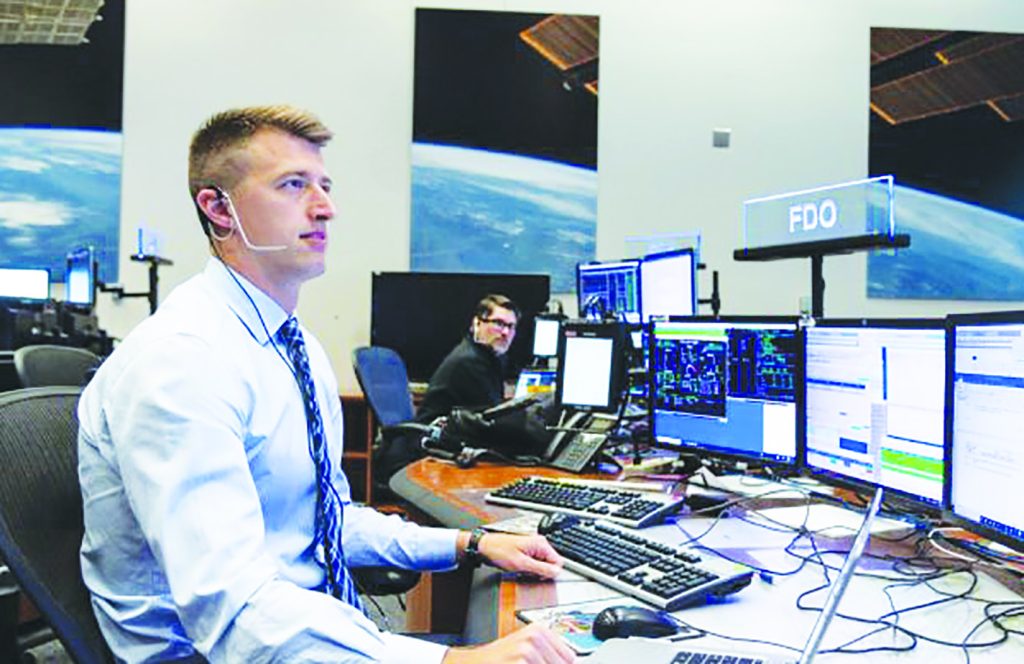 By Travis Williams
Have you heard the story about the flight director who missed his first flight to NASA?
It's a tale Garrett Hehn's mother, Amy Hehn, will likely not forget.
"He goes to check in early online, and he looks at me and goes, 'The plane is taking off right now,'" Amy Hehn said of that day in 2014. "So there he is, it's like 2 in the afternoon, and it was amazing. He and I start moving – it was like a dance, but there were no words. He got himself rebooked. I ironed his clothes. And he was packed and out the door in a half hour."
Now a humorous bit of family folklore, it's also a moment Amy Hehn believes clearly illustrates qualities that have helped propel her son to leading mission control for NASA.
"That was just such a great example of how he has this innate calm demeanor and can think through stressful situations," said Amy Hehn. "What he does now can be very stressful, and they [NASA] need people who are calm under stress."
A 2014 Virginia Tech graduate with a bachelor's degree in aerospace engineering, Garrett Hehn was named as one of seven new flight directors at NASA in June. He follows in the footsteps of three other Virginia Tech alumni who rose to the position, including NASA's very first flight director, Chris Kraft '44.
"That's prerequisite knowledge for sure, and it's a reminder every day," said Hehn, who works in the Christopher C. Kraft Mission Control Center in Houston. "The people I've seen at the flight director desk, and even some of the people I've not met – your Gene Krantzes, your Glen Lunneys, your people who made history – are some of the people I respect most as a professional. It is a ton of responsibility to carry that forward."
Hehn is currently assigned to lead missions related to the International Space Station, which requires three teams working in nine-hour shifts to provide coverage 24 hours a day, seven days a week. Days are scheduled down to five-minute increments to maximize the critical time of the crew in space.
"It's kind of a unique fraternity," Hehn said of being a flight director. "All those people who came before you know how you feel because inevitably there will be a time when the flight director will be called on to make a decision that could have ultimate consequences. That could be in order to save the vehicle. It could be to save the mission. Or it could be to save the crew. That's the authority the flight director has."
Unlike many of his colleagues, Hehn didn't grow up being all that starstruck by space. Instead, his childhood interests revolved around exploration and problem solving.
"I did love being outside, building forts in the woods, building a bridge, and just seeing what was on the other side," Hehn said.
He also enjoyed math, however, he recalled timed exercises with multiplication tables that caused him great stress in elementary school.
"I could do the math in my sleep, but the idea that the clock is on and go do it, I would just melt down. I remember coming home literally crying because I found it so frustrating," said Hehn. "I really like that story now because my entire job is about not panicking."
Amy Hehn credits her son's ability to stay calm under pressure in part to the lessons he learned from sports.
"I think athletics, particularly swimming, started to give him structure in persevering," she said. "It's not like he was just born a calm kid."
Swimming also provided opportunities for Hehn to compete in college, but the sport itself took second place when choosing which educational opportunity to seize, according to his mother.
"He was smart enough to know, 'I've got to find a college for what I want to do for the rest of my life,'" Amy Hehn said. "And that's why he chose Virginia Tech – great swimming program, phenomenal aerospace engineering program."