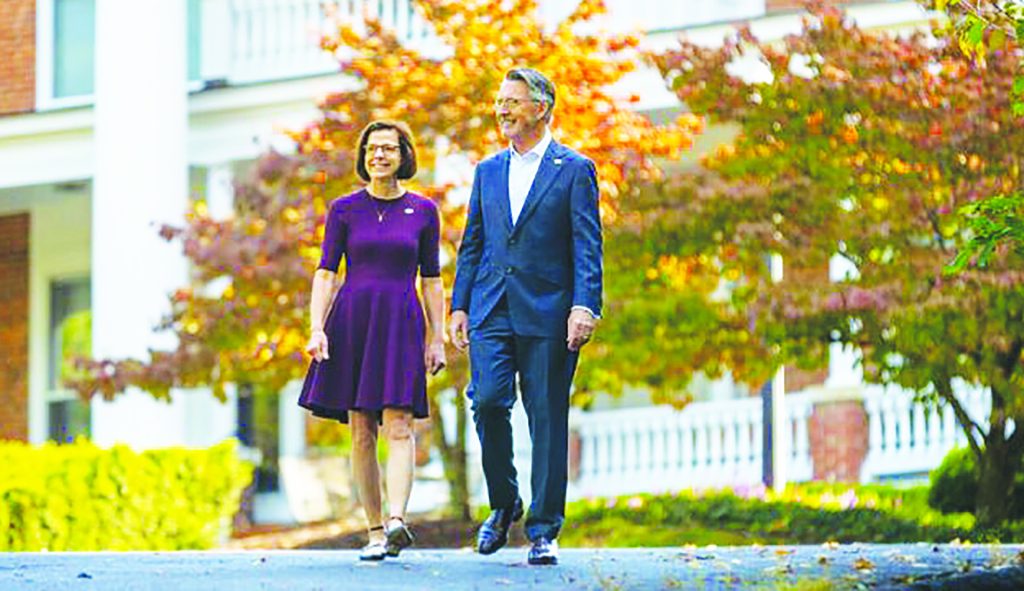 Timothy D. Sands, the 16th president of Virginia Polytechnic Institute and State University and a professor in the College of Engineering, will deliver the State of the University address today, Jan. 18, at 3:30 p.m. in the Anne and Ellen Fife Theatre of the Moss Arts Center.
The doors will open at 3:00 p.m.
Under President Sands' leadership, undergraduate enrollment has increased by 5,000 and student four-year graduation rates have increased from 61 to 70 percent. 
President Sands initiated InclusiveVT in 2015, leading an effort that has increased the enrollment of underrepresented minority (URM) students by 88 percent while closing the 4-year graduation rate gap from 10 percentage points to 1 percentage point.
The university's residential campus in Blacksburg is being transformed with an emphasis on living-learning experiences, transdisciplinary collaboration, and sustainability. Recent developments include a Creativity and Innovation District, the launch of a Global Business and Analytics Complex, and expanded facilities for the Virginia Tech Corps of Cadets.
President Sands' vision is supported by a global community of alumni, friends, and partners. Virginia Tech's Advancement division continues to see record-breaking generosity and engagement, allowing the university to increase its fundraising goal from $1.5 billion to $1.872 billion and engage 100,000 Hokies as part of Boundless Impact: The Campaign for Virginia Tech. 
President Sands has published more than 250 refereed papers and conference proceedings and has been granted 21 patents in electronic and optoelectronic materials and devices. His recent research efforts have focused on the design and development of novel nanocomposite materials for environmentally friendly and cost-effective solid-state lighting, direct conversion of heat to electrical power, and thermoelectric refrigeration. He holds faculty appointments in the Bradley Department of Electrical and Computer Engineering and the Department of Materials Science and Engineering in the College of Engineering, with research interests in microelectronics, optoelectronics, and nanotechnology. He is a fellow of the Institute of Electrical and Electronics Engineers, the Materials Research Society, and the National Academy of Inventors. 
As part of his civic engagement and community leadership, President Sands chairs the Virginia Council of Presidents and the Virginia Space Grant Consortium. He serves on the Executive Committee of the Board of Directors of the Northern Virginia Technology Council (NVTC) and is a member of the Boards of the Atlantic Coast Conference (ACC), the Business-Higher Education Forum (BHEF), the University Research Alliance (URA), and is an ex-officio member of the Board of the Northern Virginia Chamber of Commerce. He is also a member of the Board of Visitors of the National Intelligence University.