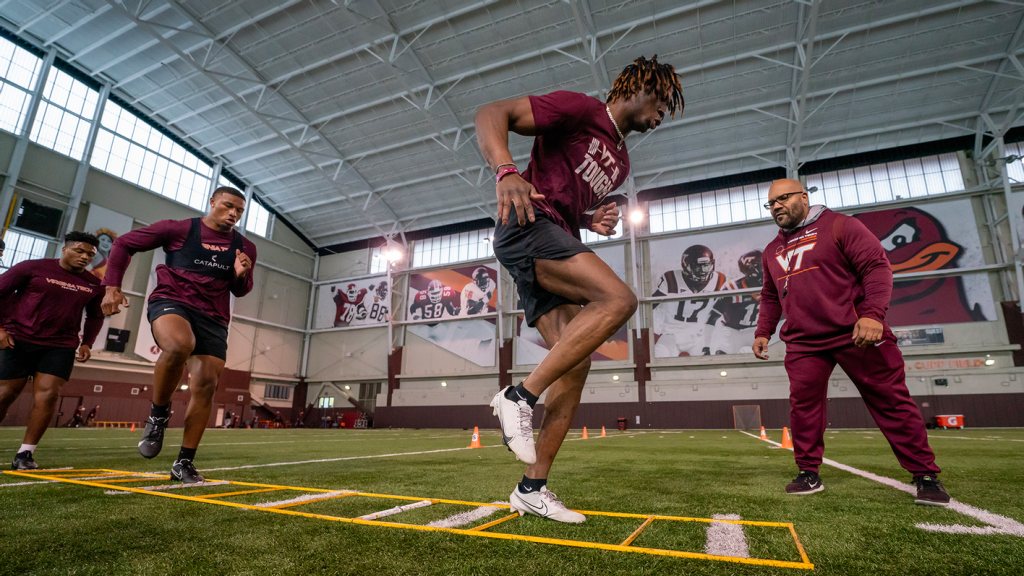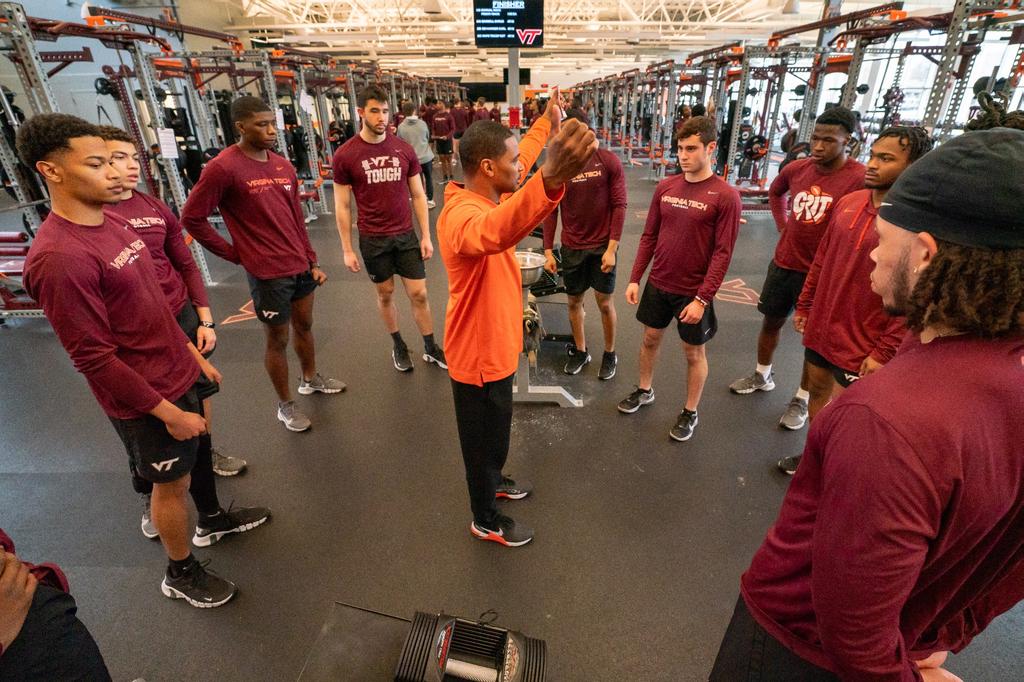 By Marty Gordon
NRVsports@ourvalley.org
Year one is down in the Brent Pry era at Virginia Tech, and Tuesday returning players joined several early admission players for workouts at the university's indoor facility.
Staffers divided players into two groups with Senior Director of Strength and Conditioning Dwight Galt IV leading the workouts. Doing a multitude of exercises, the returning players welcomed the new mid-year enrollees, who moved in just this past weekend.
From utilizing the weight room to the Beamer-Lawson Indoor Practice Facility, the Hokies did circuit training and more as they head into Hunger Drills – their early morning winter conditioning workouts – later this month.
At least six early enrollees were among the group, getting a head start on their careers in Blacksburg.
Tech took a hit when Temple transfer Darian Varner flipped his commitment from the Hokies to Wisconsin. He had earned first-team All-American Athletic Conference this past season with 35 tackles with 12.5 tackles for loss and 7.5 sacks. He ranked tied for 17th nationally in sacks per game and tied for 20th in tackles for loss per game.
On the other hand, an outstanding player flipped from Boston College to Tech as running back Bhayshul Tuten is now in Blacksburg. This past season, the North Carolina A&T sophomore rushed 208 times for 1,363 yards and had 13 rushing touchdowns and another four receiving.
His 2021 stats led the Big South conference in all-purpose yards per game (155), yards per carry (6.55), rushing touchdowns (13), rushing yards, rushing yards per game (123.9), scoring (9.3), and total touchdowns.
He ranked in the top 10 nationally in total touchdowns, scoring, rushing yards per game, rushing yards, rushing touchdowns, and all-purpose yards.
Tech had previously landed a trio of outstanding names through the transfer portal: wide receiver Ali Jennings (Old Dominion) quarterback Kyron Drones (Baylor), and wide receiver Quan Felton (Norfolk State). – Wide Receiver – Norfolk State.