Submitted by Casey Jenkins, Executive Director, Montgomery Museum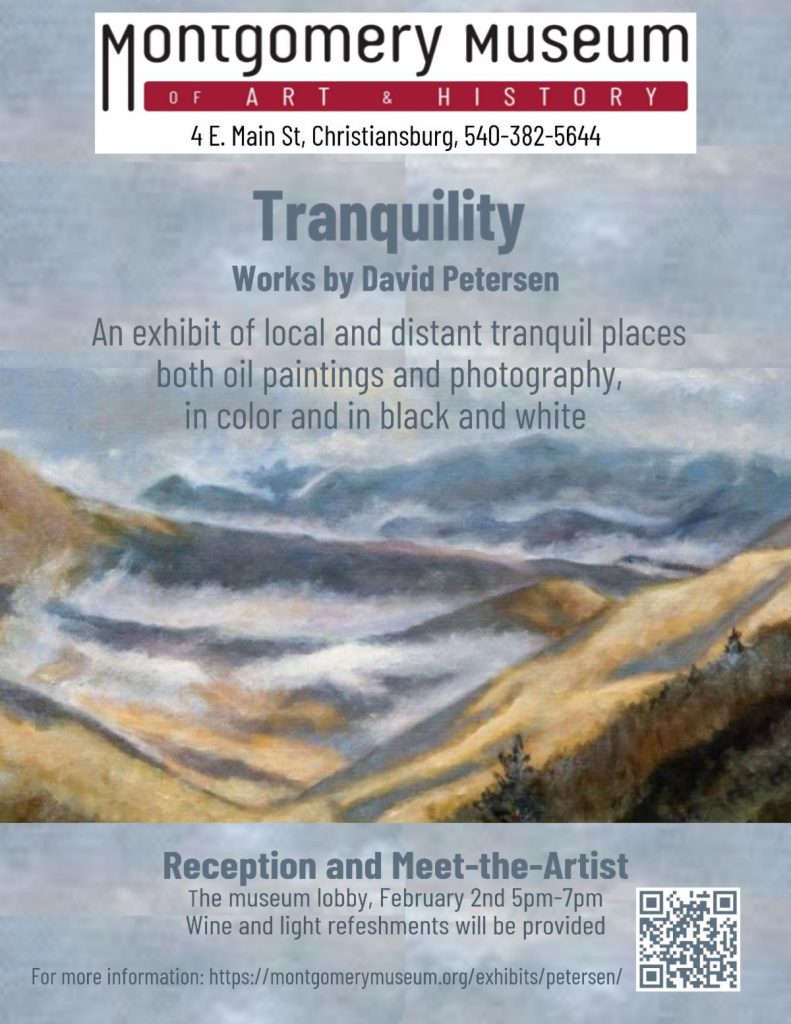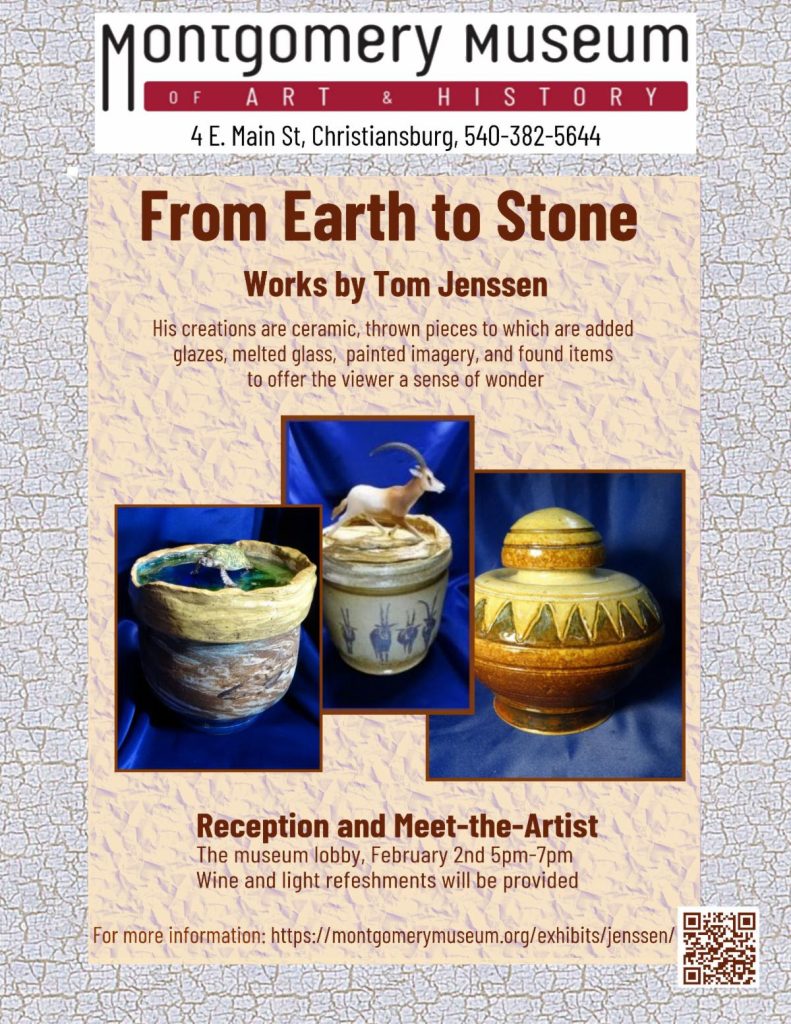 The Montgomery Museum of Art and History, 4 East Main St. in Christiansburg, has two new art exhibits of pottery and oil and photography now on display. A reception and open house (meet-and-greet with the artists) will take place at the museum on Feb. 2, from 5 to 7 p.m,
"From Earth to Stone" is an art exhibit by Tom Jenssen that features ceramic pieces to which are added glazes, melted glass, painted imagery, and found items to offer a sense of wonder. His work will be on display at the museum through the end of March.
"Tranquility," is an exhibit by David Petersen that features local and distant tranquil places both oil paintings and photography, in color and in black and white.
Most of Petersen's tranquil places can be found within a 50-mile radius of Montgomery County. Petersen's work may show a place like Mabry Mill, McAfee Knob, the Smokies, or the Outer Banks in a different light or covered with snow or even the feathery hoar frost, which forms only under special cold conditions, usually at high elevations.
The exhibit features both oil paintings and photography in equal numbers, and half of the photographs are in black and white. Petersen has been compared to Ansel Adams, although the techniques used are different, as digital photography has changed the way artists work. Petersen's photographs are often printed on stretch canvas.
Petersen took art and technical drawing classes at Andrew Lewis High School and private painting lessons from Heinz Huber. He attended Virginia Western Community College and Madison College (now James Madison University), where he stayed on for a master's degree, not in painting or photography, but in ceramics.
He taught high school art for twenty years and was an assistant principal in Blacksburg. At first he used photography only to capture subjects for his paintings, but Mike Kaylor at Blacksburg High School, who taught photography, inspired him to think of photography as an art form in itself. Half of Petersen's studio is devoted to photography and the other half to painting.
After retiring from the Biology Department at Virginia Tech in 2007, Tom Jenssen returned to an undergraduate interest in ceramics. His creations are thrown pieces to which are added glazes, melted glass, painted imagery, and "appropriated" objects. An early example is "Good Dog" in which a jar totes a family salt shaker on its lid. This won first prize at the Radford City Fine Arts Show in 2018, validating the direction Jenssen was taking.
The animals depicted in the current exhibit range from the aquatic to the amphibious to the terrestrial. Examples include a great white shark, a sea turtle, a rhinoceros, and a giraffe.
To produce the images required a slurry of iron oxides, a very fine paint brush, and a whole lot of
patience.
Jenssen had mentors along the way, like John Goodman (University of Redlands), Charles Carpenter (Oklahoma University), and Ernest Williams (Harvard). With their guidance and example, Jenssen developed a consuming interest in evolutionary biology, herpetology, and, in particular, the behavior of lizards. The latter took him to tropical habitats in Mexico, Panama, Hawaii, Jamaica, Puerto Rico, Haiti, and the Dominican Republic.
Recently, the topics for Jenssen's ceramics have turned increasingly toward literal expression as he explores a mixture of the traditional and the unexpected.
Tom Jenssen's ceramic pieces will be on display at the Montgomery Museum until the end of March. A public reception will be held on Feb. 2 from 5:00 to 7:00 p.m.