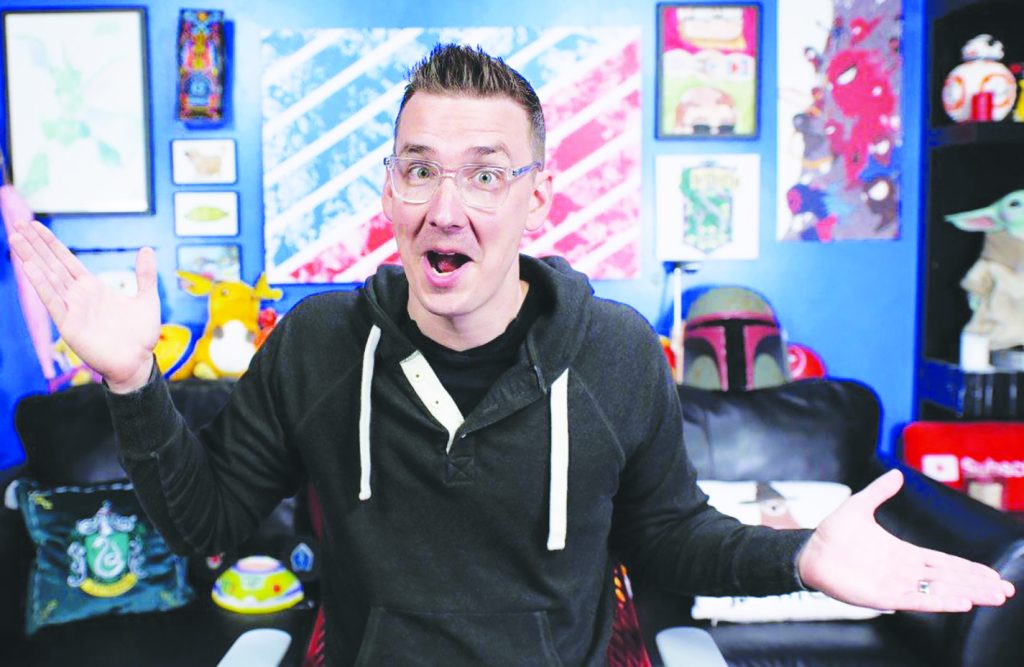 John Jennings '12 was preparing for the day ahead when he was stopped in his tracks. The voices off in the distance sounded all too familiar. 
He walked into the living room where his daughter was focused on a Harry Potter theory video. She had recently discovered the magic of the series that Jennings enjoyed all those years earlier with his best friends, the same best friends whose voices now were emanating from his living room.
"I walk into the living room to see Jonathan and Ben staring back at me on the screen," Jennings said. "That was one moment that really solidified what I already know — they've truly made it."
Jonathan and Ben Carlin are the brotherly talent behind the Super Carlin Brothers, a YouTube channel based out of Roanoke. They've garnered over 2 million subscribers in a 10-year span behind some humble beginnings, extreme dedication, and a little luck along the way.
Jonathan Carlin, a 2010 communication graduate from what is now the School of Communication, recalls the early days of YouTube when he started his own channel, Jonkerlin, and posted funny skits to an unknown audience.
"I started posting the videos once a week while I was in college," he said. "I remember being afraid to post them like, 'Oh my God, this is going to be so embarrassing.' I put them out there, and much to my surprise, people seemed to enjoy them and find them funny."
Jennings, who practically grew up with the Carlins at Cave Spring High School in Roanoke and later with Jonathan Carlin at Virginia Tech, often spent long hours in Cowgill Hall as an architecture student. That was when Jonathan Carlin's original Jonkerlin channel became a hit for Jennings and his classmates while they worked late at night.
"He would come hang out with our friends in the studio as he started doing his vlogs with a very small audience," Jennings said. "Everyone in the studio started watching Jon Carlin's videos that he was just creating in his apartment. It was incredible. He probably had planned it, but for us, it seemed like he just created this out of nowhere."
It developed into a hobby. After graduation, Jonathan Carlin started a full-time job in marketing at the Roanoke Civic Center, now the Berglund Center. But he wanted to continue making YouTube videos.
Enter Ben Carlin. 
The brothers decided to launch the Super Carlin Brothers channel and entered into a yearlong conversation back and forth, with one brother uploading a short video one day and the other brother uploading a response back the next day. The videos covered trivial topics ranging from discussions on the most random number, Bigfoot, and everything in between.
Sometime in that year, Carlin, affectionately known as "J" by his fanbase, posted a video about the Pixar Theory, which is a theory written by Jon Negroni explaining how every Pixar universe existed in the same world, spanning a huge timeline. Jonathan Carlin never expected what happened next.
"We posted the video about the Pixar Theory, and it went super viral," he said. "To this day, it's our most viewed video. People started pouring in subscriber wise, and we thought, 'Oh my, God. This is amazing! So many people are subscribing.'"
"At some point, we decided we're going to take a hard left turn and do nothing but fandoms," Jonathan Carlin said. "As soon as we did that, everything took off and exploded. We went from 10,000 subscribers to 60,000 to 300,000 month after month after month. It was like, 'What is happening? This is amazing!'"