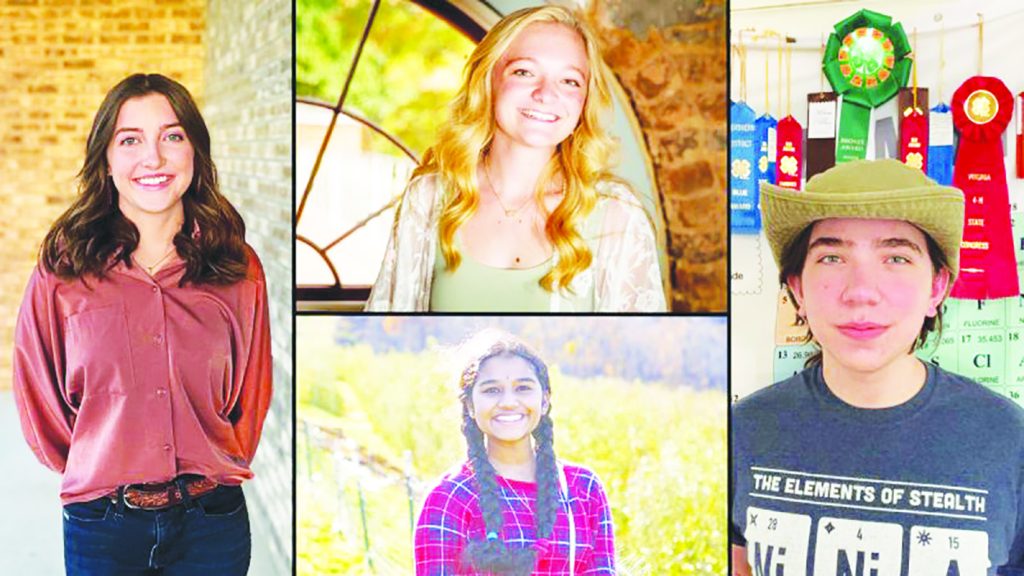 Virginia 4-H honored four of its most outstanding members recently with the presentation of the Youth in Action awards.
Each year, the 4‑H Youth in Action Program recognizes four young leaders with diverse backgrounds and unique perspectives in 4-H's core pillar areas: agriculture, civic engagement, healthy living, and STEM.
Alice Milton received the award for healthy living; Kelli Garrett received the award for agriculture; Jack Woodard received the award for STEM; and Nikhita Saravanan received the award for civic engagement. Milton was also selected as the Overall Youth in Action Award winner and will receive additional opportunities to be a spokesperson for Virginia 4-H.
"Each of these youth has done tremendous things for their communities and for 4-H," said Jeremy Johnson, Virginia's state 4-H leader. "These awards are a way for us to recognize how they have gone above and beyond in their actions. Each of these outstanding youth showcases the best of Virginia 4-H and what 4-H can do to help the next generation of leaders reach their potential."
Each of the four winners received a $500 mini-grant to develop a significant community project, recognition at a formal award ceremony, a full scholarship to attend the Virginia State 4-H Congress in Blacksburg, an opportunity to be featured as the Virginia 4-H youth pillar spokesperson, and support and mentorship to apply for the 2022 National 4-H Youth Leadership Awards.
Milton, of Bedford, has been a member of Virginia 4-H for eight years. During that time, 4-H changed her life by shaping her into a compassionate leader.
"As a reserved individual, I found it difficult to voice my opinion and would lose myself in the opinions of others," Milton said. "4-H taught me why youth leadership is so important and shaped me into a vocal leader. Without 4-H, I never would have found my passion for youth advocacy and mental health awareness."
A 12-year 4-H'er from Washington County, Garrett said 4-H helped her grow her character, leadership, and passion for agriculture.
"Coming from an agriculture background, my father highly encouraged me to become a member of 4-H in order to gain more knowledge about the rural area I live in," she said. "Having to overcome the simple obstacles that brought me to fear in the comfortable 4-H environment at a young age only manufactured a strong individual that is now prepared to tackle any challenges that would be encountered in the real world."
A resident of Fauquier County and a four-year 4-H'er, Woodard found a love of robotics through Virginia 4-H. He honed his leadership skills as the president of his robotics club and has participated in multiple public speaking competitions.
He used his motivations from Virginia 4-H to create a computer club in his community.
"I assembled enough interested 4-H'ers to start this club, and we held our first meeting in September, when we elected officers," he said. "Our service project is going to be volunteering with Computers in Education, a local charity that recycles school laptops for donations to developing countries."
A seven-year 4-H'er from Henrico County, Saravanan had her life changed by her Virginia 4-H journey. Her time in 4-H instilled essential life skills such as leadership, confidence, and the ability to empathize with others.
"I have always strived to bring change in my community and help others through my skills," Saravanan said. "4-H has been that very outlet to help both my inner growth and my community's growth."